For THE most recent update on Anguilla post-Irma (9:05am on Dec. 11), click here.
For up to date Anguilla travel information, including a list of businesses who are open, click here.
To help Anguilla post-Hurricane Irma, click here.
How To Help Anguilla Rebuild
Anguilla Relief
Help Restore Anguilla's Power: Appeal From ANGLEC
Update: ANGLEC has received support from the UK and electricity is being restored more rapidly.
It is our wish to restore electricity island-wide by the peak of the tourist season (December 15, 2017). This is essential to minimize the long-term economic impact of Hurricane Irma. Electricity service impacts every aspect of our economy and is vital to secure and maintain employment for the island.
Damage assessment shows that our needs are too great to accomplish full grid restoration in short order - on our own.
ANGLEC is calling for HELP. We need linesmen and journeymen, in addition to equipment (digger derrick trucks, bucket trucks, heavy duty pick up trucks).
Required Skills
Climbing or spiking ability
Journeymen/Linesmen - 1 experience level
Digger Operators
Bucket Truck Operators
Persons with the ability to remove transformers, mount and install pole mounted transformers.
Persons will be needed for at least 1 month. Lodging will be organized by ANGLEC and the ATB. Food will be covered by ANGLEC.
If you are able to help, please consider contacting ANGLEC. Getting all of Anguilla re-connected is critical.
For further details, including travel + pay, the scope of work and the initial damage assessment, please contact ANGLEC: Erimel Franklin at 1-264-476-7905.
Tender Loving Care Home for the Elderly, Needs Support!
Tender Loving Care, the labor of love of Founder and Principal Nurse Brenda Hodge, is a vibrant home located in North Valley, Anguilla, offering care for the elderly. It has been serving an important need in the community for the last thirteen years.

Hurricane Irma wreaked havoc on the residence. The thirteen elderly citizens who called this residence home, were forced to temporarily move into the smaller premises of Nurse Brenda's childhood home in George Hill.

Sunset Homes is mobilizing resources to make a pivotal impact on leading the reconstruction of this home so that its residents can return to their own space within safe and comfortable environs.

Shipping Items
General Relief Items: The BEST way to send the items needed most with zero duties is via Help Anguilla's Amazon Wish List. The shipping address will auto fill and much needed items are being added constantly, so check back often.
Alternatively, and if you already have relief items, this is the recommended address to use as the receiving and shipping channel is secure. (This shipping channel is for PUBLIC goods only.)

c/o Thomas Kelly
attn: APLO Relief Initiative
110 Wall St
New York, NY 10005
Email: aplo.newyork@gmail.com
School Supplies: For the Albena Lake Hodge Comprehensive School are being collected by Vanessa Croft. Please see her two Amazon Wish Lists here and here. Mailing address is...
Vanessa Croft Thompson
C/O Anderson Gumbs
1808 Miami Road
Apt #3
Fort Lauderdale, Florida
33316
USA
To send items to specific friends/family, Tropical Shipping has been recommended by many friends of Anguilla in the US.
Tropical has several ports to ship from, including one in New Jersey and one in Florida (one in Florida leaves on Thursdays). They guarantee that you can ship through them to an individual on Anguilla, even to a PO box without a street.
For an idea of shipping costs for a generator, for example, one good friend in The States reports $112.00 to ship aboard Tropical.
Shipments MUST be booked in advance and MUST include the person's name, address and telephone. Visit Tropical's site here for contact info/details (recommend calling).
Other
Top up friends' phones in Anguilla: click here for instructions
Animals of Anguilla: To help the animals of Anguilla, please donate to AARF. Operated by a dedicated group of volunteers, AARF is Anguilla's only animal shelter. They take in and rehabilitate abandoned cats and dogs and have housed many pets during and post Irma. They are currently in large need of a generator and pet food. No donation is too small. To help, please visit AARF.ai to make a tax-deductible donation via PayPal, or send a check to...
AARC
c/o Debbie Tabor
9715 Dahlia Avenue
Plan Beach Gardens, FL 33410

AXA Cares Food Bank: Christmas For The Children of Anguilla
Update: Deadline to ship has passed.
With the support of several volunteers of the AXA Cares Food Bank (who annually collects presents for the children of Anguilla), Rebecca Taillon (president of AARF) is asking for donations of Christmas presents for the children of Anguilla. Please consider participating, as I'm sure the number of families reaching out to the food bank for support will increase this year due to the current unemployment situation cause by Irma.
Jim and Rebecca are temporarily in Florida, recovering from injuries Jim sustained in Irma. Rebecca will be receiving the donated goods in Florida, then will consolidate shipments to Anguilla. Folks on island are working on getting permission to accept all donations duty-free.
To aid in the consolidation process, please use USPS LARGE "Priority Mail Flat Rate" boxes (the current postage rate is around $19).
On the outside of the box, please denote:
1. Male or Female
2. Age group (infant, 3-5, 6-10, 11-15)
What you decide to shop for and put in the boxes is up to you - please limit the value of the contents to no more than US$25 per box. Please don't wrap your contents - we'll wrap the USPS box once it gets to Anguilla.

A few helpful tips, please:
* No candy, due to melting/going rancid prior to the holiday
* If you gift something that requires batteries, please include at least 2 extra sets of the batteries
* No electronics, due to Anglec's current limitations
* No clothing or shoes, since we don't know specific sizes of the needy children

A little (less than $25 spent per box in the photo below) can go a long way...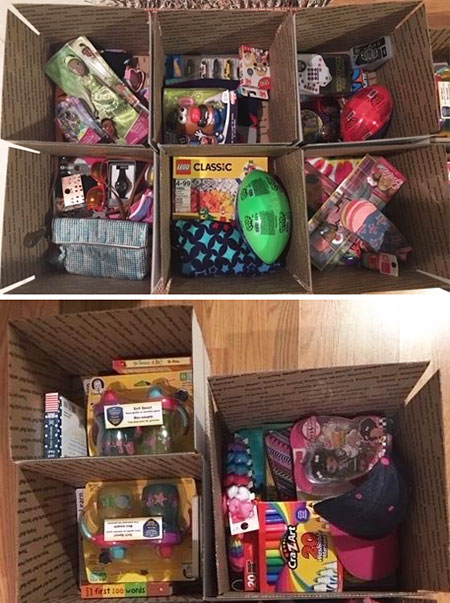 SHIPPING DEADLINE: 1 November
For more details, contact Rebecca here.
Fundraisers for Individuals, Institutions, Businesses & Their Employees
NOTE: If you are an individual who has a business and/or lives in Anguilla and who has a fundraising platform, please comment below and I will add your link to this webpage.
Help Anguilla Rise!
Join Chef Marc Forgione & Friends For a Caribbean BBQ in NYC
Update: This event took place Oct. 15. A smashing success, the fundraiser pulled in over $70,000 for the Anguilla Foundation. A huge thank you goes out to Chef Marc and all who attended to support and show their love for Anguilla. Click here for photos of the fundraiser.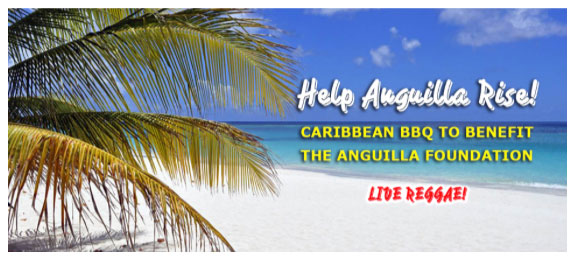 Join Chef Marc Forgione on Sunday, October 15th for a Caribbean BBQ to help rebuild Anguilla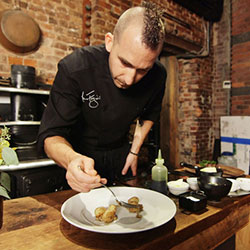 Chef Marc Forgione will be serving up his favorite food and drinks from Anguilla including, chicken, ribs, grilled lobster, Johnny Cakes and RUM PUNCH.
100% of proceeds will be going to The Anguilla Foundation, providing emergency relief to those Anguillians impacted by Hurricane Irma who are unable to access food and water, rebuild their damaged or destroyed homes, or replace the most essential belongings.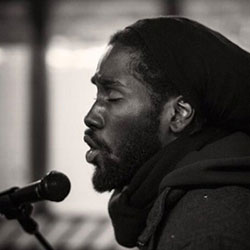 Musical Guest from Anguilla: Ishmael Levi of British Dependency
Live and Silent Auction featuring unique dinner experiences, villa rentals, and more!
Date: Sunday, October 15th
Time: Noon-4pm
Location: Restaurant Marc Forgione, 134 Reade Street
Update: This event already took place.
---
The Help Anguilla Rebuild Now Fund
Since Hurricane Irma devastated Anguilla on Sept. 6, the outpouring of support has been deeply moving. The community on-island and abroad have sprung into action, repairing, setting up funds and flying in relief supplies. The spirit that defines our island has shone bright in the face of dire circumstances.
I am blown away by the generosity and love for the island that is so near and dear to all of our hearts. Our Help Anguilla Rebuild Now fund has raised $75,000.00 USD. Thank you for all of your kindness and support in helping to rebuild Anguilla.
The funds we raised are now being wired to the LOCAL Anguilla Red Cross. The Anguilla Red Cross has been distributing aid from the UK and DFiD to the most needy and are now developing a cash program for the most vulnerable in Anguilla.

Supermarkets are stocked with food, water and supplies. The funds we have raised will be transferred into vouchers to purchase food, water, rebuilding materials and medication (discussions with Van Roy Hodge, Director of the Anguilla Red Cross, show that insulin is badly needed and will continue to be a large need). Updates to come via newsletter as the program gets underway.
A huge thank you to Kendall R. Coleman, Jr. (CPA, CGMA, CCA). A Partner of CST Group with professional auditing experience, he has kindly volunteered to audit the account. All funds in, all funds out and how they are being used will be shared here.


Photo: Sandy Island
To bring the entire island back to where it was pre-Irma will be a long-term effort.
If you are planning to visit Anguilla this winter, recovery has been proceeding at an encouraging pace. There will be a season.
Internet and power is being restored.
Roads and beaches have been cleared.
Gas stations, banks, grocery stores and car rentals are open.
Hotels & villas have announced re-opening dates and restaurants have begun to re-open.
Trans Anguilla is flying into Anguilla daily from St. Kitts and Seaborne is resuming flights into Anguilla via San Juan.
Anguilla has announced that it is expanding its runway to 6,000 feet and will be building a brand NEW terminal at Blowing Point.
The Anguilla Tourist Board is developing a Voluntourism program.
Click here for the most up to date travel information. (This page will be maintained as information is released.)
It will, of course, take many months to rebuild all of what was. The economy will take a hit with many big hotels (who employ a large percentage of the population) needing months to repair. For more ways to help Anguilla, click here.

Photo: CéBlue
From all of Anguilla, thank you for your help as we rebuild. It is a long road, but together, we will get there.
With all of our love,
Nori
---
For the Hurricane Irma report, keep reading below.
For a list of businesses that are open & travel information, click here.
For news on St. Maarten and Princess Juliana Airport, click here.
For more ways to help Anguilla, click here.
For most recent update, click here.
22 years after devastating Hurricane Luis hit Anguilla on Sept. 5 1995, Hurricane Irma hit Barbuda and later St. Barth, St. Martin and Anguilla as a Category 5 with 185 mph winds on Sept. 6 2017. Hurricane Irma is on record as one of the most powerful and catastrophic storms in history.
Anguilla Beaches' incredible staffer Louise sent in this video before the storm arrived on Sept. 5 2017...
And family friend Mike sent in this harrowing footage as Hurricane Irma's catastrophic winds set in around 8am on Sept. 6 2017...
Anguilla was not given a moment of calm. The eye did not pass over the island. Instead, Irma's powerful eye wall battered our island.
Below are updates as Anguilla rebuilds in Irma's wake. This page will continue to be kept up to date.