<![endif]-->
Hurricane Irma Hits Anguilla
Help Anguilla Rebuild Now
Hurricane Irma's devastation is catastrophic. Anguilla needs help now.
We have set up the Help Anguilla Rebuild Now fund. Amount raised as of Sept. 18 2017: $57,520 USD.
All funds raised by Help Anguilla Rebuild Now will be given to the LOCAL Anguilla Red Cross on the basis that funds be directly used for emergency supplies (water, food, medication, etc.) and provided to the neediest and most vulnerable.
Similar to when we raised money for Kumakie Parris, the fund will be audited. Kendall R. Coleman, Jr. (CPA, CGMA, CCA), a Partner of CST Group with professional auditing experience has kindly volunteered to audit the account. All funds in, all funds out and how they are being used will be tracked.
Click the button below to donate to Help Anguilla Rebuild Now.
NOTE: Funds are collected via PayPal's Pay Now button as PayPal's Donation button is unavailable for accounts based in our region of the Caribbean.
For more ways to help Anguilla and to help individual businesses in Anguilla, keep reading below.
---
More Ways To Help Anguilla
Anguilla Relief
Shipping Items: The BEST way to send the items needed most with zero duties is via Help Anguilla's Amazon Wish List. The shipping address will auto fill and much needed items are being added constantly, so check back often.
If you have HIGH PRIORITY items (like generators), a PR address will be confirmed shortly.
For everything else, this is the recommended address to use as the receiving and shipping channel is secure.

c/o Thomas Kelly
attn: APLO Relief Initiative
110 Wall St
New York, NY 10005
Fundraisers for Individuals, Businesses & Their Employees
NOTE: If you are an individual who has a business and/or lives in Anguilla and who has a fundraising platform, please comment below and I will add your link to this webpage.
---
For the Hurricane Irma report, keep reading below.
For a list of businesses that are open, click here.
For most recent update (4:30pm on Sept. 18), click here.
22 years after devastating Hurricane Luis hit Anguilla on Sept. 5 1995, Hurricane Irma hit Barbuda and later St. Barth, St. Martin and Anguilla as a Category 5 with 185 mph winds on Sept. 6 2017. Hurricane Irma is on record as one of the most powerful and catastrophic storms in history.
Anguilla Beaches' incredible staffer Louise sent in this video before the storm arrived on Sept. 5 2017...
And family friend Mike sent in this harrowing footage as Hurricane Irma's catastrophic winds set in around 8am on Sept. 6 2017...
Anguilla was not given a moment of calm. The eye did not pass over the island. Instead, Irma's powerful eye wall battered our island.
Below are photos and updates of the aftermath that have been shared on Facebook and photos that have been sent in from friends on-island.
Will continue to update this page as more information is available.
Sending 🙏 💗 to everyone in Irma's path and our neighboring St. Martin where many areas have been destroyed. Hoping for the safety of all who have been hit by Irma and those who may still be in her path.
Updates on Aftermath in Anguilla (Most Recent To Top)
Update - Sept. 18 @4:30pm EST
Significant damage to Arawak Beach Inn.
Help Anguilla has lift off! Not one but TWO planes of relief supplies safely landed in Anguilla yesterday. The incredible volunteer team has been unloading and sorting through several tons of donated goods, re-packaging them for distribution and more.
These supplies are now out for delivery. The amazing team of volunteers has been serving people in more remote villages that have not been able to leave their house, or may not have a car or money to do so. The spirit of Anguilla's strong community is well and alive.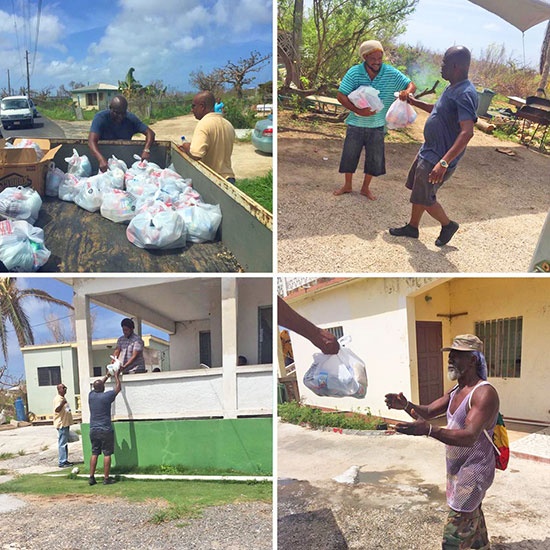 Properties in Paradise reporting little damage to their villas. Cerulean Villa will re-open for this season.
Coconuts at Anguilla Great House opened today with Garvey Lake manning the bar. Huge thank you to True Anguilla for their coverage.
To help rebuild Anguilla, click here.
---
Update - Sept. 17 @7:30pm EST
Sandy Island now.
Blanchards Relief Center opens Sept. 20
A HUGE shout out to Kenroy Herbert of Leviticus who has been sharing videos of Anguilla since Irma passed. His coverage, at a time when Internet connection is at a minimum, is nothing short of heroic. Today, he shares a look at Rendezvous Bay.
Lunch at Tasty's today.
Coverage from CNN: A Paradise On Hold
---
Update - Sept. 16 @7pm EST
What remains of Nat's Palm Grove.
Trattoria Tramonto shares photos from Shoal Bay West. Severe damage to certain Covecastles villas & Altamer villas. Irma took Trattoria's kitchen roof.
Blue Waters still standing.
B&D's re-opens after Irma.
Straw Hat repairs and rebuilds.
ANGLEC hard at work rebuilding poles.
Department of Disaster Management press conference by CM Victor Banks and Governor Foy.
---
Update - Sept. 15 @7pm EST
A HUGE shout out to True Anguilla for the terrific coverage of Shoal Bay East area. True Anguilla shares the following on Shoal Bay East...
Hurricane Irma brings back Upper Shoal Bay East.
Madeariman clears out the sand from Irma.
Uncle Ernie's still standing.
Falcon Nest repairs.
Anguilla Fire & Rescue clears roads.
New deck at Roy's Bayside Grill.
Sensational Flavours picks up the pieces.
---
Update - Sept. 14 @7:30pm EST
Earlier today, three planes courtesy of Caribbean Flyers landed in Anguilla from Puerto Rico, stocked full of Help Anguilla relief supplies. Amazon orders from the Help Anguilla Amazon Wish List have started to arrive at their warehouse in Puerto Rico. Thousands of pounds of relief supplies are being prepared for the next flight tomorrow. In addition, there are four different groups on the ground in Puerto Rico connecting with corporations and grocery stores. 7000 lbs pounds of food and water will be delivered to the Puerto Rico warehouse tomorrow.
Tradition bringing supplies from where they have been moored in St. Lucia.
The British help rebuild Blanchards Restaurant.
Sand shoveled out of Trattoria. Restaurant equipment relocated. Rebuild to start on Monday.
Work is underway to restore and repair the hospital.
---
Businesses OPEN
Grocery, Bank, etc.
Anguilla Air Services (to/from Antigua and St. Kitts)
Best Buy Long Path 7am-7pm, West End 6am-7pm
Gas Stations by Immigration and Long Path
ATM for NCBA. Hours: 9am to 5pm at the Main Branch
CIBC First Caribbean open from 9am to 12noon
Hotels
Carimar officially re-opens Dec. 21. Accepting guests who need a place to stay through Oct. & Nov.
Manoah re-opens Oct. 25
Restaurants
B&D's
Hall's Bakery
Johnno's Thurs-Sat.
Roy's Bayside Grill (closed Mondays until Nov. 1)
Tasty's
---