<![endif]--> 
Spice Up Your Style At Nails-R-Hair
Hair Care and Spa Services!
By: Kirmani Honoré
Nails-R-Hair (referred to as Nails-or-Hair or simply Lisa's, if you're in the know) is a popular salon and manicurist located in the basement level of the Mason Complex. With a loyal local following, this is where beauty magic happens!
Come Inside...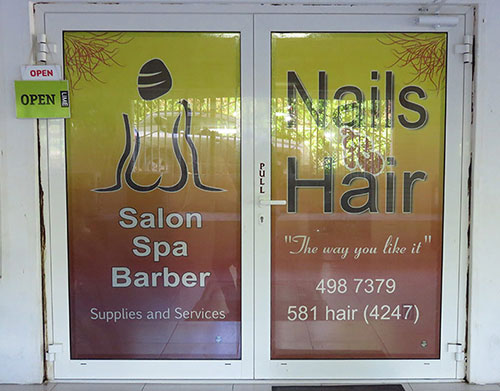 From the moment you walk in, you are greeted by some of the friendliest people in Anguilla, the hair-care and nail technician team.
Skilled Team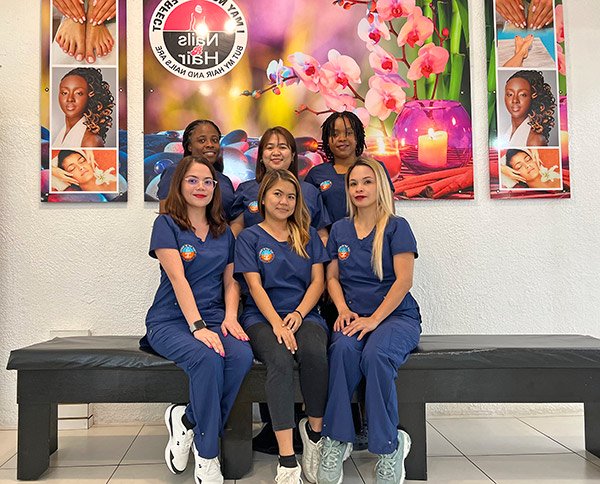 Light-hearted and armed with a fun spirit and a positive nature, they keep your experience professional yet warm and personal.
Owned by the lovely Lisa Webster (who manages several luxury villas on the island), you know you are in good hands at her salon.
Work stations are kept neat, clean and tidy...
Blowing Dryer Poised for Action!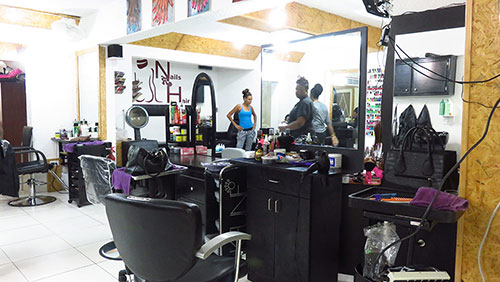 And the quality hair care products (including extensions and braids) and cosmetics can be seen on display. They are also available for purchase...
Their Services
Nails-R-Hair specializes in hair treatments and exciting nail art.
For hairstyles, these include, highlighting, wash-and-rinse, flat iron or hot curling, permanent color dyes and of course, trimmings. These range from about $15- $30.
Hair processing packages are also available, for both those new to hair processing, and those just coming in for a touch up. These are a bit more costly, at about $30-$55.
Working Those Talented Fingers

These packages are also available for kids at a lower cost about $12-$22
They also offer hair extension applications and hair braiding in cool, funky styles. Even Nori has experimented with different looks for her locks...
Trendy Side Braids

A side of braids, or a head of cornrows, or perhaps a weave for the adventurous?...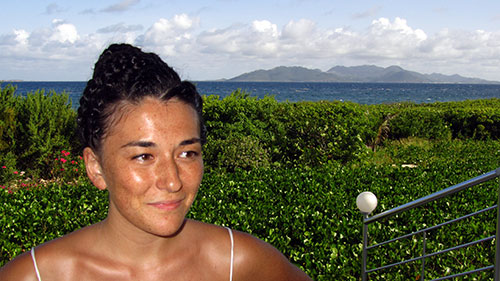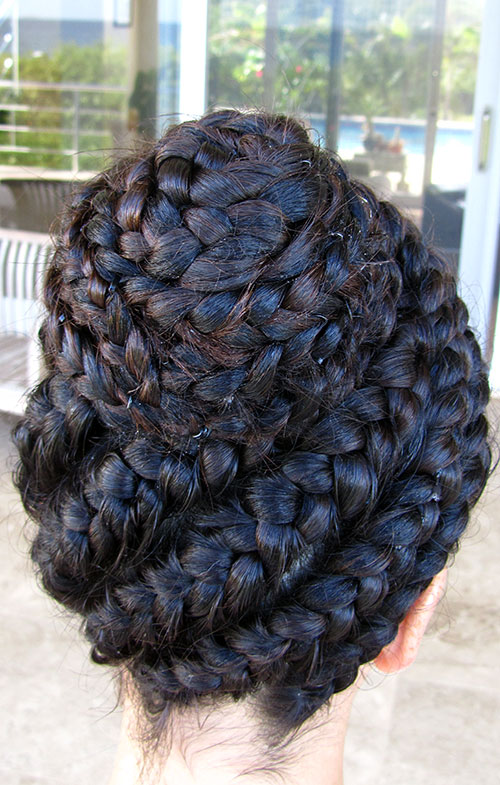 Be warned: A weave is not for the faint of heart! ;-)
Attention-grabbing and undeniably unique, these braids can take a couple of hours to put in place. Once they are in? They hold (just don't get them wet) and sure catch the eye.
There's also a barber for men. Men pay $10 for a cut and groom, while children under 12 pay $8. There's also a father & son discount for $15.
As far as nails go, your imagination is the limit!
2016 Update: Click here for the most up to date price list
They offer basic manicures ($18), pedicures ($25) and full on spa pedicure treatments ($40). With a variety of nail lengths (for press-ons), colors and styles available, the more colorful and intricate the better.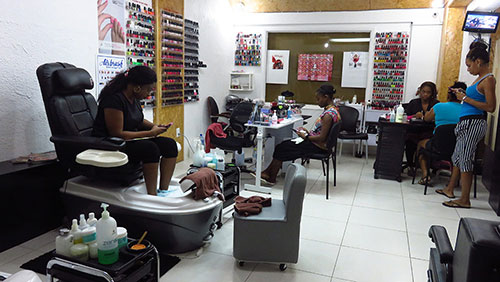 Gel fill-ins and french manicures range from $15 - $100 in price.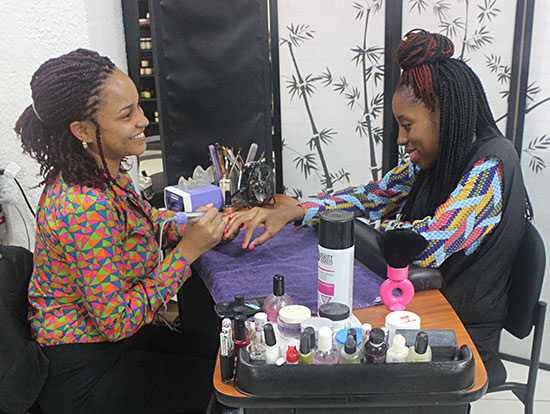 They run a tight ship at Nails-R-Hair with a fine attention to detail and cleanliness.
Whether you wish to revive your nails with one-of-a-kind art or adopt braids for your vacation in Anguilla, Nails-R-Hair are the ones for the job!
Map, Hours & Contact
Directions: At the Mason Complex, next to Lake's Wholesale Supermarket.
Hours: Open from 10am-5pm
Tel: 264-498-7379 / 581-4247