Anguilla Hotels: The Guide...
Cove Bay
The red pin (below) is Cove Bay.
Expansive and wide, Cove Bay is one of Anguilla's most beautiful beaches. Its shoreline is virtually untouched. The only building on this beach? Smokey's Restaurant, the perfect place for an afternoon of rum punches and good food!
... That is no secret, either. Visit on a weekend and you will discover that it is one of the island's more popular beaches. Private and charter boats from St. Martin will dock here for the day, and many tourists and locals alike choose Cove Bay as their Saturday destination.
There is only one hotel near Cove Bay...
Paradise Cove Resort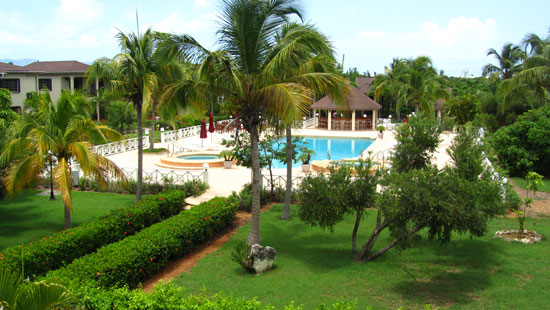 Size: Medium
Location: Five-hundred yards from the East end of Cove Bay.
Description: Set in lush gardens, complete with jacuzzis, pools, a fitness center and even croquet, lies Paradise Cove Resort.
This affordable hotel offers several different types of suites and rooms. There are studio suites, 1 and 2 bedroom suites, and penthouse suites. Each unit is spacious (complete with vaulted ceilings), tastefully decorated and a full kitchen with a comfortable living and dining area.
Rates start at $220 per night in the off-season and go to $530 per night in the high season, depending on the room.
What makes Paradise Cove truly special? The care and attention of each devoted staff member.
Speak with anyone staying at Paradise Cove and you will quickly realize that the hotel has a loyal following of repeat visitors. The owner, Sherille Hughes is especially thoughtful and dedicated to ensuring each guest is well taken care of.
The resort features a tasty restaurant (their Anguillian breakfasts of salt fish and Johnny cakes and widely loved) on site. There is also a pool-side bar.
If you prefer to swim in the sea, Cove Bay is a short walk away. There, you will also find Smokey's Restaurant, a higher-end beach bar that serves one of the island's best fish sandwiches.
Click for more on Paradise Cove Resort.
Price: $$$$ — Return to Hotels By Price