Anguilla Hotels: The Guide...
Sea Feather Bay
The red pin (below) is Sea Feather Bay.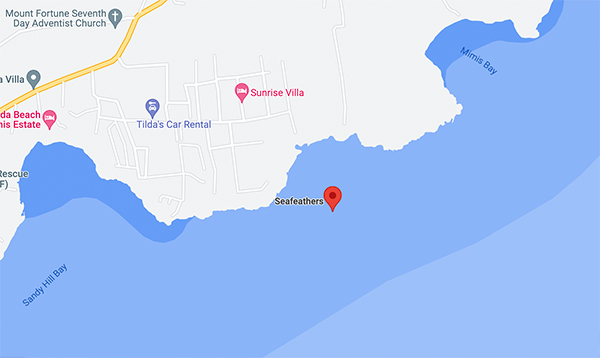 Sea Feather Bay
With waves breaking on a reef further out, Sea Feather Bay is rather protected, calm and gentle. Often you will see local families spending an afternoon here, and men spearfishing, too.
The stretch of sand is small, and there aren't any hotels, villas or other establishments right on the beach. All homes are located in the hills and on the rocky shoreline that surround the area.
Caribbean Sea View

Photo Credit: Caribbean Sea View
Size: Small
Location: Three minutes to Sandy Hill/Sea Feather Bay, across the street from Best Buy Supermarket.
Description: Ten apartment-like units make up Caribbean Sea View. You can rent a one room, or a two bedroom unit, or both. Each comes with TV, a full kitchen, balcony, and views of St. Martin. There is a pool on site, too.
Price: $$ — Return to Hotels By Price