Anguilla Lit Fest 2017...
One For The Books!
By: Cassie Lewis
Established in 2011, Anguilla Lit Fest has grown dramatically over the years and 2017's just may have been the best event yet. With a very special theme, the 2017 Anguilla Lit Fest was in celebration of Anguilla's 50th Anniversary.
It all began with a glamorous opening welcome reception at the Yacht Club at The Reef and a full day of student workshops where acclaimed invitees, including Peter Bailey motivated and instilled their wisdom into Anguilla's youth.
Ready For Lit Fest 2017!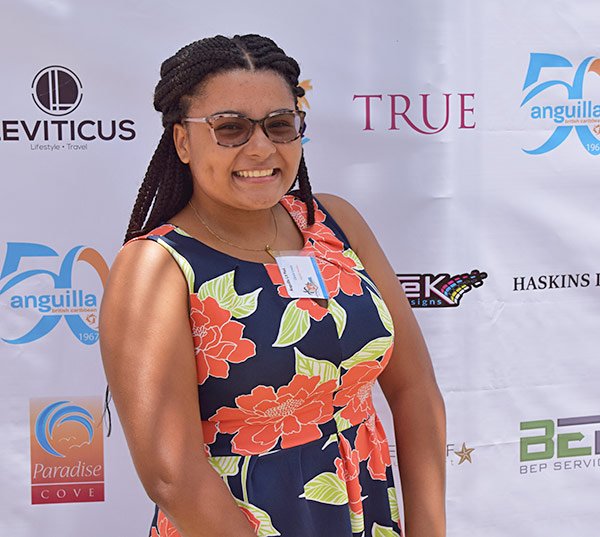 It was a wonderful lead-up to the main event held at beautiful Paradise Cove on Friday & Saturday. The two days were jam-packed with presentations, classes and workshops, signings, opportunities to pitch an agent, Q&A sessions and thoughtful discussions.
Let's dive into Anguilla Lit Fest 2017!...
Day 1: Friday, May 19th
Adrian Green
Following a plentiful Caribbean breakfast, Adrian Green kicked off Lit Fest 2017. A Barbadian spoken word artist, Mr. Green delighted the eager audience with a powerful piece that delivered an important message.
Barbadian Spoken Word Artist, Adrian Green

Through cleverly picked rhymes, he brought to light the themes – racism, inferiority and superiority, African heritage and roots.
Having performed for audiences in Europe, North America, Africa and across the Caribbean, Mr. Green is a man rich with passion and experience. Mr. Greene's empowerment of black people through the use of song and poetry continues beyond his presentations. His compilation CD is called, "Art is Chemistry."
A thought provoking way to begin the day and a rich display of natural talent!
John Leone
The thought provoking presentations continued with a special presentation prepared by John Leone for us emerging writers.
John Leone is the author and illustrator of the three book series, "Poems for an Awesome Life: Living, Laughing and Loving!" An accomplished writer, his tips were priceless.
Assisted by Ms. Maribelle West, Mr. Leone began with an encouraging piece of advice. "It's OK to be uncomfortable with writing at first, as long as you don't silence your persona forever," he said.
He then took us through a process where we first understood change, then the art of puns and finally simple tips for improving our writing. Oh, and the breathing exercises he demonstrated really were a breath of fresh air ;-)
John Leone, Author & Illustrator of
"Poems for an Awesome Life: Living, Laughing and Loving!"

A refreshing presentation, Mr. Leone was most encouraging!
Tiphanie Yanique
Virgin Islands' Tiphanie Yanique took us back to school, as she is an associate professor by profession. She is also the fabulous author of the poetry collection, "Wife," the novel, "Land of Love and Drowning," and a collection of stories, "How to Escape from a Leper Colony."
Tiphanie Yanque, Author of "Wife"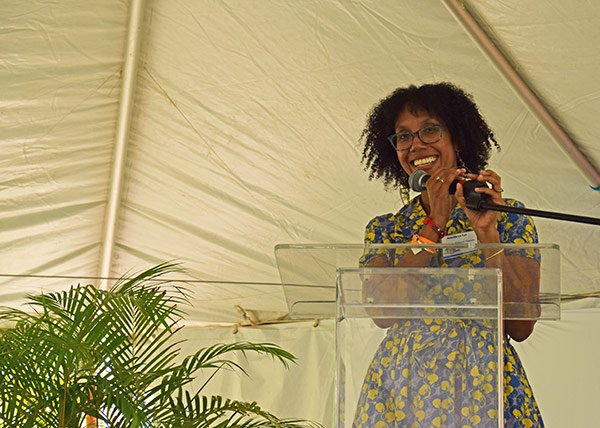 With Tiphanie Yanque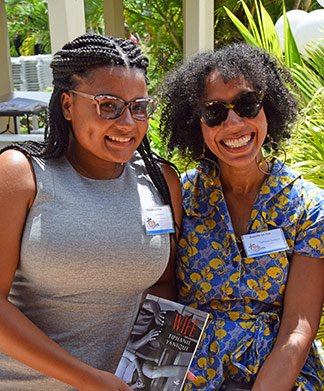 No doubt, Professor Yanique stole our hearts when she read extracts from both of her books. Professor Yanique is a gifted writer. What's even more amazing about her crafted skill? She has both mastered unique techniques in her own work and teaches her students to do the same – like she taught us!
Tiphanie Yanique enlightened us about the art of literature and words, pointing out the nature of words. For example, how to select words that flow together based on words' hard and soft sounds.
To top it all off, Professor Yanique allowed us to put the lessons taught into practice and guided us "students" into starting our own literary work of art, whilst being mindful of words and their influential sounds.
An incredibly engaging workshop!
Ilyasah Shabazz
I couldn't believe my eyes when I read that Malcolm X's daughter Ilyasah Shabazz would be gracing us with her presence. A landmark event, it was extra-special as it was also her father's 92nd birthday! It was a true honor that she spent it with us as we joined together in remembrance of his voice of freedom.
Ilyasah Shabazz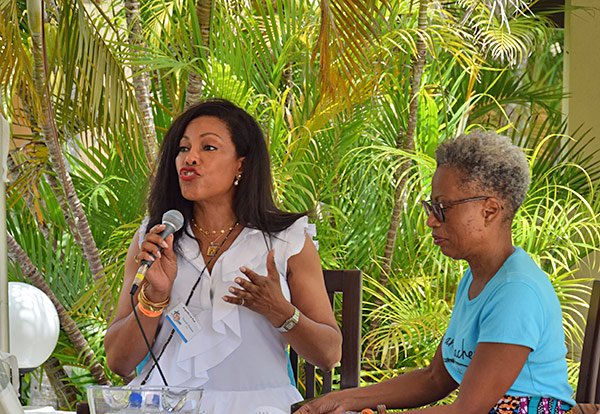 Ms. Shabazz is an educator, activist, international delegate, motivational speaker, and author of three award-winning publications: "Growing Up X," "Malcolm Little," and "X, A Novel."
With The Inspiring Ilyasah Shabazz

Ms. Shabazz earnestly and openly discussed the legacy of her father, Malcolm X. Taken by the children in the audience, her sincere passion towards youth is so evident. She encouraged the young audience members to ask her questions. Delightfully, Ms. Shabazz also interacted with primary school children, holding a special session with them where they read together.
She believes that children hold a most important and influential role in society, and she practices what she believes in, nurturing youth.
Ms. Shabazz gives great credit to her mother, Dr. Betty Shabazz who continues to guide and remind her of who she is and what her dad would have wanted her to remember.
In honor of her father, Malcom X, and for her presence during this year's Literary Fest during Anguilla's 50th Anniversary, Anguilla's Chief Minister, Hon. Mr. Victor Banks proudly presented Ilyasah Shabazz with a token of appreciation in the form of an award plaque.
A profound presentation, from the bottom of my heart, thank you, Ms. Shabazz.
Day 2: Saturday, May 20th
Peter Bailey
Writer, actor and media entrepreneur, Peter Bailey passionately spoke of his personal experiences with racism in America.
Peter Bailey, Actor & Media Entrepreneur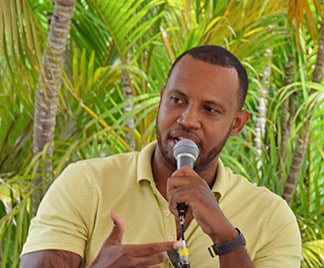 It was an eye-opener to know that despite the fact that we as a human race are all one people, or at least we should be, there are still very real situations where discrimination against black people is prevalent in societies. The fact that we even identify ourselves by categorizing with the phrase "black people" - sails the segregation ship even further.
Mr. Bailey's session was chock-full of food-for-thought.
He also expressed a whole lot of love and gratitude towards Thomas Mullen's book "Darktown" which is was heavily related to racism...
Thomas Mullen
Mr. Mullen touched on similar themes to Mr. Bailey, as he too highlighted racism and reminded us about the Jim Crow era and how life generally was for people of color during this time. Similarly to Tiphanie Yanique, Mr. Mullen also read an extract from one of his books that had listeners at the edge of their seats.
Thomas Mullen Reading of "Darktown"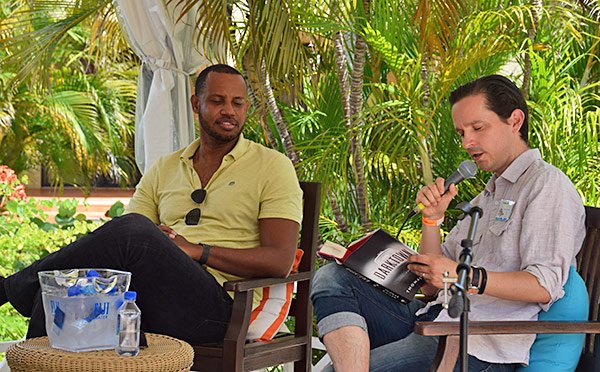 A captivating presentation!
The day wrapped up with a workshop by Ilyasah Shabazz where she inspired and worked with burgeoning young writers. It was an incredible opportunity and a true gift to Anguilla.
The memorable multi-day event wrapped up on Sunday, May 21 with a books, beaches & beer lounge at the lovely Straw Hat on Meads Bay. A beautiful way to end a lovely festival that celebrates books and beaches!
Touching on deeply important issues and engaging and encouraging Anguilla's youth with heavyweight invitees, Anguilla Lit Fest 2017 was one for the books.