Anguilla Real Estate: The Guide...
Katouche Bay
Welcome to the home of Anguilla's rain forest, Katouche Bay. Here you will find a dense, humid rain forest, a mysterious Iguana Cave and the Masara Resort too!
Let's see where we are...
There's only one beach on all of Anguilla that has both the calm of the beach, and the excitement of rainforests and caves!
Katouche Bay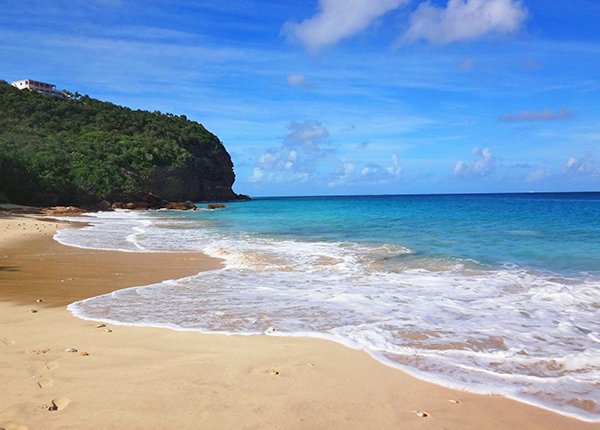 How would you like to...
A) Take a relaxing swim in the clear, turquoise of Katouche Bay?
OR
B) Go for an invigorating hike through the rainforest and then explore a cave?
OR
C) Simply stay snug in your room in the Masara Resort?
We highly recommend "B". What an experience!
Claire Devener, Mom, Yuki and I...
About to Enter the Anguillian Rain Forest!

No doubt, Katouche Bay is one of Anguilla's very special hidden spots. From the lushness of its rainforest, to its sweet strip of beach, to its snorkeling...
Katouche is Rich in Sealife!

If you are interested in Anguilla real estate here, be sure to check out the hills of Katouche.
Overlook of Katouche Bay

Over the years, a few new villas have gone up in the hills that surround this little beach.
Another opportunity may be at Masara Resort. Masara is the white collection of villas that stagger the hillside. It may be possible to purchase one as a winter home for a very reasonable price. Jackie Pascher might be able to add some info on Anguilla real estate in this area.
Here's what the view looks like looking up at Masara. I don't know about you, but I could adapt to life here, pretty easily.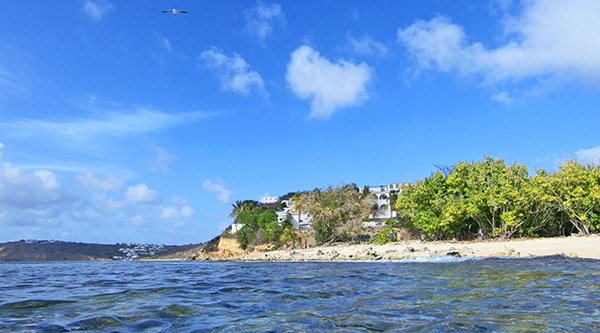 Or perhaps you'd prefer to perch your house up on those cliffs on the other side of the bay? Either way, this "home of a rain forest in a desert island" does indeed have some unique Caribbean real estate opportunities.