Shopping For Anguilla Souvenirs?
Visit Preacher Boy!
*2009 Note: Where did Preacher Boy go? He's vanished!
The word "souvenir" is french for "to remember." Let me tell you about the what is arguably the best souvenir shop on the island. It "contains" what is perhaps the best Anguilla souvenir of all... the memory of Preacher Boy.
I still smile every time I think of him.
The best memories are often accidental and Preacher Boy is no exception. We were driving the main road towards East Shoal Bay one day, before it splits to offer a choice of Island Harbor or East Shoal.
It's a rather unremarkable drive through a "non-touristy" part of the island. So it's easy to be daydreaming as you pass Preacher Boy's unique and funky souvenir and clothes shop. That's what happened to us as my Dad passed it by. Two hundred yards (meters) later...
SCREEEEEEEEEEEEECH! He drives us crazy when he stops suddenly like that.
My family and I visit Shoal Bay Beach frequently. Each time, we'd drive past this bizarre establishment. "What WAS that," we'd wonder as we continued on to the beach.
This time we were going to find out. We stepped out of the car, and nervously approached this strange-looking structure. Suddenly, the most ebullient man that you'll ever meet emerged.
"Hello, hello, welcome, welcome!" He said with his arms outstretched and a huge toothy-grin on his face, "I am Preacher Boy!" His smile was so big that it almost met at the back of his head!
Meet Preacher Boy

What a blast! Our curiosity had uncovered a myriad of colorful wood and rocks and shells and other wondrous treasures.
Shopping...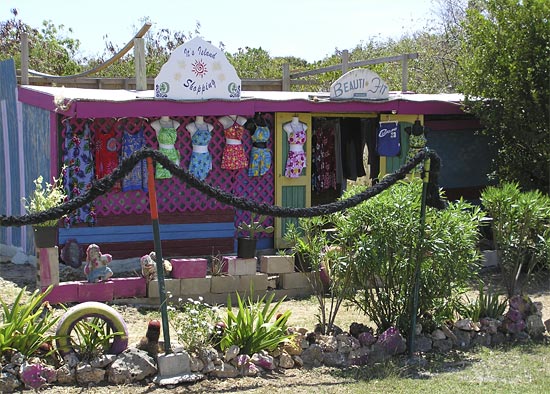 My Dad found out he can even get a beer here. No rum punch, though.
Drinks...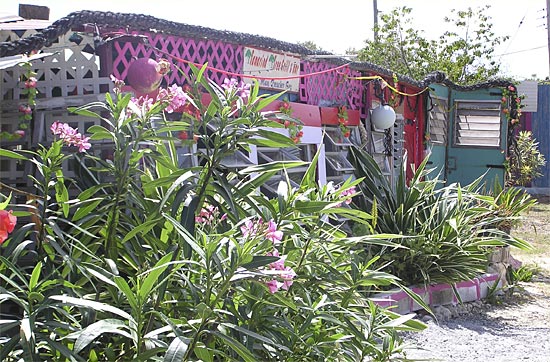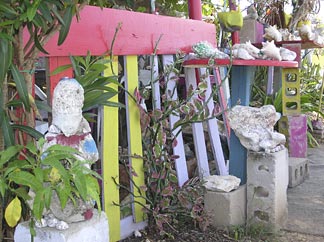 It's an eclectic assortment of ocean goodies and beach clothes, all crafted and sculpted into the funkiest shop in the Caribbean...
superb shell collection
local pottery
light-as-air beach clothes.
Truly a one-of-a kind shop.
And a one-of-a kind man, too...
Preacher Boy extended his warm hand to each of us, and we made our way into his "restaurant." We guzzled our drinks as conversation flowed...
My Dad started chatting with him. Wow, could Preacher Boy talk! Hospitable and excited, he had so many great stories about Anguilla, dating way back.
He is as flamboyant and fun as the shop itself. What a wonderful unofficial ambassador for Anguilla.
Now it was time to shop! We picked over beautiful shells, pieces of reef, t-shirts, shorts, dresses, the works.
The whole visit left me out of breath! Preacher Boy had us running from the bar, to the shell stand, to the t-shirt rack, to the clothes shop ("Beauty Fit").
After we bought our fill, Preacher Boy got his family together with ours for a group photo, which my Dad gladly clicked...
Preacher Boy's Family & Us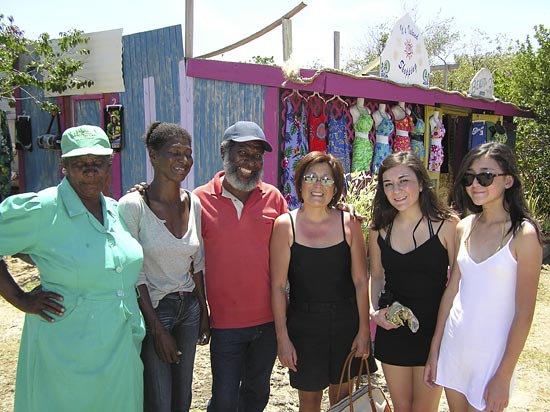 The best of all Anguilla souvenirs? Certainly a cherished memory!
Purchase Anguilla souvenirs (created by me).