Anguilla Shopping
Exotic Anguilla T-Shirts
Anguilla is not the ultimate shopping island! Not even the penultimate (my dad made me use that word)!
Unlike St. Martin, Anguilla shopping is a bit sparse. But if you look hard (and I'm here to help!), you will find some special, funky and fun, truly "Anguillian" experiences.
My family and I have two favorite stores in Anguilla...
Irie Life, which has all sorts of stylish, cool beach wear, and
Exotic Plus T-Shirt Depot, which specializes in unique Anguilla t-shirts!
This jam-packed shop is found in the heart of The Valley! It's easy to miss, even though you'll drive by it at least a thousand times. For some reason, the "drugstore" (that does not sell any prescription drugs!) catches your eye as you drive by.
Stop!
Exotic Plus is right next door. Park and go in. It looks like a little hole in the wall, but it's fun and funky Anguilla shopping...
Here's a picture of my mom in the shop. It has an awesome selection of t-shirts.
My mom liked this tropical shirt, but we all loved their own specialty t-shirt, exclusive to them.
Here it is...
The Goat Shirt

2004 Update: Exotic Plus is expanding. Click here to see Anguilla shopping, "Goat of 2004"
And of course, along with a goat-shirt for each of us, we bought some others. Here's a non- Anguilla picture of my mom and dad back home, proudly wearing their Anguilla t-shirts...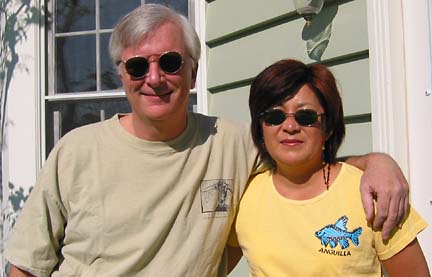 (When you think about it, it doesn't make sense to wear your Anguilla t-shirt in Anguilla, does it?)
As always, when we were at the cash, my Dad started up conversation with the owner, Mr. Dedric Webster.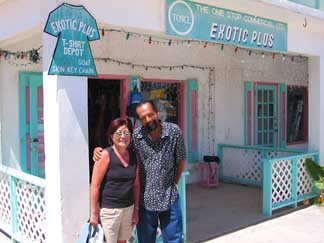 He's an extremely pleasant and talkative man, so he and my dad got along famously.
He told us all about the store, himself, and his uncle, Ronald Webster - the man known as "The Father of Anguilla!"
He's excited about Exotic Plus T-Shirt Depot! And he told us the story of how he came to be the only store on the island to offer the "goat with character."
It's a fun, truly Anguillian shopping store! Some day, I suppose, and I hope not for decades, Anguilla will be overrun with perfect, chic boutiques, like everywhere else. But right now...
Stop in, say hello, get to know Mr. Dedric Webster... and purchase a goat!