Anguilla Villa Review of Jasmine Villa, Meads Bay
by Suzanne
(Bellingham, WA, USA)
My husband and I stayed at Jasmine Villa in Meads Bay last January. It was delightful! We loved watching the sunset every evening from the patio. I could sit in the rocking chair for hours!
Overlooking Meads Bay, we had an incredible view and light breeze being up on the hill.
The walk to the beach was quick and the local grocery stores pleasant. The BBQ place up the street won our vote for best BBQ (only open 3 or 4 days a week, on the right hand side heading up the hill). I really enjoyed being on the West end of the island.
What we loved about Jasmine Villa was the personal service we received from the rental agency, great grounds keepers, a friendly maid, the "plunge pool" (which, by the way - is better for more than plunging (I could almost do laps!), proximity to the beach and local art galleries, ALL the french doors to let in that delicious breeze, the view (did I mention the sunsets????), the privacy...etc.
I could go on forever!
The furnishings were wonderful. Everything seemed like new. Oh, and the outdoor shower was nice to have. When we arrived, everything was ready for us, the grill, bottles of water in the fridge, towels by the pool... perfect.
I don't know what else I could say. We LOVED Jasmine Villa!!!!
Book early, we had to book almost a year in advance.
Nori's Reply:
Thanks very much for your review, Suzanne.
I have heard good things about Jasmine Villa. We never stayed here mainly because it's not directly
on
Meads Bay
. It is an easy walk down a slight hill (past
Malliouhana
) to the beach.
Being situated on a small hill, I have heard that the villa has pretty views of the sea. I can only imagine the sunsets! :-)
Many people have written to tell me that it is also a good spot for adults traveling together. It sounds like couples are afforded a lot of privacy since this Anguilla villa has two bedrooms, one in the main villa, and the other in a guest house.
The furnishings look lovely, the pool so inviting!

Jasmine Villa Pool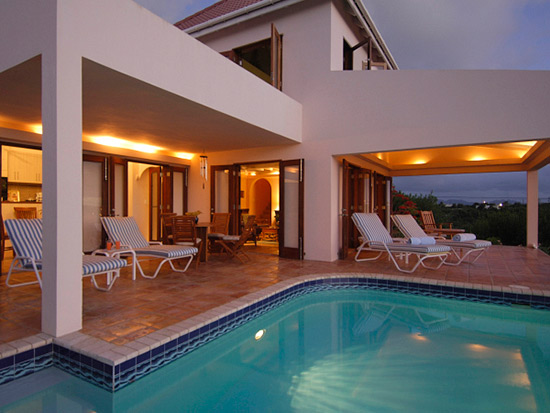 Photo From: Official Jasmine Villa Website

I am so glad that you had a great stay at Jasmine Villa!
Oh, and I completely agree about the BBQ place! It's called
B&D's, which I review here
. They are also on my
Top Eats
page.
Jackie Pascher, one of my favorite people on the island and the
Anguilla real estate agent who does all our villa bookings
, represents Jasmine Villas and can help folks with reservations. There are many
reasons to use an Anguilla real estate agent
to make your bookings, as I explain here. As you point out, including being able to find the best one available. As you point out, some villas fill up early!