Anguilla Villas Wishlist:
The Boat House
"Beachfront Anguilla villa?" Thanks, but not for me."
I have never heard someone say this, or even think it.
We all crave beachfront Anguilla villas!
But how about going one step beyond beachfront?...
The Boat House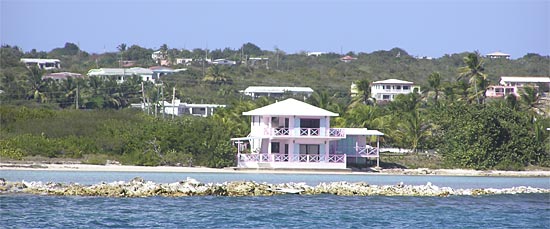 Close enough to the water for you?
This pretty, pink Anguilla villa isn't just near the water, it's on it!
My Dad has to be the biggest beach lover in the entire world, let alone in our little family.
So, naturally, for him, the thought of sleeping on water is more exciting than renting a place next to Robert De Niro.
What adds to the Boat House's perfection, is that everything else checks out...
On my Dad's list of "Anguilla villa must-haves", second after "on the water", is views. An unobstructed view, that stretches for miles can make or break a villa experience. Luckily, the Boat House's is spectacular.
Sensational St. Martin Views

From this Anguilla villa's porch, you could simply jump off the deck and into the water, to cool off. But, it also has that soft, sandy beach alternative.
Fine Beach on Forest Bay

All considered, this Anguilla villa gets a 10/10! But hurry...
The next hurricane that sweeps through Anguilla just might turn it into a real boat house before you (and we) have a chance to test it out.