Anguilla Medical Facilities...
Dr. Clyde Bryan &
Atlantic Star Center of Medical Excellence
Long before we moved to Anguilla, my Dad was an emergency room doctor. He studied at McGill University in Montreal and got his license in 1980. For several years he taught and practiced emergency room medicine. That career ended shortly after my sister was born. Then, he started working at a local walk-in clinic. A tamer life. :-)
When my Dad told his old friends at the Montreal Jewish General (where he taught and practiced emergency room medicine) that he was moving to Anguilla, they immediately told him all about Dr. Clyde Bryan...
Dr. Clyde Bryan
Born in Anguilla from a humble background, Dr. Clyde Bryan was accepted to the University of Prince Edward Island in Canada when he was just 16 years old. He was completely on his own.
Dr. Clyde Bryan and His Wife Gele With My Mom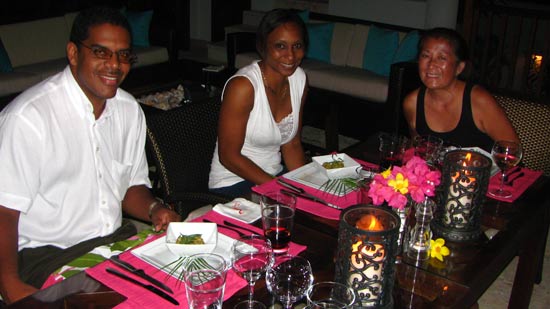 He received his Bachelor of Science degree in Biology and went on to apply to McGill University's medical school where he was accepted. Dr. Bryan completed his medical studies in Montreal and went on to do his internship and residency in Internal Medicine at the Jewish General Hospital.
Had my Dad stayed at the hospital for a few years longer, he would have taught Dr. Bryan.
What a small world, eh?
Dr. Bryan practiced for a few years in Canada, even going to Northern Quebec where he treated Canada's First Nations in a village called Chisasibi on the shores of James Bay. Later, he returned home to Anguilla.
Dr. Bryan has brought a high quality level of medical care to Anguilla. He gives credit of that quality to the excellent training he received at McGill University.
"After studying medicine at McGill, you should be able to diagnose and treat patients in the middle of the Sahara," he told me with a smile. He continued to explain that McGill trains you to diagnose and treat based on symptoms and a physical examination.
Anguilla lacks extensive lab work, so treatment based on symptoms and a physical is a must in order to make a timely diagnosis. Dr. Clyde Bryan brings that expertise to Anguilla.
With Dr. Clyde Bryan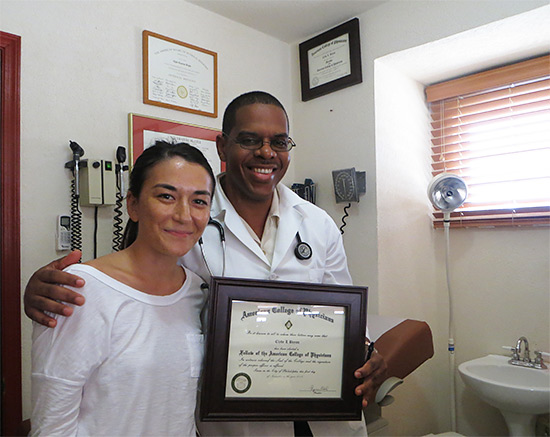 His efforts and achievements haven't gone unnoticed.
He has recently been elected a Fellow of the American College of Physicians. There is only one other doctor in the Caribbean who has received such an honor, 1 in Australia, 2 in Canada, and 4 in Japan. It is an incredible title, and is so well deserved! :-)
Atlantic Star Center of Medical Excellence
Dr. Clyde Bryan has a practice, one of the top Anguilla medical facilities, located in the middle of the island (near the turn off to Blowing Point), Atlantic Star Center of Medical Excellence.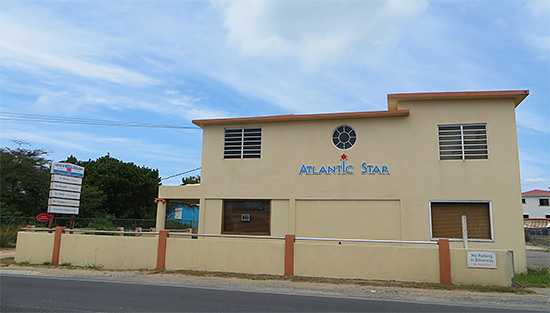 Comfortable Waiting Room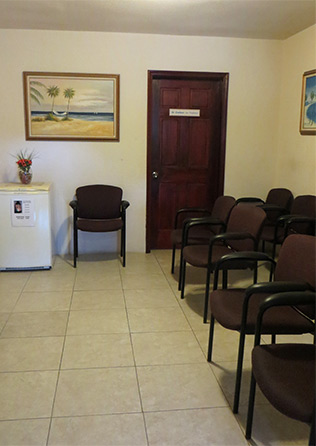 Here, Dr. Bryan can help you with diseases involving nervous system, skin, respiratory system, heart/circulatory system, kidneys/bladder, endorcrine organs, muscular and skeletal systems, diabetes, blood pressure, cholesterol and so forth.
He performs regular check ups and can help you out if you're just not feeling well, or have something more serious that needs medical attention.
There are 3 other doctors at Atlantic Star. Dr. Richard Etkin and Dr. Emanuel Brooks, who both specialize in Obstetrics and Gynecology, and Dr. Nicholas Carbon who is a General Practitioner.
Atlantic Star also features several visiting specialists. Dr. Yeesig specializes in general surgery, Dr. Alva Smith in cardiology (he comes from Pennsylvania 4 times per year), Dr. Ingrid Negrori who specializes in Orthopedic Surgery and Dr. Sonia Charles who specializes in ultra sounds.
The practice also has a chiropracter who visits every 6 weeks.
Lovely Stacy-Ann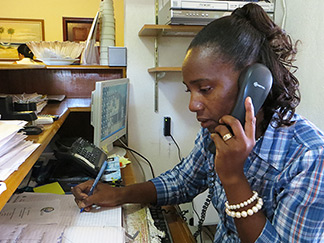 Atlantic Star is truly a well-rounded medical center.
My Mom, Dad and I all do our annual check ups at Atlantic Star.
We make our appointments every year, as we would in Canada.
The service is friendly and we always look forward to seeing Stacy Ann who is helpful and trusted.
If you live in Anguilla, Atlantic Star Medical Center is one of the best Anguilla medical facilities for annual check ups and walk-in appointments for anything that comes up between check-ups.
If you are visiting the island and run into a medical issue, contact Dr. Bryan. His cell phone number is provided below. He is often on call and is the go-to doctor for the island's big hotels and resorts.
Congratulations Dr. Bryan and thank you for all that you do for Anguilla!
Directions, Hours & Contact
Directions: Atlantic Star is located just beyond the turn off to Blowing Point on the main road if you're coming from the West. It will be on your left-hand side.
Hours: Monday-Friday 8:30am-4:00pm
Tel: 264 497-0765. You can reach Dr. Bryan on his cell here: 264 729-9389