Luxury Anguilla Villa, Bird of Paradise...
A Rare & Exotic Perch in The Caribbean Sky
Bird of Paradise Villa At A Glance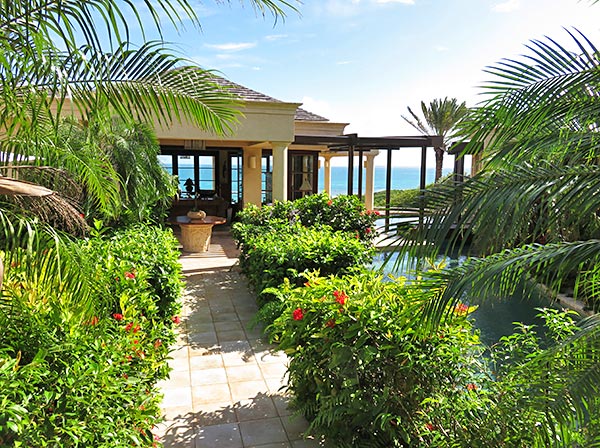 Named one of the top luxury villa rentals in the Caribbean by both Islands and Ocean Home magazines, Bird of Paradise Villa has won a gold medal for design and has been featured on the covers of magazines, including Robb Report.
This exotic escape has not one, but two swimming pools.
Every room of the villa has panoramic views of the beach. There are four master suites and an office or 5th bedroom for children.
A partnership with a nearby villa increases accommodations to 24, perfect for a family reunion.
Four living/dining areas include a covered veranda, sundeck, exterior living room with fireplace and an interior living area with wet bar.
This 5 star villa offers multiple packages with and without chef services to fit different budgets. It is a luxury to arrive to a welcome cocktail party and enjoy Executive Chef Kylon's Caribbean barbecue on your first night in Anguilla.
More on Bird of Paradise, below...







Contact Bird of Paradise Villa
Visit Bird of Paradise's Website...
As enchanting as the elusive birds of paradise, Bird of Paradise villa is a rare and exotic beauty.
It is the reflection of owners Jon and Melody Dill's travels to the world's most remote and alluring corners. A culmination of their experiences, Bird of Paradise artfully combines Caribbean warmth with authentic Indonesian mystique.
Worlds away from hyper-modern, clean-line architecture and design, this is classic tropical living of the highest quality.
Welcome to Bird of Paradise Villa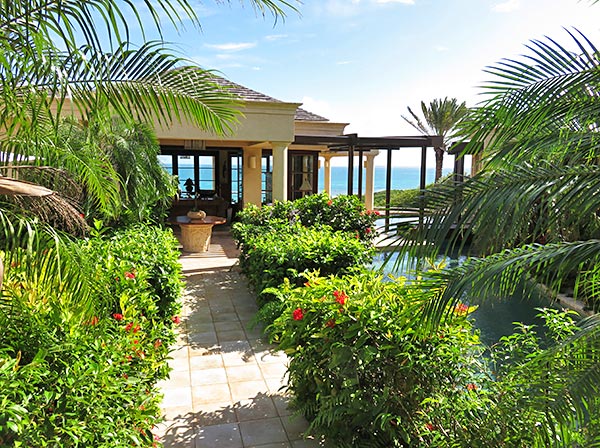 Relaxed yet sophisticated luxury is driven by a microscopic attention to detail. Each space has been pre-planned and thought through from the visitor's point of view.
Since Bird of Paradise's inception, the villa's essence of tropical perfection has caught the eye of trendsetting media. Bird of Paradise has graced the cover of Robb Report. It has been featured in CN Traveler. Even Islands Magazine dubbed it one of the top 20 villas worldwide.
When Melody and Jon invited us to spend a day and sleep on the fine Frette linens of Bird of Paradise, we were honored.
Your Luxurious Perch in the Sky
Jon and Melody spent over a year scouting locations before breaking ground in Anguilla. When they found this perch overlooking Sandy Hill Bay, they knew they were home. The combination of elevation, beach access (a 3 minute walk - we timed it) and views of St. Martin and St. Barth make it one of the island's premier sites.
Bird of Paradise Villa As Seen From The Beach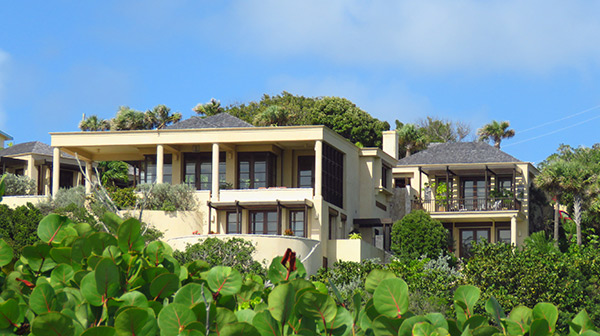 Bird of Paradise sprawls across green hillside that slopes to sandy beachfront. The estate's enclave is composed of three Indonesian-style buildings. There are four master bedroom suites, two pools, multiple outdoor dining and living areas, two "hideaways" for daytime escapes, and a collection of African and Oceanic antiques.
The experience begins here...
Welcome to Bird of Paradise
Entrance to Bird of Paradise Villa

As you walk the tiled path to the villa's main house, you are whisked into a lush oasis, ripe with date palms and blossoming bougainvillea. A 33,000 gallon lies to your right, ultimately snaking around the villa's main house.
Lagoon-Style Pool at Bird of Paradise Villa

Decades of professional expertise and experience lie within Bird of Paradise's design. It was designed by Wilson Associates, who boast the most prestigious clients in hospitality, including Four Seasons and Ritz Carlton. This project, a private home, was a "first of its kind" for Wilson Associates.
Entering Bird of Paradise Villa's Main House

The Main House
Wilson Associates' immaculate touch becomes apparent as you enter the great room.
Main House's Great Room Views

Warm-hued walls meet crisp white moldings. Rich cumaru wood makes up the high-vaulted ceilings overhead. Not a sconce or electrical outlet is misaligned or out of place.
The room's accent pieces, collected from the Dill's Oceanic travels, from Papua New Guinea to Borneo, add a deeper dimension. There is a distinct sense of sophistication, one that blends discerning taste with a life well-traveled.
Perfectly-positioned to catch the natural Caribbean sea breeze, the room's glass-paneled doors open to the outdoor terrace. Keep them closed on windy days. Slide them open when the wind subsides in summer. Bird of Paradise's great room is always a comfortable temperature.
It all looks out to a panoramic view of one of Anguilla's most picturesque bays. From high in the beach's surrounding hills, uninterrupted sky and sea refract infinite shades of blue to you.
Extra-Special Touch: The view is completely unobstructed. Even the room's exterior terrace is set several feet lower to not interfere with the view from inside. When I say every detail has been thought through, I mean every detail. No aspect has gone overlooked.
The Great Room

The room, of course, comes complete with reading material, board games, a flatscreen TV with cable and DVD and a wet bar. Many days of calm, open-air relaxation lie ahead.
Adjacent to the great room is the indoor dining room, which dons a Sir Roland Richardson oil on canvas. Past the indoor dining space is the gourmet kitchen, where Bird of Paradise's Executive Chef Kylon prepares your meals daily.
An outdoor fireplace backs onto the kitchen.
Fireplace That Backs Onto The Kitchen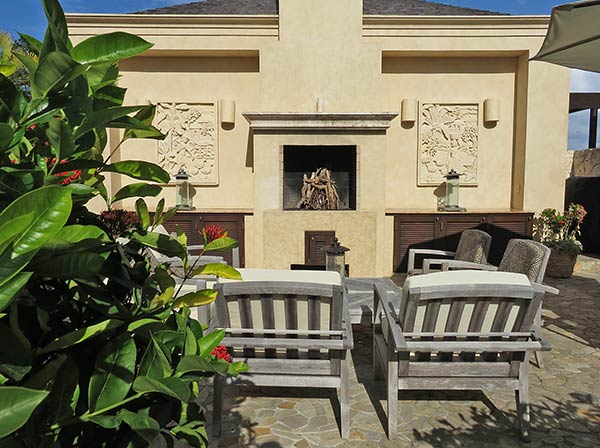 Limestone wall panels hand-carved in Bali are fixed on either side of the fireplace. Hurricane lanterns top the tables. And, care taker, Jose keeps the fire lit upon your request.
Protected from the tradewinds that blow in from the east, it is a sheltered retreat.
Fireplace Sitting Area
(Fireplace Not Picture - Located on Left)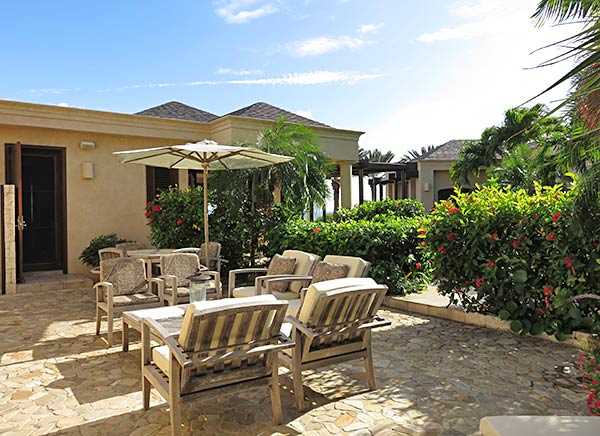 On the opposite side of the main house, the oceanfront terrace runs the length of the building. It, too, has been thoughtfully positioned. A different part of the terrace catches the daylight as the sun moves from east to west.
Outdoor Dining & Living at Bird of Paradise Villa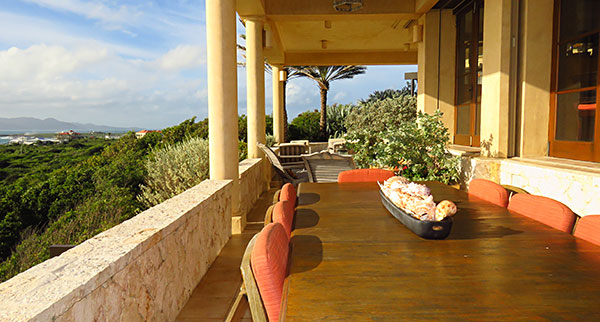 The terrace is complete with large dining table, custom-designed benches and lounge chaises.
Exterior Terrace with Blue Views

The lagoon-like pool continues to wrap the west side of the building. It ends where the outdoor oceanfront terrace begins.
The Pool's Caribbean Sea View

When in the pool, lounge with elbows perched on the ledge and fix your eyes on the horizon, the dividing line between two shades of blue. Or lay back in a pool chaise, naturally shaded by the palms as the sun slides into the late afternoon.
Lounge Chaises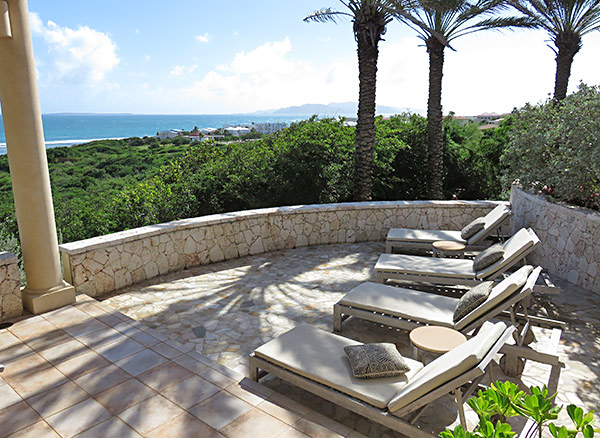 A vast villa, this is just the beginning. On to the bedrooms.
The Master Bedroom Suite
To arrive at your master suite, cross the bridge that traverses the lagoon-like pool. This approach is a promise that something special lies ahead. Your expectations are about to be exceeded.
The Bridge to the Master Suite

A pair of antique Balinese statues greet you upon entering the sanctuary of your serene suite.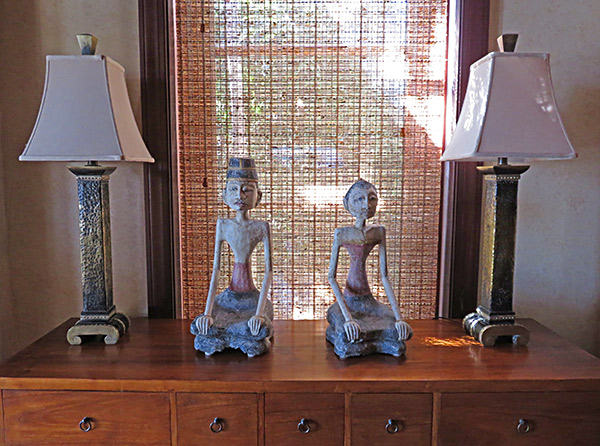 To your right is the master bathroom and to your left is the master bedroom.
Master Bedroom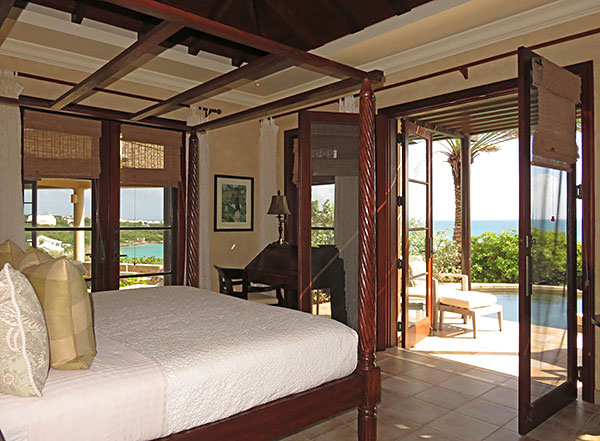 As in the great house, perfection is the order of the day. A finely embroidered Frette quilt tops the king bed in its mahogany frame. Porcelain colored curtains drape the floor-to-ceiling windows. These windows surround the room on three sides.
Extra-Special Touch: All windows are finely screened in. At night, open the windows to sleep to the touch of tradewinds and the sound of the sea. If it is air conditioning you prefer, each suite has central air.
Master Bedroom King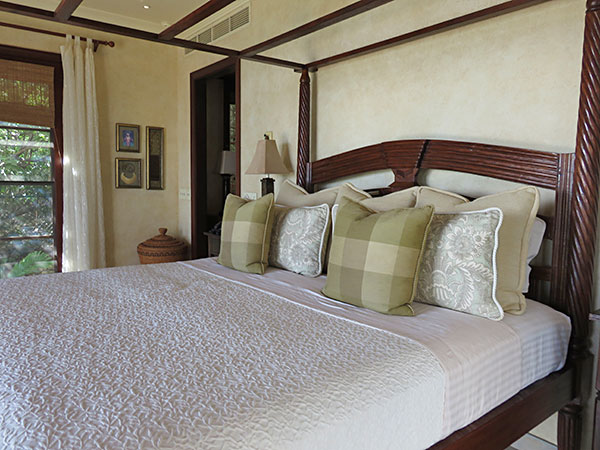 The suite feels somewhat like an island, surrounded by sparkling-clear water on two sides. The bedroom's east doors (facing towards the villa's main house) open onto the estate's principal pool.
Main Pool Access From Master Suite

The suite's south facing windows and doors look straight ahead to the suite's jewel, a private terrace with plunge pool and views of the Caribbean Sea.
Master Bedroom Terrace with Plunge Pool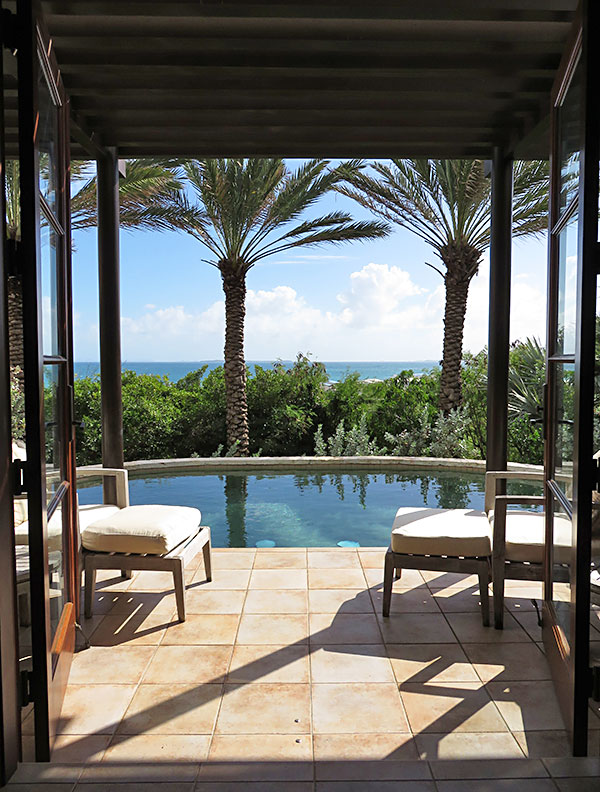 Surrounded by palms and foliage, the private terrace is a peaceful escape within a tranquil paradise.
Master Bedroom Terrace with Plunge Pool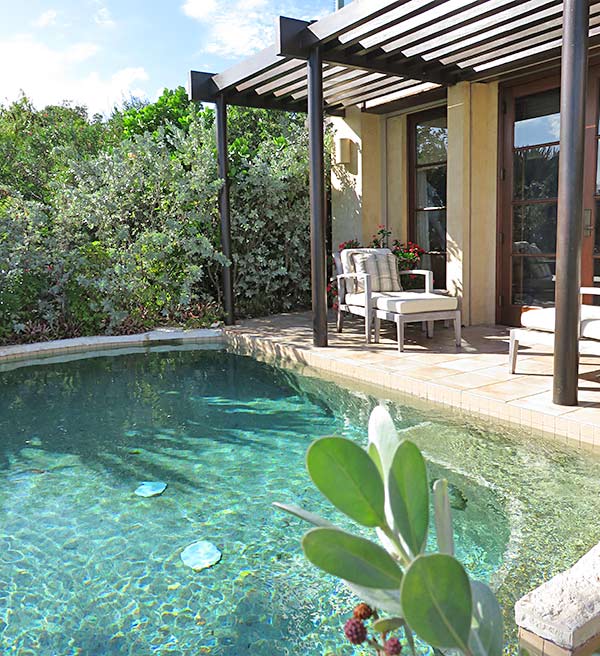 Each bedroom features a flatscreen TV with cable and a telephone with intercom to the estate's other rooms.
The master bedroom's dressing room with closets, bar and bathroom is as impressive as the terrace and bedroom. Oversized, and with granite counters, a sink tub, indoor shower and outdoor walk-in shower, no luxury has been spared.
Master Bathroom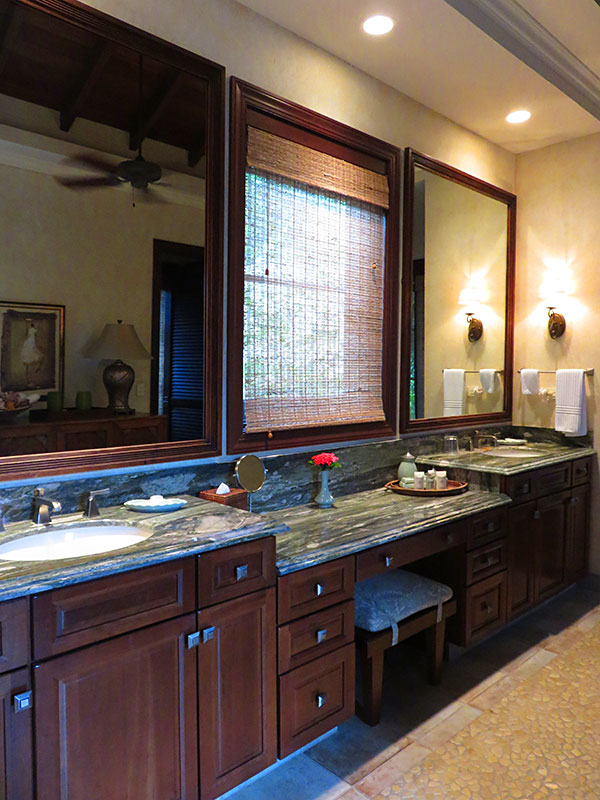 The marble-encased whirlpool tub inspires bubble bath day dreams, as the marble's opulent green blends with its backdrop. Opening into rich emerald gardens, this is the privileged equivalent of bathing in a steaming jungle hot spring.
Luxurious Whirlpool Tub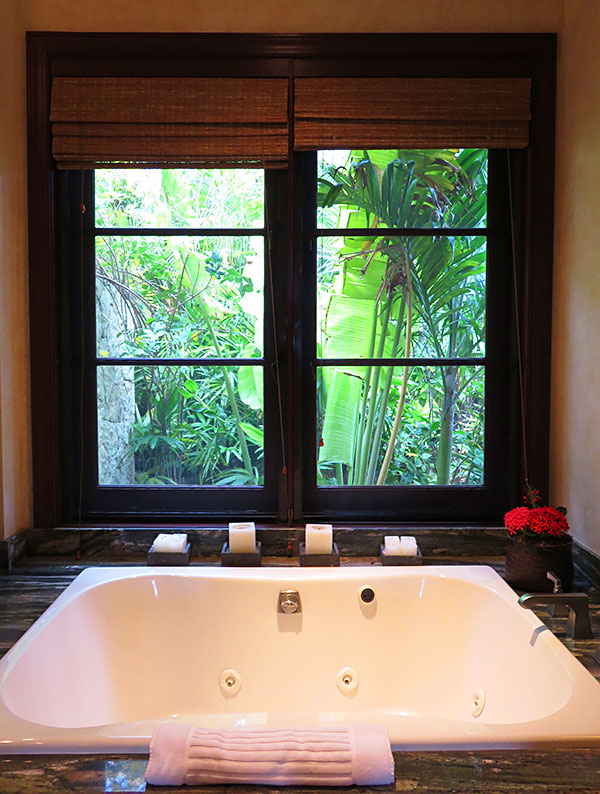 When it comes to bath and shower gels, the amenities are world-class...
Bvlgari Amenities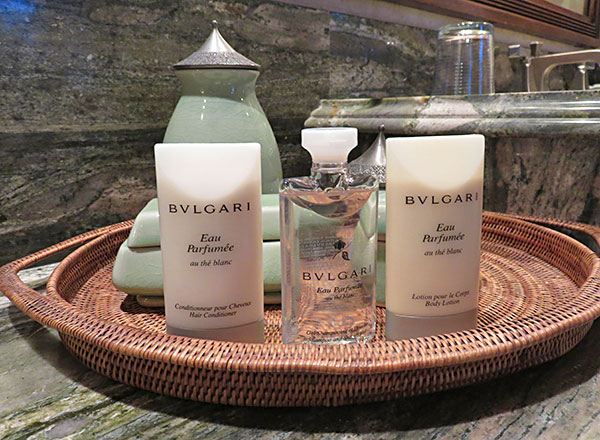 Other amenities include slippers, bathrobes and a safe.
Extra-Special Touch: Each bedroom also has its own coffee maker and fridge. Both are tucked into an armoire. A subtle and smart detail, your privacy is enhanced yet again. In the early morning, enjoy a cup of coffee in-suite before joining the rest of your party.
The Lower Master Suite
Across the property and down an outdoor staircase with a sea view, the villa's second master suite is completely separate from the main master. Noise does not travel between suites at Bird of Paradise. Privacy is paramount.
Lower Master Suite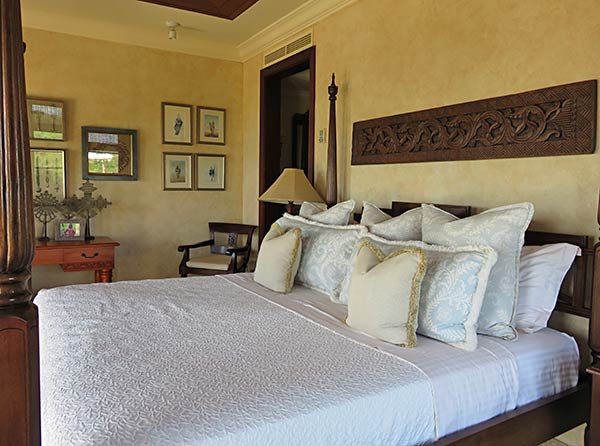 Each Bird of Paradise bedroom stands alone as an exquisite suite.
The lower master exudes elegance.
Light and bright, delicate curtains complement the textured walls.
The fine Italian linens offset the dark mahogany beds.
Antique pieces adorn the walls and desk.
The Ethiopian crosses are especially noteworthy.
Reflecting the spirit of the room, the crosses' intricate lattice work is said to represent eternal life.
Every element works together to create an almost ethereal quality.
The suite itself opens onto a stone-walled private balcony.
Lower Master Suite View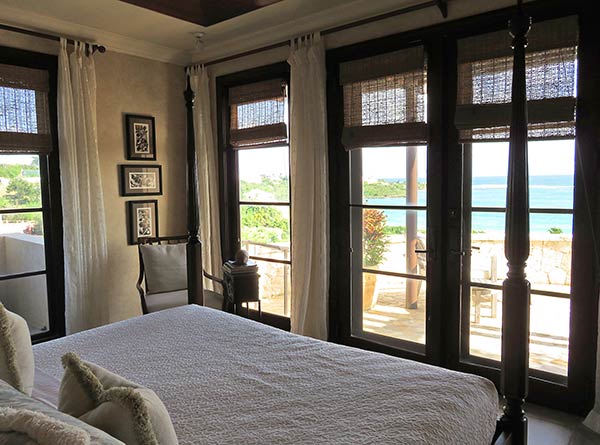 The views are vivid. No pool, but the terrace's open expanse and all-day position in the sun more than make up for it.
Terrace with Panoramic View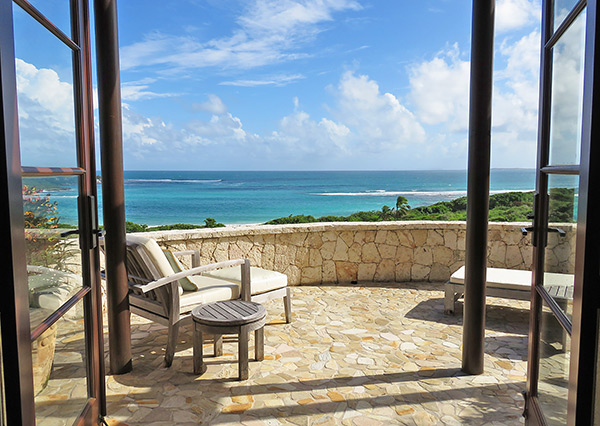 The over-sized bathroom with bar and dressing area is set behind the bedroom.
A long stretch of marble counter runs parallel to the walk-in shower. Behind glass door (visible to the right of the photo below), the sizable stone-lined shower is complete with hand-held shower head.
Lower Master Bathroom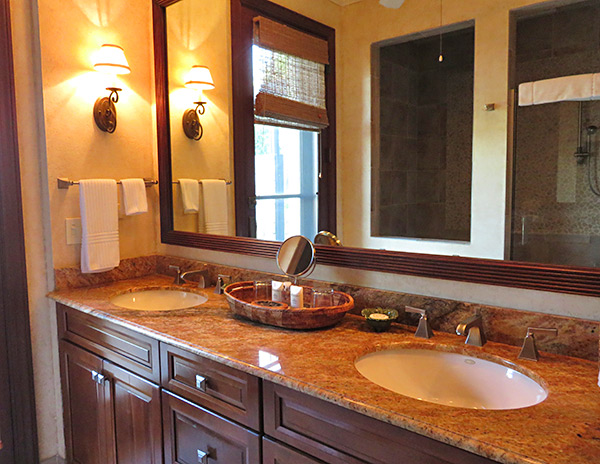 The cavernous space even features a whirlpool tub. Peek into the window next to the shower door (as seen in the left of the photo above), and the whirlpool tub comes into view, too.
Sumptuous Whirlpool Tub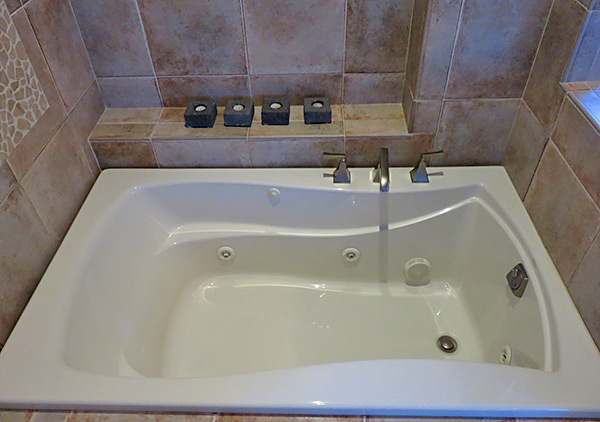 The lower master suite features all of the amenities of the master suite, including coffee maker, flatscreen TV and telephone with intercom system.
Suites #3 & #4
In a building of their own, adjacent to the lower master suite building, are suites #3 and #4. Suite #3 sits on the main floor of its building, while Suite #4 is above.
Suite #3

This suite features two queen beds. With Papua New Guinea baskets over head, the two queen beds look out to the Caribbean Sea below.
Jon and Melody emphasized the importance of the bedrooms' ocean vistas when designing their luxury villa. A requirement in their initial plans, each suite was to have a private terrace with jaw-dropping views. Suite #3 and #4 fall into that vision.
View From Suite #3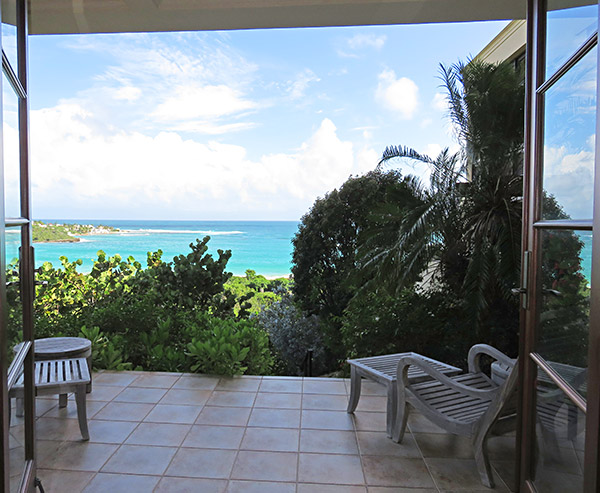 Upstairs from Suite #3 is Suite #4.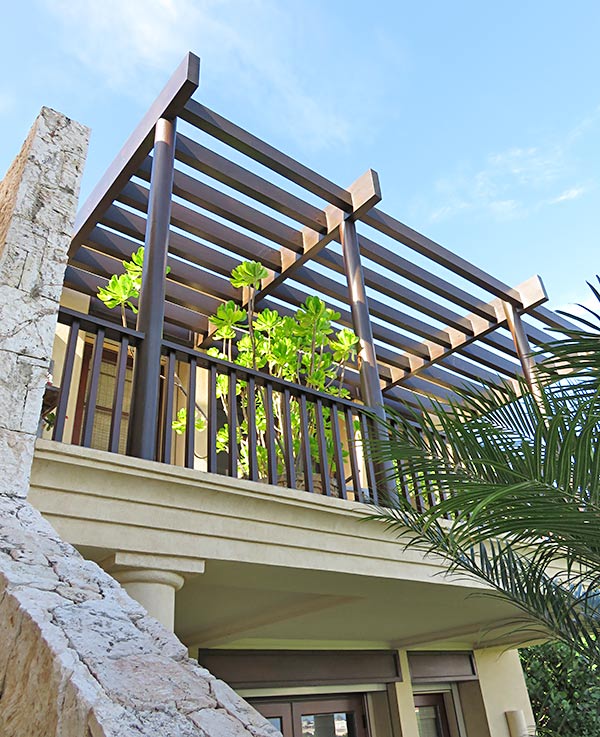 Suite #4 is on the same level as the villa's main house. It is an excellent choice if you are traveling with young children and a nanny.
The room features an office and two day beds, which can be converted into a single bed.
Office in Suite #4

This office area opens into the master bedroom. Its bed can be made as either a king or two twins.
Suite #4 King Bed

As per Jon and Melody's vision, the whole room opens onto a pergola-covered balcony.
Suite #4 Balcony

Both Suites #3 and #4 feature walk-in showers and the amenities of the two master suites, including Bvlgari products, flatscreen TV and coffee maker with fridge.
With the lay of the land provided by gracious villa manager, Michelle, we were ready to settle in. Should you need anything, Michelle is just a phone call away.
Extra-Special Touch: Local and international calls to USA and Europe, as well as a local cell phone are all included in the rate.
As we unpacked and changed into our swimwear, enticing aromas wafted through the air. We followed our noses to...
Chef Kylon's Welcome Cocktail Party
Chef Kylon is Bird of Paradise's Executive Chef. A man with a deep passion for cooking, he chose to give up his career in accounting to pursue his desire to delight palates. With an impressive resume (Viceroy and other high-end villas grace his CV), he brings haute-cuisine to Bird of Paradise Villa.
Your first introduction to Chef Kylon's cuisine is at his welcome cocktail party, included if you book Bird of Paradise's Silver, Gold or Platinum Package.
Cocktail Party at The Bird

Chef's welcome cocktail party includes rum punch, champagne cocktails and hors d'oeuvres.
Chicken Skewers with Chef's Secret BBQ Sauce

Grilled, each bite of the skewered chicken packs a full smokey flavor. Chef normally serves these with a peanut satay sauce, but Yuki has a severe allergy to peanuts. "No problem," Chef said. He whipped up a tangy BBQ sauce. My sister begged him for the recipe...
Made from scratch, Chef combines Worcestershire sauce with a sprinkle of sugar, a splash of soy sauce and a few other ingredients that he keeps under his chef's hat. A winning and taste bud arosing combination.
Coconut Shrimp with Mango Sauce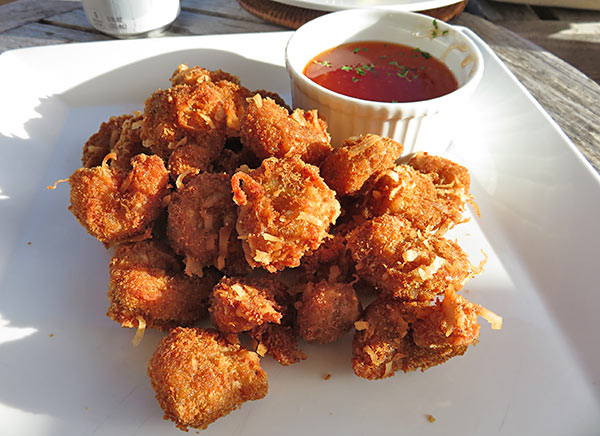 Next up was Chef's coconut-crusted shrimp with a side of mango dipping sauce. Chef adds ample shreds of coconut to the breading, resulting in an addictively crispy, sweet treat. They pair perfectly with the syrupy and decadent mango sauce.
Last, but certainly not least?...
Rum Punch Cheers!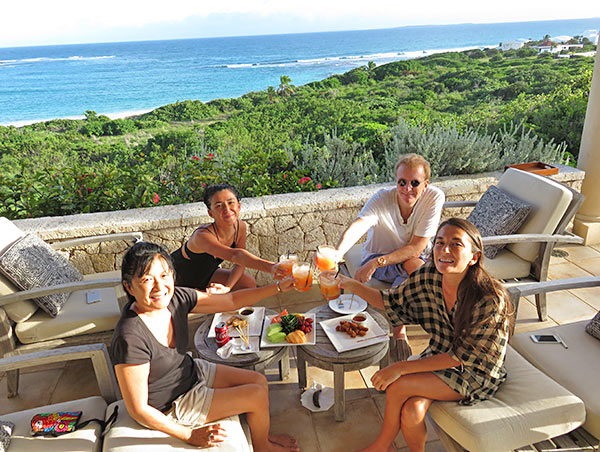 Drinks served, it was time to glide into the Bird of Paradise experience.
Lounging at The Bird
While my Dad kicked back in post-cocktail party delight...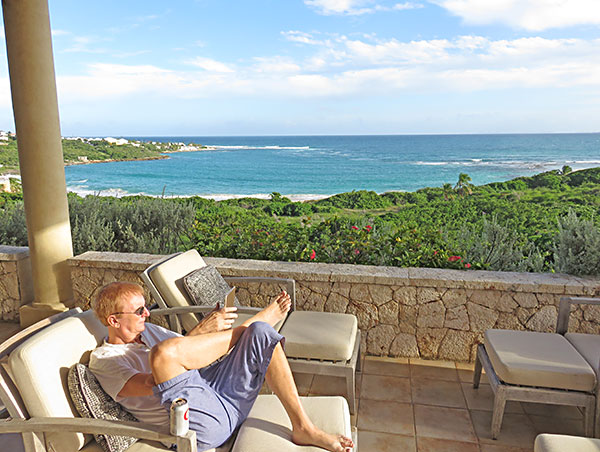 ... my sister and I were ready for Bird of Paradise's...
Two Lagoon Pools
Yuki and I slipped into the deep blue of Bird of Paradise's main lagoon-like pool.
Lagoon Pool

Something out of a far-eastern dream, it is one of the villa's focal points. Weaving through the property, past the master suite, among palms and beneath the master suite's bridge, its final reward are the open views of the Caribbean Sea.
Master Suite in Background

3' at its most shallow and 9' at its deepest, the variety of depths and interior seating make it ideal for not just swimming, but sitting and sipping cocktails, too.
Extra-Special Touch: The pool is heated. Though Anguilla is a Caribbean island, it is not uncommon for pools to drop to an uncomfortable 70F or below in winter months. Bird of Paradise's hovers between 80-85F.
While I swam below flora and fauna, Yuki took to the master suite's pool...
Views From the Master Suite Pool

After a dip and sit up on the stone wall, a snooze in the sun called.
Master Suite Pool

Well-separated from the main pool, it is an idyllic hideaway.
Speaking of hideaways, Bird of Paradise is ripe with nooks and crannies to sneak away and enjoy the tranquility of the day. My Dad, the "explorer" of the family, found them all.
Secret Hideaways
Indonesian Day Bed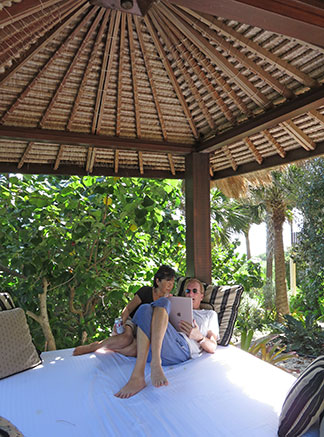 Behind Bird of Paradise's strong gates and high fences, a number of secluded hideaways dot the sprawling property.
The first is set to the east of the villa, camouflaged by gardens.
A Balinese day bed, it is a pleasant spot to tuck into a book, feet up.
The ocean in the distance and swaying palms all around add to the peaceful atmosphere.
For a bit of elevation, a hidden staircase leads to this view and the second hideaway...
Bird of Paradise From Above

A weathered wooden deck, adorned with fishing traps and buoys, it is a true Caribbean hideout complete with a dominoes table. My sister and I would have loved this "fort" when we were younger.
Sheltered by a canopy of leaves, it features a relaxing hammock where Mom or Dad can sway while keeping an eye on the children.
Hammock Relaxing

As we each basked in our favorite parts of Bird of Paradise, one aspect shone especially bright...
Lush Gardens
The villa is defined by its lush landscaping. Its collection of palms and various plants are key in creating the distinct tropical ambiance. It is all thanks to the dedication of Bird of Paradise's caretakers and landscapers, Theo and Jose.
Theo & Jose

From Guyana, Theo ("the boss") laughed when we spoke with him about the challenges of keeping plants alive in Anguilla. An arid island whose soil is largely infertile, maintaining a green property, abundant in non-native species is no easy task.
The vibrancy of the plants is a credit to Theo's passion for seeing his work blossom. These are some of the most impressively manicured and tirelessly maintained gardens in Anguilla.
Activities at Bird of Paradise Villa
Fascinating Hidden Sea Cave,
One of Many Anguilla Secrets That
Jon & Melody Know Well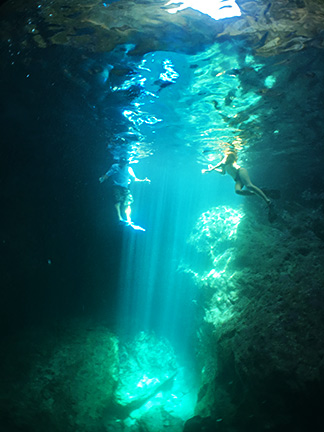 While my family and I chose to "nest" in our luxurious roost, many set out to explore all of Anguilla's natural beauty.
You couldn't ask for more knowledgeable hosts than Jon and Melody.
They know Anguilla like the back of their hands, being long-term visitors to the island (30+ years).
From secret beaches to rarely-explored caves and coves, there is little about Anguilla Jon and Melody do not know.
They share their knowledge with you on a regular basis. A daily newspaper with suggested itineraries is placed in the great house every morning.
Should you want to arrange any activities (ex., snorkeling tours, scuba diving, etc.), villa manager Michelle is ready to assist.
Bird of Paradise By Night
As day turns to night, Bird of Paradise transforms into a romantic refuge. Expertly designed lighting lends a flawless glow to the main house.
Bird of Paradise's Main House By Night

The great room radiates warmth with its deep wood beams and collector's antique pieces from around the world. In the distance, St. Martin's lights twinkle against the Caribbean night sky. You feel as though you have been invited into a traveler's grand den, of the Abercrombie & Kent variety.
This became my Dad's favorite room in the villa.
The Great Room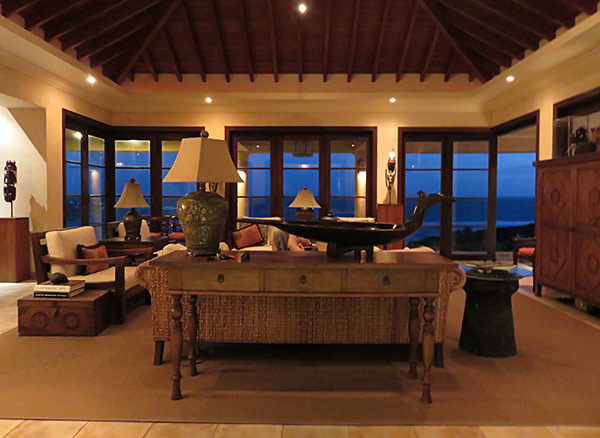 Outside, the fire crackles...
Night Time Fire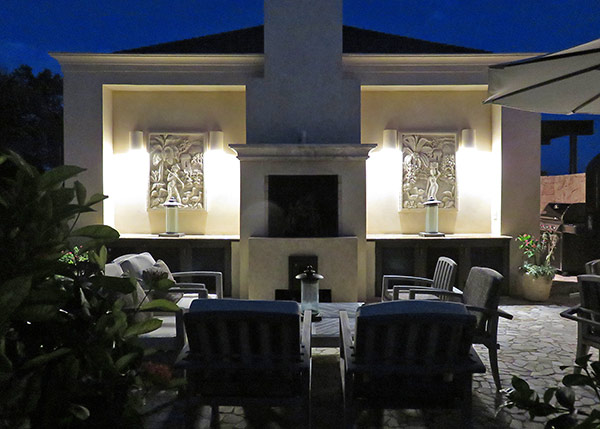 And the villa's "natural lagoon" dazzles the eye...
Over...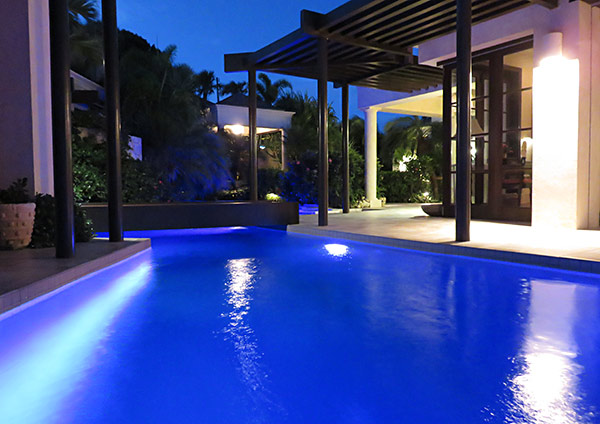 And over...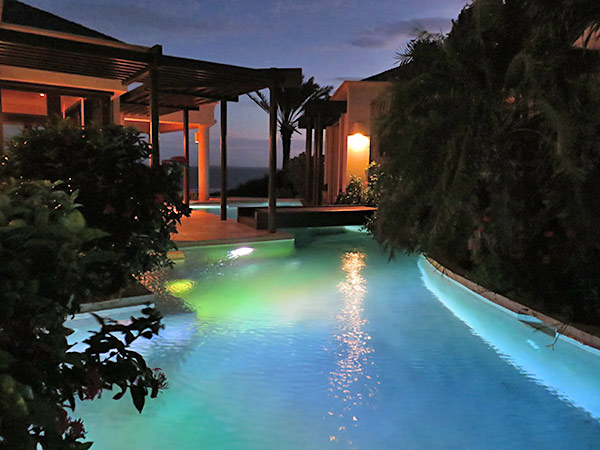 ... as its lights gently fade in and out of a myriad of colors, matching the shade of the post-sunset sky.
Chef Kylon's Caribbean BBQ
Peeking Into Bird of Paradise's Gourmet Kitchen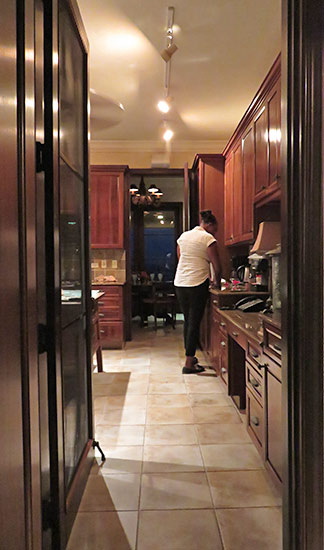 While my family settled in the great room, I snuck into the kitchen.
A true Chef's kitchen, it is tucked away from the main indoor living space.
Chef is available to prepare meals daily and the villa offers an extensive menu from which to choose.
(Click here to see Bird of Paradise's full menu.)
Faint aromas of a lit barbecue grew stronger as I drew closer to Chef's kitchen.
As I peered in, Kaira, the villa's butler, was preparing the serving plates.
Bird of Paradise arranges your butler to serve your daily meals.
While Kaira prepared the table setting, Chef was tending to our favorite Anguilla delicacy...
Crayfish!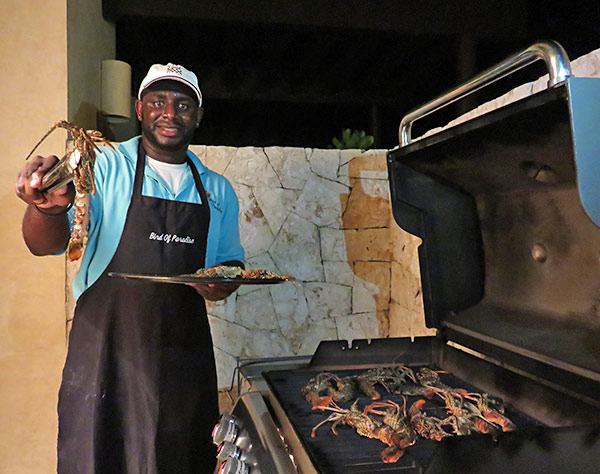 Dozens sizzled atop Bird of Paradise's oversized gas grill.
What was on the menu? Caribbean barbecue, Bird of Paradise style!
A colorful plate, this goes down as the most elegant "Anguilla BBQ" I have seen to date. Chef gently plated the accoutrements, potato salad, coleslaw, corn. "Presentation is everything," Chef said with a smile.
Chef Kylon Plating The Elegant Caribbean Barbecue

A side of Johnny cakes and baked beans...
Johnny Cakes & Baked Beans

Grilled chicken with homemade sauce...
Grilled Chicken with BBQ Sauce

And the star of the show? Grilled crayfish with garlic-lemon butter...
Grilled Crayfish with Garlic-Lemon Butter

We opted to dine in Bird of Paradise's indoor dining room. Kaira's fresh flowers accented the table and complemented Sir Roland Richardson's impressions of a Caribbean Flamboyant Tree in the background.
Indoor Dining at Bird of Paradise Villa

The dining table can be expanded to accommodate larger groups.
All seated...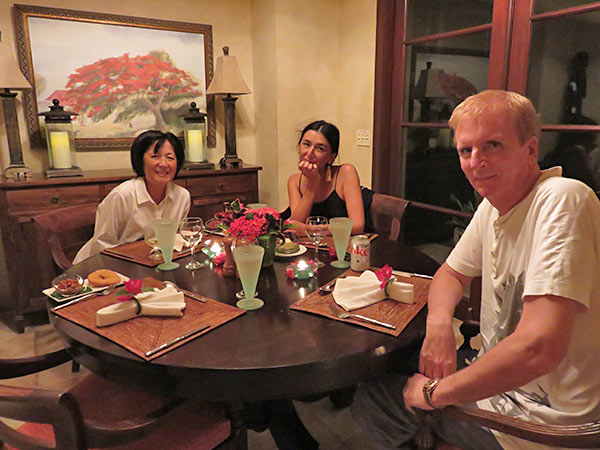 Dinner was served.
Attentive, Kaira anticipates your every request with kindness. More wine, more water, seconds for my Dad. Her sense of "what's next" is impressive. She accomplishes it well, without hovering.
Chef's Panna Cotta

With a panna cotta to finish, we were ready to retreat to our suites.
Back in our rooms, Yuki and I surfed the net in the lower master bedroom.
Extra-Special Touch: The Internet connectivity is especially fast and reliable. The network is seamless throughout the property, and connecting is easy. No passwords, no fuss. We never had any issue with the WiFi. Should a hiccup occur, the villa has an IT expert on-call.
After ample surfing, we began to fade as the gentle sounds of the ocean in the distance and the rustling of palms nearby lulled us into a state of calm. Secured by an alarm system and high stone walls, we slept like babies, cradled in our perch above Sandy Hill Bay.
Waking Up to Bird of Paradise Villa
There is something special to the fresh tropical morning air at Bird of Paradise Villa. Outside the total quiet of your suite, birds begin to chirp as the morning light shines through the estate, pale-blue waves breaking below.
Mornings are peaceful and calm. Yuki and I crept quietly to capture the rarest of photos...
Our "Mama Bird" Basking in the Warm Morning Sun in the Master Suite's Pool

As Jose skimmed the main pool, Chef was ready with a pot of coffee to start our day. I skipped the caffeine boost and energized with...
A Laze in the Sun

A Quick Dip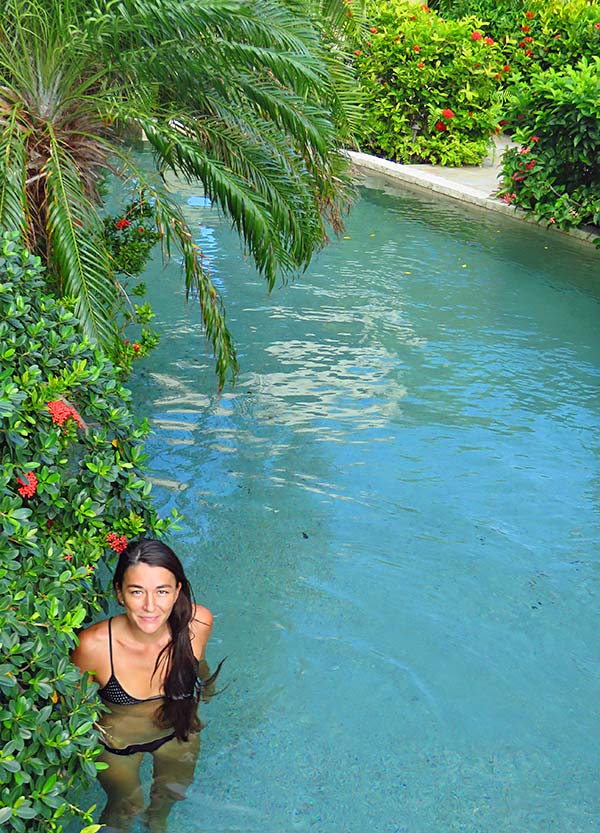 And A Swim Below the Bridge

A morning swim is a must at Bird of Paradise. The heated water makes for a soothing start to the day.
Soon, Chef Kylon had breakfast ready.
Breakfast is Served
We dined by the pool, illuminated by the morning sun.
Breakfast is Served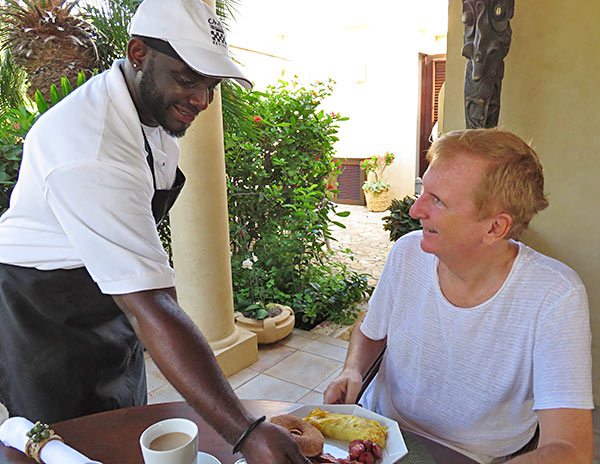 Chef can prepare a wide variety of breakfast items (Nutella banana crepes, eggs Benedict, Belgian waffles, etc.). We went with our favorites, omelets and bacon.
Tip: Chef's bacon is, in a word, perfect. Thick-cut and crisp, with a subtle hint of maple-glaze, bacon with every breakfast is highly recommended.
Chef added cheese and peppers to the fluffy omelets, extra slices of sausage on the side.
Omelet, Bacon, Sausage & Bagel

Completing the sides is...
A Colorful Selection of Fresh Fruit

A beautiful presentation, we had found breakfast bliss.
Happy Family Breakfast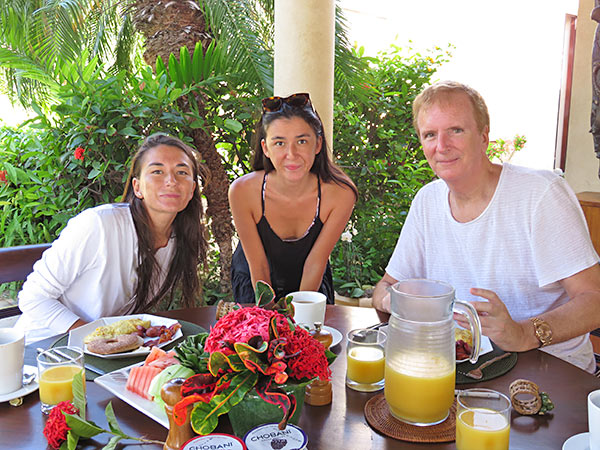 A Morning Beach Stroll
In rhythm with the morning's easy feeling, it was time for a stroll on the sands of Sandy Hill Bay...
Path to the Beach

A family of beach lovers through and through, the beach beckoned.
Jose pointed us towards the beach path.
It runs along the eastern edge of the property. It is a 3 minute walk to the beach.
Down the steps, through the locked gate and we were on our way to one of Anguilla's gems, Sandy Hill Bay.
If you would like beach chairs and umbrellas set up on the beach, Jose will do that for you.
On our walk, we glimpsed our bird of paradise in the background, nestled in the hillside.
Bird of Paradise Villa As Seen From the Path to the Beach

A few moments later we emerged on the calm shores of Sandy Hill beach...
A favorite for families and young children, Sandy Hill is a tranquil bay that is loved for its calm seas.
On the Sands of Sandy Hill Beach

A "family beach," the waters here are some of Anguilla's safest. Sandy Hill is a protected bay set on the south shore of Anguilla. A large reef surrounds it, giving way to still waters and excellent snorkeling.
Children Sailing Sunfish in Sandy Hill Bay

The stretch of beach extends to a sandy point that has views all the way to St. Martin and even St. Barth on clear days.
Standing on The Point at Sandy Hill Bay

One look at Sandy Hill, and you see what Jon and Melody saw many years ago when they discovered this plot. It is love at first sight.
We walked and talked, reminiscing on the unforgettable day behind us. All too soon we found ourselves re-tracing our steps home to Bird of Paradise. Our mini-getaway was coming to a close.
Sweet Good-Bye's & Indelible Memories
Before we "flew the coup," Chef Kylon presented us each with one last treat. A bag of cookies for the "long ride" home. The extra-special touches are seemingly never ending.
Special surprise gifts are also presented through your stay.
Sweet Good-Bye's at Bird of Paradise Villa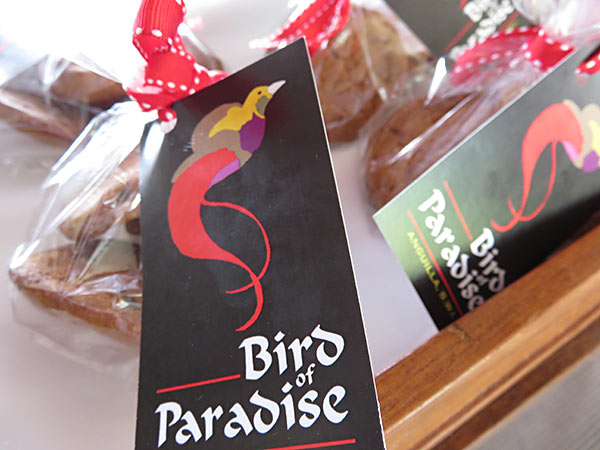 Packed up, we turned and said one last good-bye to the bird of paradise that had swooped in and stolen our hearts.
Jon and Melody have created the most "user focused" accommodation that we have experienced anywhere. It is exhausting to think of the level of detail and thought that they brought to "The Bird."
Indelibly etched as a warm Anguilla memory for us, I am sure Bird of Paradise Villa will over deliver on the same promise to you.