Anguilla Resorts...
CeBlue
NOTE: Since this webpage was written, CeBlue has undergone many changes. Most current CeBlue article here.
The Concept
The concept and design for CeBlue was born out of a group from New York who have long loved the Caribbean. They have always had a dream to build in the Caribbean. They knew they had found it, that most special spot, when they saw the views of Crocus Bay.
The View From CeBlue

Designing something private, quiet and minimalistic, was in their hearts. At the core of CeBlue there is both a historic Caribbean charm and an Asian type of elegant modern design.
CeBlue is made up of eight villas. The villas have five-bedrooms with adjoining bathrooms, an outdoor and indoor dining and living space, kitchen, outdoor and indoor living space, and pool.
Going hand in hand with a luxurious, private and quiet experience is the need for top-notch service. Guests are served with undivided attention. Each villa has a "lifestyle assistant" and also a golf cart. The golf cart can be used to access Crocus Bay below, water sports, and the five-star restaurant daVida, where guests have signing privileges.
This is all offered at competitive rates.
Inside CeBlue
We have visited CeBlue through the different phases of construction. It is a stunning property.
Each unit is roughly the same, though the layout and views differ from villa to villa. Villa 5 has arguably the best views of the eight.
The Entrance of Villa 6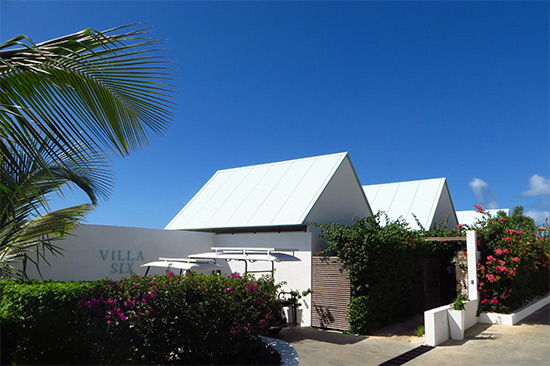 Every time I walk into CeBlue, through the elegant entrance reminiscent of a Japanese garden, I always feel at ease. The use of wood, whites, and lush, lush floral gardens, enhance the minimalist feeling and feeling of serenity.
Let's take a look inside...
Outdoor Living Space
I never get tired of that clear, open, endless view...
With a view like that, and with Anguilla's climate (having endless sunny days is just one of the advantages of being a desert island), CeBlue's design was optimized for outdoor living. You can see why they called it Ce-Blue. All you see is blue!
The main entrance opens up onto the large, wooden deck and pool area.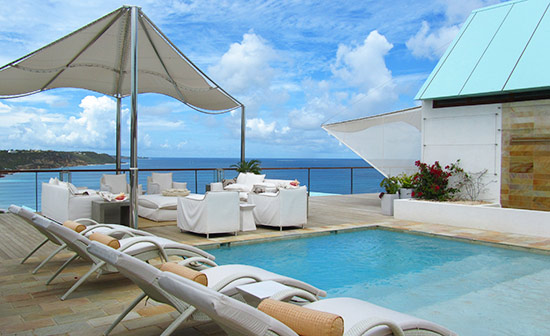 Here, there are plenty of lounge chaises, chairs and tables. A large white tent that resembles the sails of a ship shield you from the sun. There is also an outdoor shower behind a sliding paper-type door, a Japanese inspired design.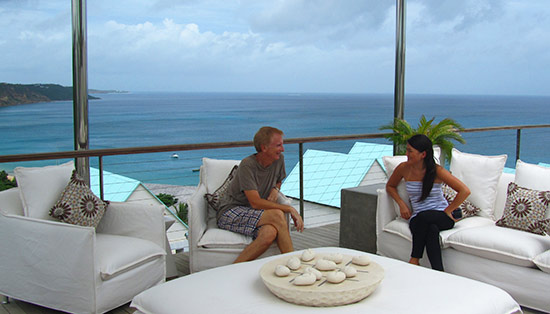 I especially love the use of wood for the decks and the sails. The wood adds a warm touch to the otherwise modern design. The sails are truly unique, pulling the whole outdoor living space together.
Sails Closed

To the right of the living space are 2 bedrooms, to the left is another bedroom and an inside kitchen/dining area. Downstairs (yes each villa has a downstairs!) there are two additional bedrooms, a formal outdoor dining space and a media room.
Each of these spaces (bathroom, bedroom, inside kitchen/dining, media room) are completely sectioned off from each other. Each "room" is more like a small, self-contained Caribbean-style "house," complete with vaulted roofs, all painted blue. A clever design, this lends much privacy within the unit, too.
Bedrooms & Bathrooms
Built into the hill, each bedroom has breathtaking views facing the sea.
Room With A View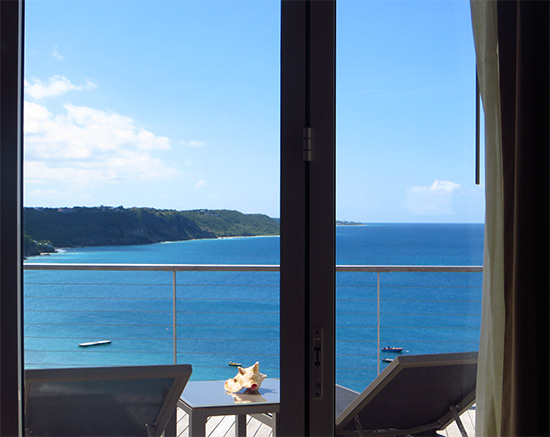 The beds are lush and plush, with down comforters, plenty of pillows. Each room has a/c, plasma screen TV, desk and storage space. In addition to getting all of the major points right, there are many "little touches" at CeBlue that make it so special. For instance...
... in the photo below, note the night tables. Those small drawers pull out and light up. Genius! Another touch? Lounge chaises can be set up outside of each bedroom. A retractable screen (remote controlled), that's built into the bedroom's exterior, can be opened to protect you from the sun.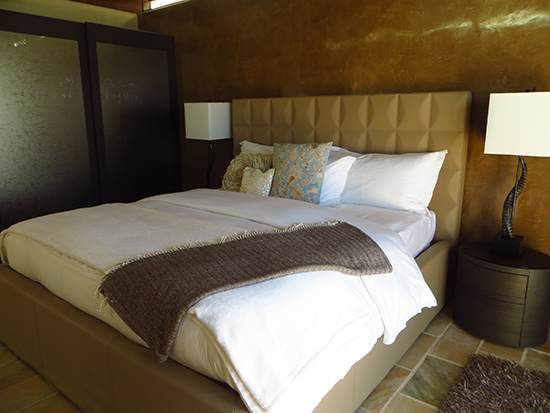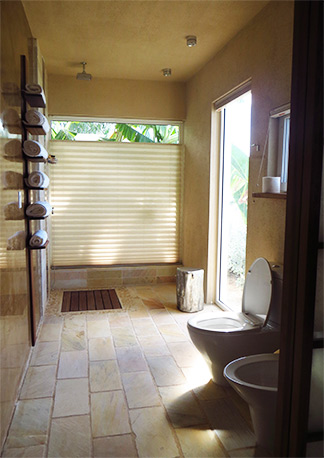 Each bedroom has its own ensuite bathroom.
Bathroom styles differ.
Some have showers, which are all rain showers.
In the photo to the right, you can see that the shower drains onto a rich, dark wood platform.
Each bathroom has a bidet as well.
You have plenty of privacy, with paper drapes that can be drawn.
There is a zen feeling that flows through the entire Anguilla resort, you feel it most in the bathrooms' design.
My favorite bathrooms?
The ones with these views of Crocus Bay...
It's easy to feel at peace at CeBlue.
Kitchen, Dining & Interior Living
Kitchen
Each villa has a modern kitchen.
Whether you are planning on cooking and eating in, or just using the kitchen to store wine, beer and snacks, it will suit your needs.
There is a large, stainless steel fridge with a freezer drawer and a wine fridge.
There is a full stove and oven.
The dishwasher blends seamlessly into the counter space.
Just outside of the kitchen/dining "house," you will find a large grill.
All plates and cooking appliances are available, too.
There is even air conditioning in the kitchen/dining dining area.
It's a nice touch... when you get cooking, it gets hot!
Dining
The kitchen is in back of the indoor dining area, shown in the photo to the left.
If you don't feel like cooking, you can have meals prepared or brought in and served in the dining room.
CeBlue guests have signing privileges at the daVida restaurant (just a 30 second drive down the hill), too.
Your personal lifestyle assistant can help you with any dinner arrangements, including bringing food from daVida up to your villa.
It's a pleasant spot to enjoy a meal.
The area also sits spectator to those spectacular vistas.
The dining room tables are some of my favorite. Wooden and large, they are good for groups dining together, with plenty of cushy seating.
If you would like to dine outdoors, there is a formal dining area on the lower level of each villa. The upper level can be used for some informal dining, too.
Interior Living
The media room is located on the bottom level of each villa. The living space is air conditioned, and is complete with large, flat screen 3D TVs!
There are enough games to keep you busy for weeks (XBox, Nintendo 360, board games, etc.). My sister would have loved this when we were traveling as younger kids. Keeping her from getting bored when she was outside on the beach was always a struggle. She missed home, TV and video games.
Off of the media rooms, there is even a washer and dryer.
CeBlue has thought of everything to deliver a completely relaxing vacation. CeBlue really provides all of the comforts of home (entertainment, laundry, full kitchen and dining space), delivering it all with the most luxurious touches.
Service, Beach & Restaurant
Aside from stellar location (which is not only visually breathtaking but conveniently centrally located) and design, CeBlue offers attentive service and fun amenities.
Service
We know the CeBlue's General Manager well, who previously worked at Viceroy as a manager. With sophisticated experience and knowledge, you are in good hands with Jamie. He and his staff are dedicated to delivering the best for their guests.
General Manager, Jamie Hodge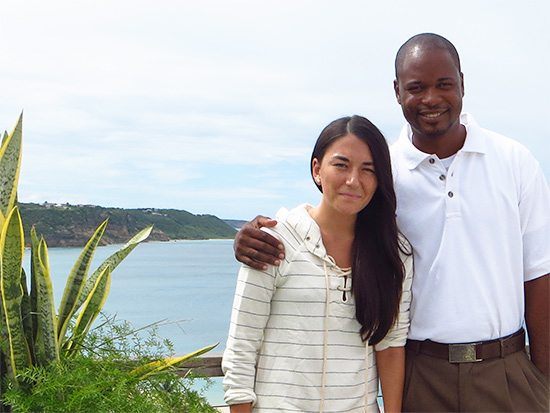 With professionals behind the scenes, and with the personal attention of your lifestyle assistant, your needs and wants are well tended to at CeBlue.
The Beach & Restaurant
CeBlue offers the best of both worlds. Perched on a cliff, you get the tremendous views of Crocus Bay and its beach. You also have unlimited access to that very beach via your golf cart. It is 1 minute down the hill, and 1.5 minutes back up.
Crocus Bay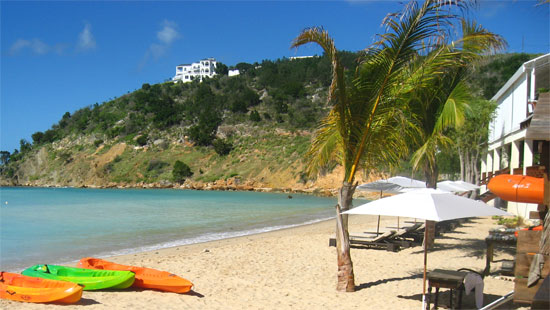 Crocus Bay is one of our favorite beaches in Anguilla. Whether for a clear, sunny beach day, or a quiet evening listening to the lapping of waves, Crocus Bay has long been one of our top choices.
Here, you have access to snorkeling and other water sports (ex. kayaking). From Crocus Bay you can even take a short boat ride to the ever exotic and exclusive Little Bay beach.
Serene and Secluded Little Bay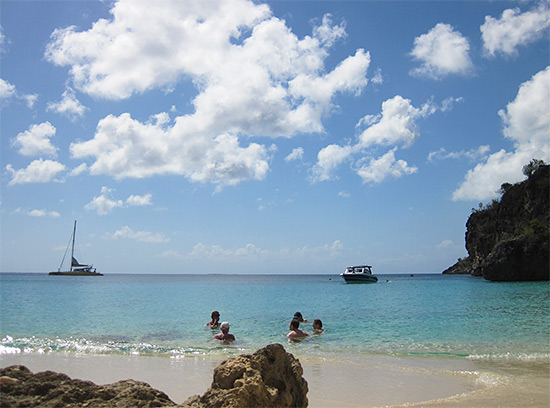 Crocus Bay is also home to one of our favorite Anguilla restaurants, daVida.
Dock Jump At DaVida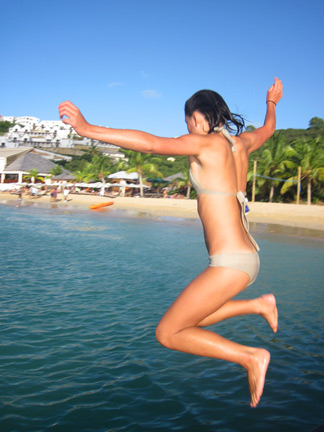 DaVida offers sublime dining experiences.
They serve a tasty lunch daily at their Bayside Grill (sandwiches, wraps, BBQ, etc.).
In the evening they serve tapas in their main, elegant dining room, and dinner, too.
Both experiences are exceptional. The food, service and ambiance are spot-on, five star.
As mentioned previously, your lifestyle assistant can bring food up to your room, if you wish to stay in.
DaVida serves Sunday brunch for CeBlue guests, and provides daily breakfast for CeBlue guests, if requested.
So, how do you book a stay at CeBlue?
Their set up for booking and rates is unique, too...
Inspirato, Booking & Rates
CeBlue is part of Inspirato, the luxurious members-only destination club. Inspirato has high-end properties all around the world, with 2 in Anguila... CeBlue and Sheriva.
Available to Inspirato members only (memberships run around $25,000 in entrance fees), a stay at CeBlue costs $1,000 per night.
CeBlue units are also being sold as timeshares. For $485,000, you gain access to your unit for any 90 days of the year. During the remainder of the year, it is rented out, managed and maintained by Inspirato.
NOTE: Since this article was written, CeBlue is no longer affiliated with Inspirato. For the most up-to-date information on CeBlue, click here.