Anguilla Medical Facilities...
Hughes Medical Centre
Since our family moved to Anguilla in 2008, one question we get asked a lot is, "What do you do for medical care?"
It's true that when it comes to certain emergency situations there are procedures and treatments that just can't be done here. In those instances, patients are evacuated by medevac to either another island or the US depending on insurance.
But, for everything else, there is Princess Alexandra Hospital, Atlantic Star (where we go for our annual check ups) and Hughes Medical Centre...
Hughes Medical Centre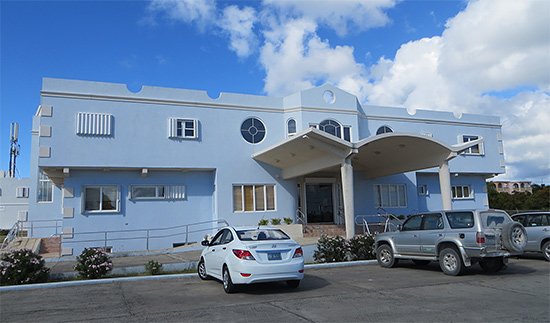 Owned and operated by Dr. Lowell Hughes, who trained at the University of the West Indies, was certified by the Royal College of Surgeons in Scotland, is board certified by the Canadian Society of Plastic & Reconstructive Surgeons, and did his plastic surgery residency at the University of Toronto. He is also Royal College of Physicians and Surgeons of Canada certified.
Hughes Medical Centre is a large, modern, clean and immaculately kept clinic, offering a wide range of services.
Reception Area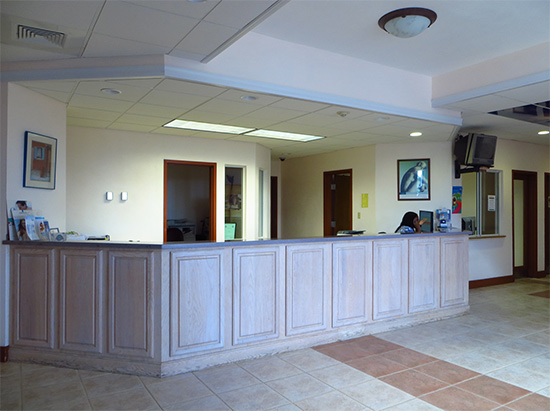 In terms of clinic-based services, general check ups are offered, as well as specialty services by visiting physicians, e.g. urology, dermatology, rheumatology, neurology, etc.
When it comes to surgery, ENT-based surgeries, plastic surgery (from the non-surgical BOTOX and cellulite treatments, laser hair removal, to tummy tucks, to eye lifts) and general surgeries are offered.
It doesn't end there!...
Hughes Medical Centre even has an endoscopy clinic, radiology department, lab, pharmacy and dental practice on site.
From A-Z, Hughes Medical Centre has you covered.
... And, if they don't, they can refer you to someone who can.
I am speaking from experience!
On a Winter day, I awoke with severe congestion (to the point where I could not speak, breathe through my nose, and my entire face was "puffy"), a sore throat, headache, low-grade fever and nausea.
Concerned about the congestion and odd puffy face, my Dad (who was an E.R. Doctor in Canada for several years) sent me to Dr. Hughes to get a CT scan. Hughes Medical Centre is THE only place on the island with a CT scan!
Greeted by the kind and warm receptionist, we did a quick and simple check in and then sat for only 2 minutes before being called by the CT technician. The whole procedure was smooth and fast.
THE CT Machine

Shortly after, Dr. Hughes examined me.
Professional, yet light-hearted and never too serious , I always look forward to seeing Dr. Hughes. He treats you like a human being and always makes you feel relaxed and re-assured.
I feel right at home in his office, as if I'm in my old Pediatrician's office who was my doctor for 18 years!
Me and Dr. Hughes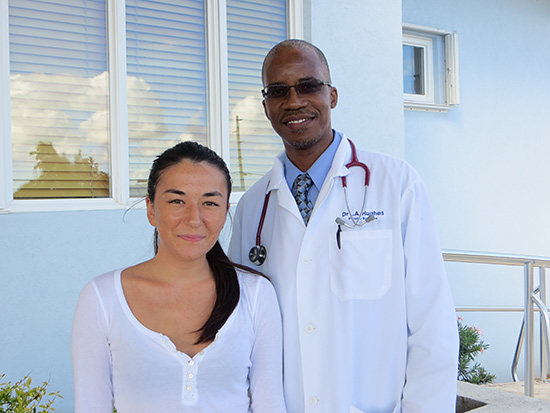 To end the story, the CT scan was clear. He ran some blood tests and recommended I see the visiting ENT surgeon. Diagnosis was made and I have since been fine.
Case solved.
Thank you, Dr. Hughes for all of your help.
If you have a medical situation, particularly one involving scans, x-rays and surgeries, Hughes Medical Centre is the go-to facility on the island.
Directions, Hours & Contact
Directions: Hughes Medical Centre is located across the street from the turn off to CuisinArt Resort.
Hours: Monday-Friday 8:00am-4:00pm, Saturday: by appointment, Sunday: closed. You can book an appointment (sometimes for the same day). The doctors at Hughes Medical Centre can be reached at the number below.
Tel: 264-497-3053