Island Crave Ice Cream & Dessert Cafe...
A "Must Do" For Sweet Tooth's
By: Louise Fayet & Cassie Lewis
No matter the "sugar crave" call, there is one sweet cafe that answers them all! Welcome to West End's...
Island Crave Ice Cream & Dessert Cafe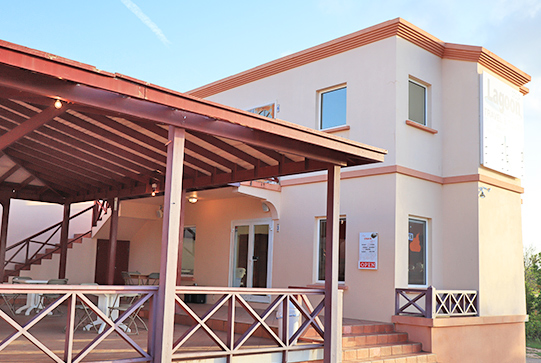 Cravin' Crave
Opened by entrepreneur, Gavin Jéan, Island Crave Ice Cream & Dessert Cafe (or simply "Crave" as we call it) is a one of a kind ice cream and dessert shop in Anguilla. From inspired ice cream creations (like the ice cream taco), to Belgian waffles, sweet smoothies and coffee shakes, Gavin has thought of it all.
All Smiles at Crave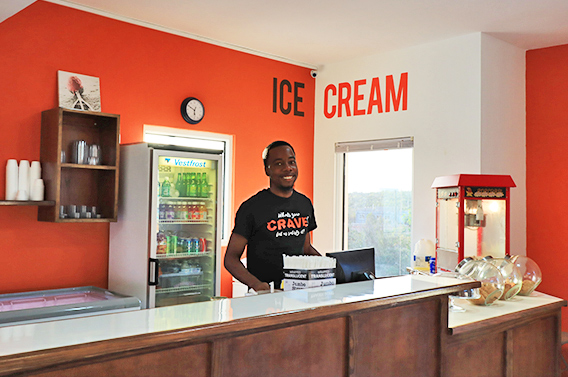 Sweet Touches at Crave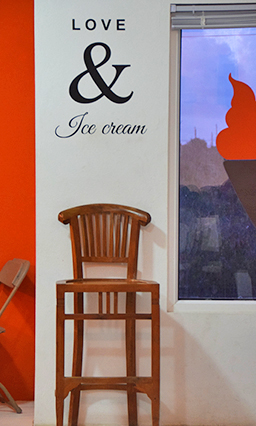 The cafe's vibrant colors set a playful tone as you enter the bright and happy shop.
One foot inside the all-air-conditioned cafe and the treats displayed on the counter top grab your eyes.
Homemade brownies, cookies of all kinds and...
A shiny, fire-engine red, old-fashioned popcorn machine that's ready to POP POP POP buttery popcorn in minutes!
Admittedly, it's hard to know where to begin.
Luckily at Crave, the employees are as sweet as the treats.
Armed with a friendly smile, they are always happy to help make a suggestion.
Crave's Menu

The whiteboard above the counter shows all of Crave's offerings, including their many ice cream flavors and toppings, smoothies, shakes and "Crave dogs."
We stared up at the menu, deliberating over our order with each other and with the employees. Why is deciding so hard? Let me show you...
Cravin' Waffles
The aroma of freshly baked waffles called all of our names. They are one of Crave's signature offerings and you can have them a variety of ways.
Belgian Waffle with Cookies & Cream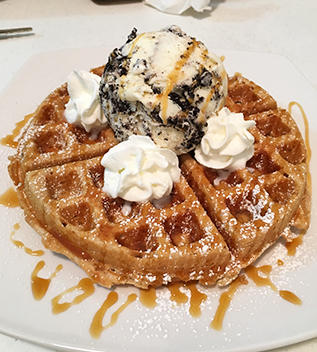 The photo above shows Crave's Belgian waffle with cookies & cream ice cream. Soft, fluffy, light and airy, Crave grills up the perfect waffle. You can top your waffle with any toppings of your choice. Cassie went with cookies & cream ice cream, a drizzle of sweet caramel and a dusting of powdered sugar.
TIP: The portions are so generous, sharing is hard, but recommended especially for young ones :-)
If the big waffle is "too much," you can size down and order up Waffle Bites...
Waffle Bites with Vanilla Ice Cream & Chocolate Syrup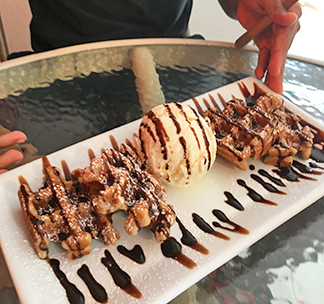 You can also get your waffle "sandwich style." Nori went with mint-chip ice cream inside, M&M's on top and a chocolate drizzle.
Waffle Ice Cream Sandwich with Mint-Chip Ice Cream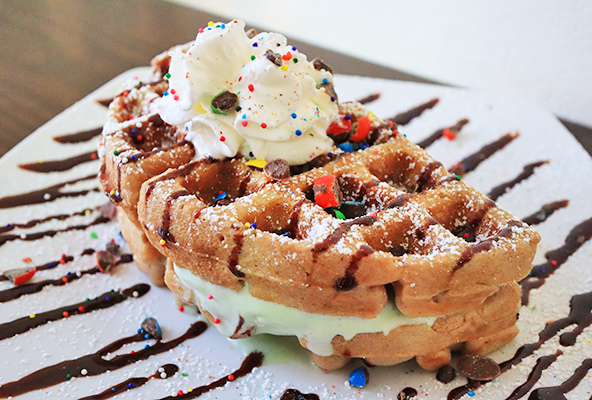 For "crispier" waffles, Crave has you covered, too. They bake up waffle cones fresh every day. You can have your ice cream popped on a waffle cone...
Fresh Waffle Cone &
A Scoop of "Shoal Bay" Vanilla Ice Cream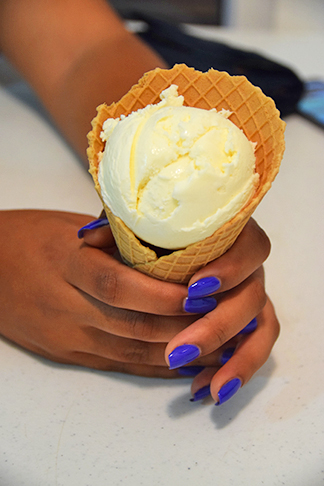 Or tucked into a cool taco shell...
Sweet Taco Delight

... and filled with whipped cream and topped with rainbow sprinkles, no less! The ice cream itself melts right into the ridges of the plaid-patterned waffle shell.
All of the waffle, ice cream and topping options are enough to make your inner-child swoon!
Cravin' Shakes
For liquid delights, Crave delivers yet again with a variety of shakes and smoothies.
Oatmeal, banana, mango, pineapple, strawberry, a berry mix and a fruit medley make up the smoothie options. Colorful and oh-so-smooth, it's hard to choose a flavor favorite. Our family friend Quinn gives the mango a "thumbs up"...!
Quinn Loves His Mango Smoothie

The shakes are a milkier, richer choice, made with ice cream. Served in a stylish mason jar mug, the presentation pleases the eye. As for the flavor?
Strawberry Shake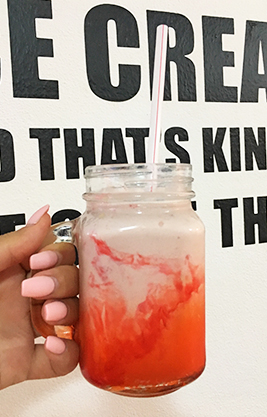 Crave carries an excellent coffee ice cream (under the "premium flavor" part of the menu). It makes for the best coffee shake on-island, rich in mocha taste.
Cravin' Hot Diggidy Dogs
Last but not least, if it's savory you seek, Crave's hot dogs always satisfy.
"Beef Crave Dog" with "The Works"

The "Beef Crave Dog" comes topped with the works, Pik-Nik potato sticks, relish, ketchup, mayonnaise and chili sauce. You can dial those toppings back as you like. As for the dog itself? Juicy and full of flavor, the soft, fluffy bread its perfect companion.
Thank You Crave!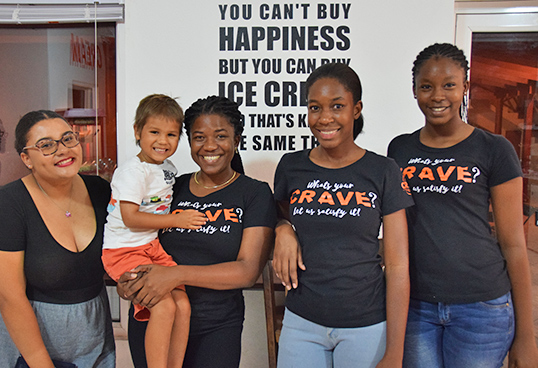 From savory to sweet, Island Crave Ice Cream & Dessert Cafe is a must-do for treats!
Directions, Hours & Contact
Directions: If you are coming from The Valley, Crave is located on the left hand side of the road in the pink two-floor building just before the West End gas station (and the turn down to Cove Bay).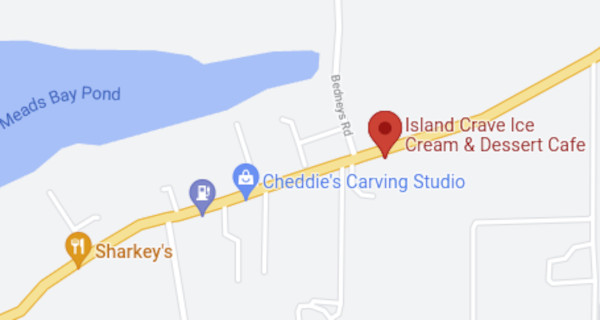 Hours: Tuesday-Saturday from 2-9pm, Sunday from 2-10pm. Closed Monday.
Tel.: 264-476-9419