Justin Bieber Takes Over Anguilla
"Never say never," especially in Anguilla during the holiday season.
It's the time of year when the jetset arrive aboard private jet and private yacht. Unlike in St. Barths, they come to Anguilla incognito and they come to disappear. You often won't even realize that you are dining next to the likes of Michael Jordan and Meryl Streep.
Christmas 2015 couldn't have been further from that general truth when the most famous performer in the world, Justin Bieber touched down in Anguilla.
First spotted by Anne Parles, owner of Straw Hat, while he was kayaking at da'Vida, the island quickly came down with a serious case of Bieber Fever!
Our Justin Bieber Encounter
"Home" for Bieber was Meads Bay's ultra-luxurious villa, The Beach House. With floor-to-ceiling glass windows, and set on the island's most popular beach, during the island's busiest time of the year, he was seen regularly. Sitting outside of his villa, walking on the sands of Meads Bay... he was in plain sight. And, posting photos to his Instagram daily.
Almost everyone who was in Anguilla during Christmas 2015 has a Bieber story.
Our own encounter happened right on Meads Bay beach when a friend and I were soaking in the sun. We knew something special was going to happen when we saw Freedom Rentals' Tiger Boats bobbing in the water in front of Beach House, with a tough looking man watching over them.
And then? One bodyguard emerged from the villa, and then a second. And then? Bieber himself, with his little brother. Bieber helped his little brother into the boat, and off they went around the big blue bay.
Justin Bieber Leaving The Beach House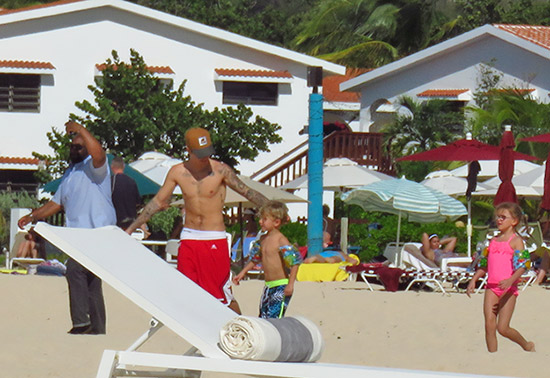 Only in Anguilla could you get that close to a star of Bieber's stature!
Justin Bieber & Little Brother Set to Jet Around Meads Bay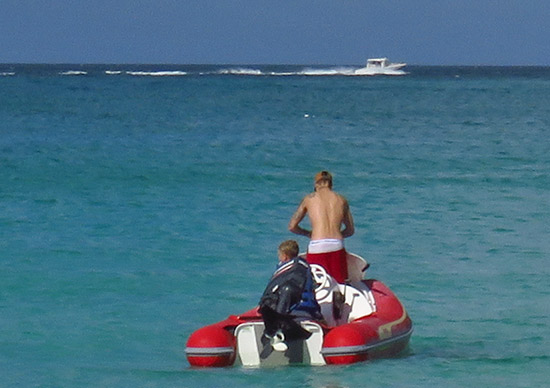 Justin Bieber Around Anguilla, As Told Via Instagram
Bieber didn't stay put in his villa. With his entourage in-tow (family, girlfriend and bodyguards), he was regularly out and about.
What else did he get up to? Here's Justin Bieber's Anguilla vacation as told through his and various other Instagrams...
Taking the ATVs Through West End
Boating to Sandy Island
Hanging Out with Family at CuisinArt Golf Resort & Spa
Enjoying the Ambiance at Jacala
Dinner at Tokyo Bay
Announcing His Relationship with Hailee Baldwin
He even gave his fans impromptu performances, singing "Sorry" with Bankie Banx at The Dune...
(Fast forward to 1 minute in the video above for the duet.)
... and playing drums at Viceroy's Sunset Lounge.
At the end of the day, what kind of a guy is Bieber? Described as cool, easy going and laid-back, everyone who worked with him on-island only had good things to say.
I have to admit, too, since "One Time," I've been a fan of his music and amusing, unabashed ways. And after his visit to Anguilla? I'm definitely a Belieber.
Thank you, Justin, for sharing so much of your trip & performing for all of your fans here in Anguilla!
More Celebs in Anguilla During 2015 Holiday
Harry Styles
If one young pop star isn't enough, how about two?
A few days after Justin Bieber was spotted on-island, another one of the world's leading pop stars, Harry Styles was photographed dining at Blanchards Restaurant.
He and Kendall Jenner were also photographed together nearby in St. Barths. Justin Bieber and Hailee Baldwin weren't the only couple to "announce" during Christmas 2015!
Here in Anguilla on a yacht, Styles was elusive and reclusive. The only other sighting glimpsed was of his boat, moored off of Crocus Bay (his is on the left in the photo below ;-).)
The Yacht, C2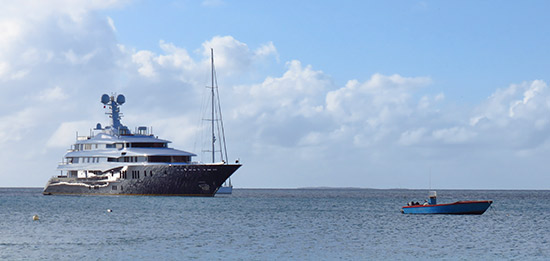 Emmy Rossum
It seemed like almost every celebrity in Anguilla had a connection to Bieber this year. Another talented star to grace our shores was Emmy Rossum, lead actress on Shameless.
A former neighbor of Bieber's up in the States, Emmy shared her Anguilla vacation story, recounting how she conquered her fears at "The Rock" in Little Bay.
(Fast forward to 2 minutes in the video above to hear her share that story with Kelly & Michael.)
We've all been there, Emmy! ;-) A big congrats on letting go and diving in! :-)
Indeed, Christmas 2015 was the year of high-profile, young stars in Anguilla.