Right at Home Inside
Anguilla's Kiki Villa
A newly built, modern villa, Kiki Villa offers all of the comforts of home just a short drive from Shoal Bay East.
Managed by a dear friend of ours, Lisa Webster, we met up with Lisa to take a look inside.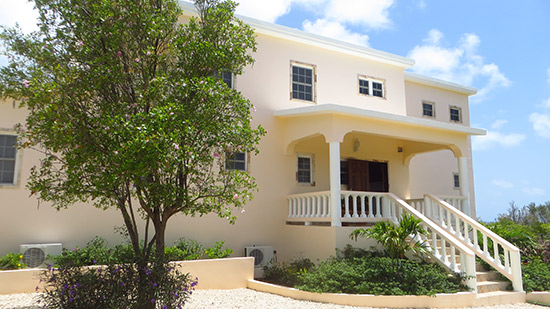 We pulled into the gates of Kiki Villa, excited by what lay ahead. "Kiki Villa" proudly displayed atop Anguillian limestone rock, the manicured gardens, and the fresh pastel color of the home... it all promised something special.
Living, Dining and Kitchen
Through the laundry room door, and a brand new washer and dryer greeted us. The conveniences of home are apparent right off the bat!
The laundry room is just adjacent to the large main room, which features a sizable kitchen, dining area and living space.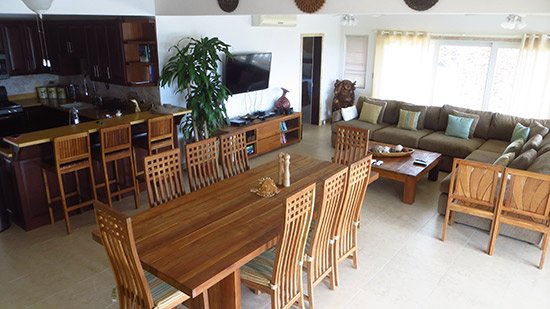 With large, comfy couches and a flat screen TV you could easily spend a good evening in (or two or three knowing our movie-buff family!).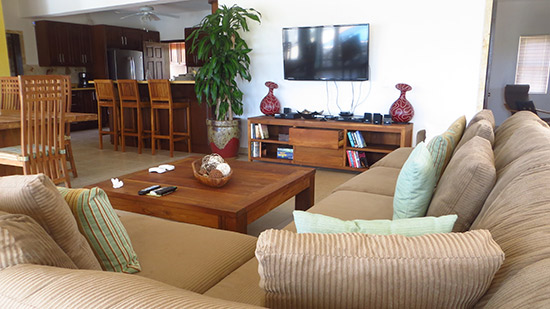 On the other side of the room there is the kitchen and dining space. The kitchen has beautiful Anguillian stone as a blacksplash. A tasteful local touch! The dining table is large and wooden, which lends a cozy, rustic feel.
Contemporary in style, with high-end and brand new furniture and fixtures, here you easily feel at home.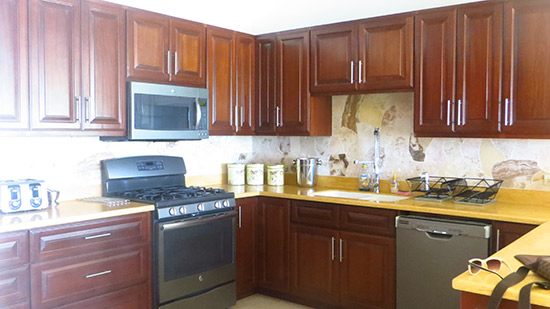 Outdoor Living
The main living space opens up to a spacious outdoor deck.
The patio is complete with a large dining table for meals enjoyed outdoors, and a BBQ grill. With the villa's position, higher on a hill, the eastern breezes blow through and cool you off...
... and Shoal Bay sparkles in the distance.
In the foreground? The refreshing pool!
Upper Level
Next stop on the tour? The upper level!
The staircase leads to an entertainment center. A flatscreen TV and a foosball table for the kid in all of us. :-)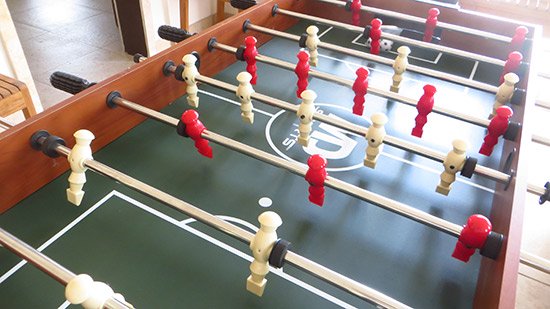 Additional outdoor living space is located on the upstairs patio, which opens off from the media room. With more panoramic views, there is even a comfy hammock to lounge the day away and drink in that tropical feel.
Bedrooms and Bathrooms
When it comes to a comfortable place to lay your head, Kiki Villa has you well covered. The villa features four bedrooms with bathrooms. One bedroom is located on the first floor and three are located upstairs.
The bedrooms are quite spacious, too, complete with hand-tailored drapes and air conditioning when you want to darken and cool the room down.
Upstairs, you have the choice of twin beds or queens. Handcrafted, the furniture has all been made on island out of sturdy, strong, beautiful wood.
The bathrooms are also large and open. Double vanities, large walk in showers with frosted sides and even bathroom scales!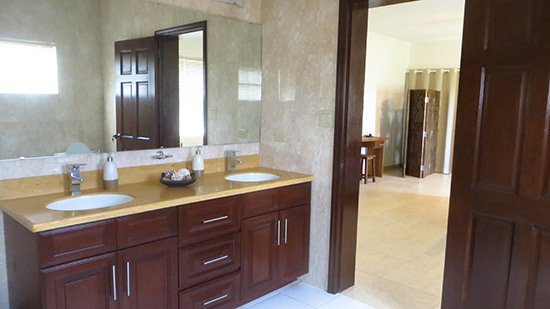 You really have all of the conveniences of home at Kiki Villa, with Anguillian touches throughout.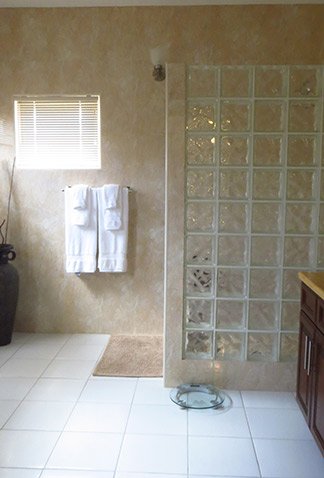 Last but not least, to make you feel even more at home, when you arrive on-island, Lisa meets you and brings you in! And, should you wish to have your villa stocked with groceries before hand, they will take care of it all.
Rates & Contact
Rates go for around $1000/night in the high-season for use of all 4 bedrooms. For more information, visit their official website here.