New Creations...
Cooking Up Quality Cuisine!
Update: New Creations has closed.
By: Louise Fayet
You can't miss the "New Creations" food van as you pass through The Valley. Bright blue, it usually has a long line, too. Step up to the counter and its aroma will make your tummy grumble before you even see the menu.
New Creations' Blue Food Van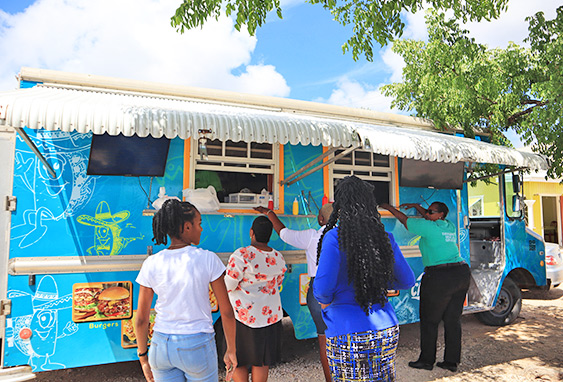 The Masterminds Behind New Creations
New Creations has been getting rave reviews for its quality food for good reason. Meet...
Chef Lee (left) & Chef Kylon (right)

We've known Kylon for years. He began his career in cooking many years ago. His CV boasts impressive names like Viceroy and Bird of Paradise Villa. One of Anguilla's finest high end chefs, Kylon knows quality.
Lee is his best friend who also has wide experience working with luxury villas. "We had been thinking of starting our own business for years," Lee told us one afternoon at New Creations. "The timing was right and we had the name, so we just went for it."
Beat The Rush!
Their passion and ambition sure has paid off!
If you drop by around lunch time (12-1pm), you will find a line outside New Creations. It is worth the wait.
Order Here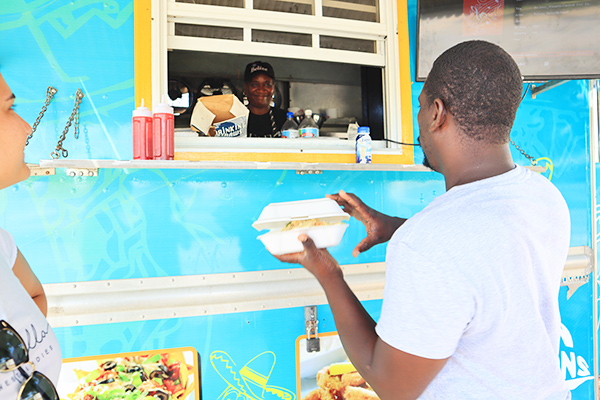 Once you place your order, grab a seat in the shade of the old tree next to New Creations' van.
Take A Seat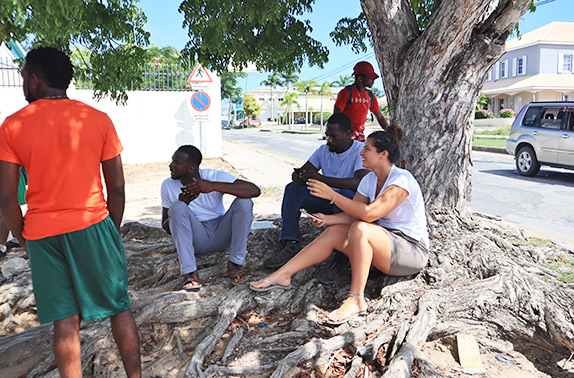 Or, to beat the rush, show up a little before 12pm or after 2pm. NOTE: If you arrive later, popular dishes may run out.
Popular Creations
One of the most popular dishes?
Creamy Shrimp Pasta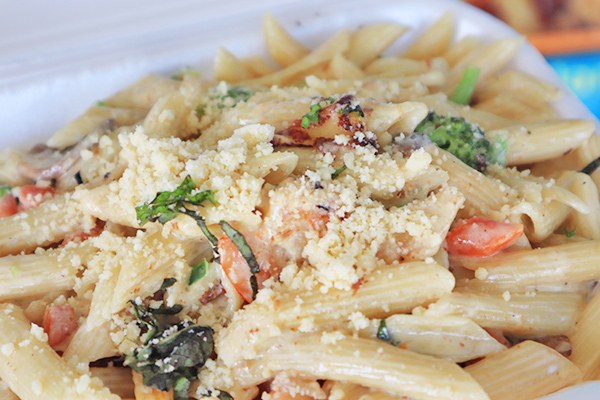 This is a best seller. A pasta so popular, we haven't even been able to sample it yet. They run out quick! Tip: Get to New Creations early if you want to try the pasta.
Another best seller? The Nachos Supreme.
Nachos Supreme

Some people are saying that they're even the best on island. So, naturally, we had to give them a try.
Corn chips are drowned in ground beef and slathered with tomato salsa. The entire plate is topped with guacamole, sour cream and sprinkled with parmesan. The shredded lettuce is an unusual touch that gives the nachos a surprisingly nice and fresh crunch.
The nachos come in as my #1 pick from New Creations food van!
New Creations' menu also features a variety of burgers.
Cheeseburger & Fries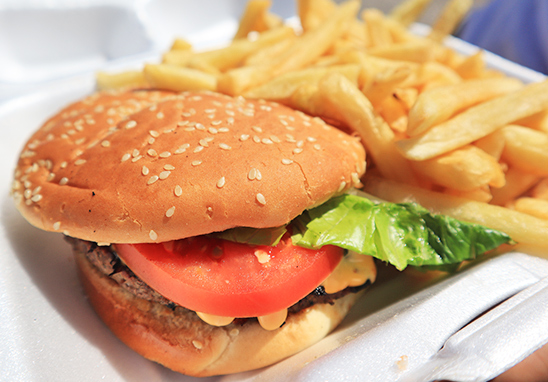 You can order a simple hamburger with fries or go "extreme" and try their King Kong burger with caramelized onions, egg and guacamole. They also have a blackened mahi mahi burger.
Speaking of mahi mahi, you can get it "bite" size...
Crispy Coconut Mahi-Mahi "Strips" & Sweet Potato Fries

These crispy and juicy fish bits are extra addictive with New Creations' slightly spicy tar-tar dip (on the side)!
The batter is laced with coconut flakes, which gives them a fun texture and a subtle hint of coconut flavor. The dish comes with your choice of regular or sweet potato fries.
Last but not least, taco time! New Creations serves up beef tacos, chicken tacos, pork tacos and...
Shrimp Tacos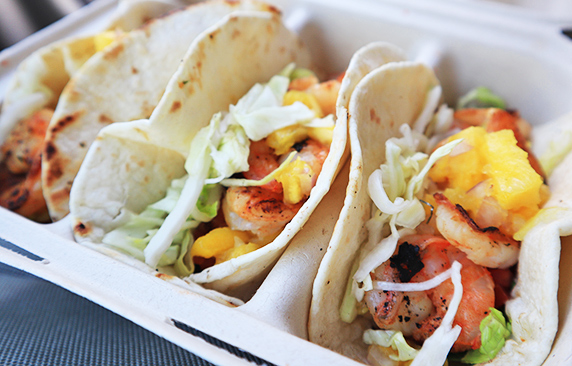 Prepare to be surprised by a variety of flavors. Three soft shell tacos are filled with grilled shrimp, shredded lettuce, cabbage slaw and best of all? Fresh chunks of pineapple. These were Nori's favorite.
Quality food at an affordable price, New Creations gets it right! Here's wishing Chef Kylon & Lee the best of luck :-)
Directions, Hours & Contact
Directions: Located near the Valley library and Albeana Lake Hodge Comprehensive School. If you are coming from East End, it is on the right side of the road past the school walls.
Hours: Monday-Thursday 12-4pm, Friday 12pm - until they run out. Closed Saturday and Sunday.
Tel.: 264-729-7823