Tradition Sailing's Sunset Cruise...

For Lovers of the Caribbean
Anguilla is a sunset paradise. Come sun down, skies glow in a cascade of purples, pinks and oranges. Each night is a show as the blazing orb descends to kiss the horizon. From da'Vida on Crocus Bay, to Four Seasons' Sunset Lounge on Barnes Bay, everyone has a favorite sunset spot.
Perhaps the most magical sunset spot of all? Aboard Tradition Sailing on a sunset cruise.
Drifting atop Caribbean waves. Lulled by the gentle rocking of the boat. Puffs of sea breeze powering the sails. The only sounds? The whisper of the wind above and the gentle murmur of the sea below. Here, all anxieties drift away.
For the full Tradition Sailing sunset cruise experience, watch the video above.
Sailing Into The Sunset Aboard Tradition
Sailing is so deeply woven into the fabric of the Caribbean, and specifically Anguilla. Tradition Sailing has captured that spirit since they first set sail in Anguilla back in 2013.
Steeped in history, Tradition is an authentic beauty. Built in Carriacou, Grenada in 1978, they don't make them like this anymore! She was a working ship for most of her life, trading goods up and down the Caribbean. Today, she is enjoying her semi-retirement here in Anguilla. True to her name, Tradition continues today.
The One & Only, Tradition

The Tradition experience begins with her owners, Captain Laurie Gumbs and Deborah Vos.
Climbing Aboard Tradition

Born and bred in Anguilla, Laurie is a warm and spirited soul. He and Deb have become good friends over the years. With Laurie and Deb, you are always in safe and happy hands.
Together, they have crafted a most unique sailing experience. Tradition brings authentic old world charm and the history of the Caribbean into modern day, with all of the bells and whistles. Free-flowing champagne cocktails? Check. A variety of fine wines and rum punch? Check. Gourmet appetizers? Check, check, check!
Cheers & Sails Up!
First step? The Tradition Champagne Cocktail.
The Tradition Champagne Cocktail

A drink that goes down so smooth, Deb's Champagne Cocktail is dangerously good. A mix of champagne, cointreau and mango, the combination is unbeatable in sweet and bubbly flavor and texture. Be warned: This is one champagne cocktail that sneaks up on you!
All aboard and Tradition Champagne cocktail in hand, Laurie and Deb hoist the sail...
Sails Up!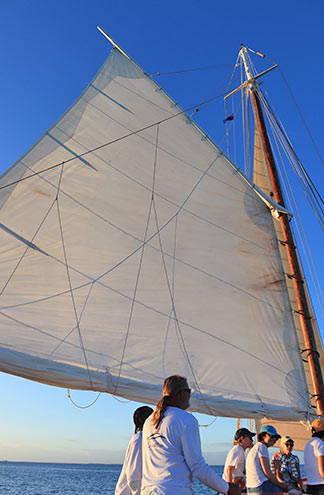 Then, she is off, chasing those sunset views...
Climbing Aboard Tradition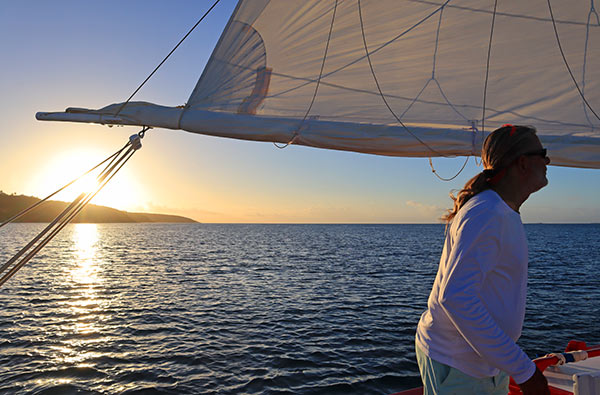 Sea-Top Sunsets
The course for the evening? Out towards Prickly Pear and over to Crocus Bay, one of Anguilla's top sunset spots.
Spectacular Sea Sunsets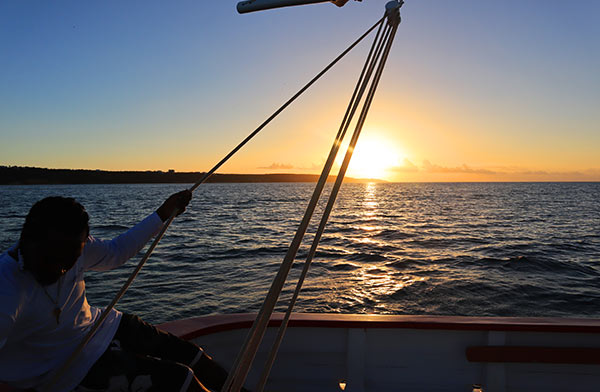 As the vessel makes her way to the famous bay, Laurie and Deb are your perfect hosts. Laurie handles the ship, Deb tops up your champagne glass, and they both rivet you with fascinating stories of voyages around the Caribbean. These are two people who live life to the fullest.
The sun ever so slowly makes its way to the horizon, casting an orange and pink glow. We all anxiously await "the moment," the "green flash." On extra-clear nights, a sharp electric-green flash appears the moment the sun hits the horizon. It is the exclamation mark to a jaw-dropping Anguilla sunset.
Evening Sky

The orange and pink sky dissipates to deep blues. A star-speckled night sky takes over. Gaze up and you will count at least a dozen shooting stars.
Under an Anguilla night sky, surrounded by sea and kissed by sea breeze, the atmosphere pairs perfectly with Deb's gourmet appetizers...
Deb's Gourmet Appetizers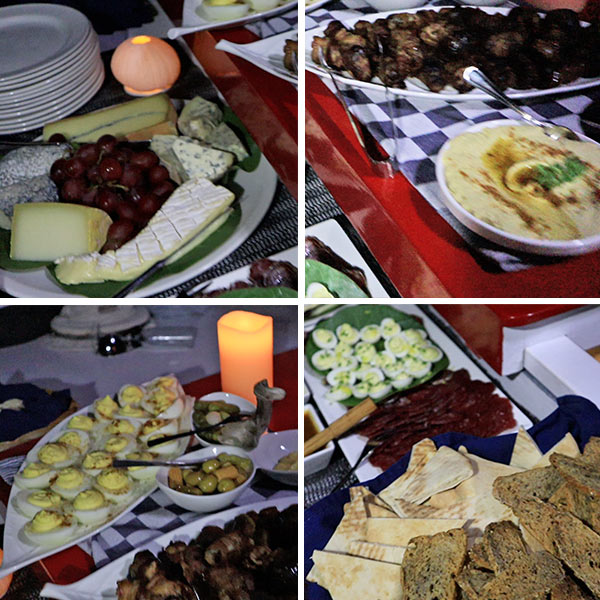 Deviled quail eggs, a fine selection of French cheese, meats, hummus, Deb's homemade tapenade, a selection of breads and bacon-wrapped figs are all on the menu. This is eating well.
With a full belly, and with another Champagne Cocktail in-hand, all one can do is reflect.
The historic vessel. A Caribbean sunset. Excellent food and drink. And two of the most interesting people you will ever meet. The experience is something out of a Hemingway novel. It can only be summed up in one word, romantic.
Tradition's sunset cruise is for lovers. Lovers of the sea, of sunsets and of the Caribbean.
Book Your Sunset Cruise
To book your sunset cruise, contact Laurie and Deb via the info below...
Tel.: (264) 476-7245
Email: traditionsailing@gmail.com
Save 10% on your sunset cruise when you book with your Anguilla Card!