<![endif]-->
Anguilla's New Supermarket
One of the first things we do when we get to Anguilla, is go to our favorite grocery stores and stock up. I have talked about our favorite ones elsewhere.
This time, when we pulled up to Albert Lake's, it was gone!... Gone a few seconds down the road, that is. Albert Lake's had gone from a fair-sized grocery store (by Anguilla standards) to its first supermarket. And "super" it is!...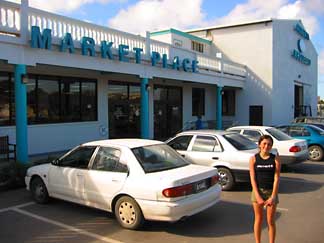 It's even more spectacular on the inside!
Just like back home, they have everything you want.
Fresh fruits, fresh vegetables, meat, chips, drinks...
they even have a sort of cookie that you can usually only get here in Quebec (Chocolate Whippets -- my Dad was in Heaven!).
They have a great selection of frozen foods. Here is my sister and I standing in front of the freezers with my mom -- see the Anguillian lady in the background?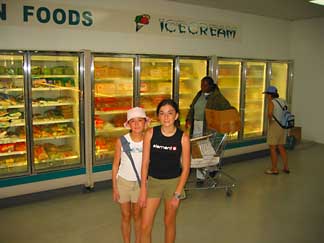 Notice how she is wearing a winter jacket?
This is not just her. Anguillians really hate the cold -- they have a real phobia about it.
I don't know how they could ever live up here in the North!
On the other hand, we have no trouble adjusting to Anguillian weather!
Here are two more pictures of my mom in the grocery store...

Such a Selection!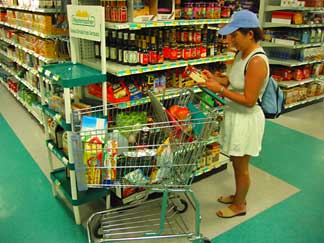 All Tuckered Out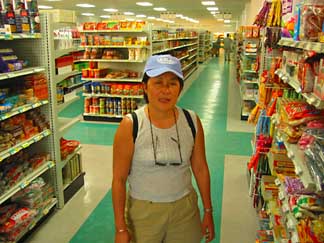 The next time you're in Anguilla, do check it out. It is now the biggest-and-best grocery store on the island.
Directions, Hours & Contact
Directions: Located in The Valley.
Albert Lake
Good for a wide variety of groceries, including more gourmet cheese and meats.
Tel.: 264-497-2307