<![endif]-->
Merchants Market
Cut That Anguilla Food Bill
Update: Merchants Market has moved. Click here for its location.
Spending two weeks or more on Anguilla? Want to save a ton on eating? Have a kitchen in your Anguilla villa/Condo/Hotel room? If you answered yes to these three questions, my suggestion is groceries! Click here for our favorite grocery stores and start cutting your Anguilla food bill down, too.
The meat selection at the grocery stores may disappoint you a bit, both in variety and price. The solution?
Merchants Market!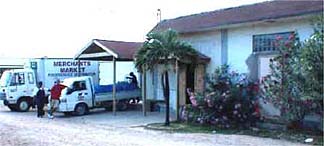 The market caters mainly to restaurants, (so now you know it's good stuff!), but it does sell to the public. And they sell everything from Mapleleaf Duck, to Pork Fat Back, to Lamb Loin Chop and even Shrimps, Ground Beef, and Chicken (all different parts... even the liver).
And, best of all says my Dad... Hebrew National kosher franks. The same franks he loves in Manhattan!
Manhattan food in Anguilla? Hmmmm... next time we're in New York, we'll have to watch out for Anguilla food!
The only drawback? You probably want to be here for at least two weeks unless you leave the leftovers with a friend on the island. Because they sell everything in large quantities. But your Anguilla food bill will thank you.
We only found Merchants Market by accident, through my Dad's continuous "I wonder what that is" exploration style. And we only found it towards the end of our last trip. So we're looking forward to stocking up here at the beginning of our next one!
As you can tell by now, it's a bit tough to find. But it's actually rather easy if you know where it is. So here's how to get there...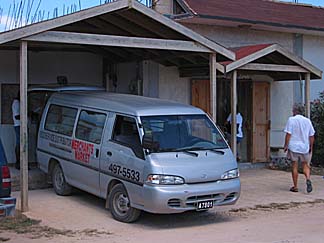 It's right behind the Anguilla Drug Store (you can't miss this store) in The Valley. Once you get to the drug store, you'll see a dirt road heading west.
Take that road and you'll pull right up beside the market!
So, if you're staying on the island for a while and can make use of all that meat, then go to the place that no other tourist will... Merchants Market!
Directions, Hours & Contact
Directions: Going into the Valley from the airport, turn left at the Immigration Office (opposite the Post Office), and continue up the street until you see the sign "Merchants Market." From there, follow the signs.
Merchants Market
Good for large quantities of frozen foods, bagels, fruits, vegetables.
Hours: Mon-Fri 8:30am-4pm, Saturday 8:30am-12pm
Tel.: 264-497-5733