<![endif]-->
The Best Anguilla Bakery
Le Bon Pain At A Glance
Home of THE best croissants on the island!
More on Le Bon Pain, below...
For years now, my family and I have been saying that Anguilla has it all, except good bread.
Back in the day, it seemed that tasty croissants could only be found twenty minutes away in St. Martin.
But then, out on a morning drive, we noticed a sign... "Le Bon Pain".
The aroma of fresh baked bread filled the air, and cars lined the streets.
But this wasn't a "good croissant" tell-tale sign. We had been fooled before.
Nevertheless, we put our car in park, shrugged our shoulders, and thought "it wouldn't hurt to try..."
My sister and mom snagged a table on Le Bon Pain's cozy, little deck, while my Dad and I went to get the goods.
We placed our order with the head baker himself, Bernard...
Bernard and I

He moved to Anguilla from France some years ago, seeking a slower way of life. In the process he found a beautiful wife, Yvonne and began a bakery... and a family.
Yvonne, Benjamin (the sous-baker), and I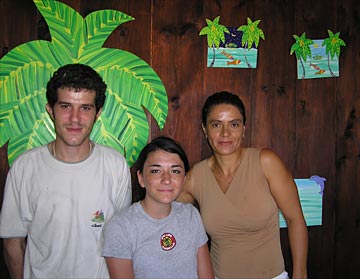 As my Dad and I entered the bakery, a great hope arose. My Dad started speaking French to Bernard. Yippee! The French know how to make bread.
Genuine smells of a serious bread maker wafted through the air.
French bakers!
Would Bernard and Benjamin be able to live up to our high expectations?
We were about to find out...
The Verdict?

I think our expressions tell the rest of that story!
Let me just say, these croissants were better than any we had eaten on our day trips to St. Martin. And that's saying a lot.
They were to die for! Flaky on the outside, warm and moist on the inside... everything a good croissant should be.
The bakery's name was true: Le Bon Pain - the good bread!
Directions, Hours & Contact
Directions: Located on the main road to Island Harbour, before you reach the road to Arawak, if you're coming from The Valley.
Le Bon Pain
Good for croissants, breads, coffees.
Hours: Monday-Saturday 7am-12pm, Sunday 7am-10:30am. Closed Wednesday (winter). Closed Tuesday and Wednesday (summer).
Tel.: 264-497-4090