Cheap Anguilla Restaurants...
Uncle Ernie's is THE Place
Uncle Ernie's At A Glance
A cheap beach shack in the middle of Shoal Bay East, Uncle Ernie's was loved for years for its burgers and rum punches.
More on Uncle Ernie's, below...
Of all the ritzy, 5 star, expensive Anguilla restaurants, do you know which eatery is perhaps Anguilla's best known... and loved?
Hint: It's at the end of the road.
Hint: It's your typical, perfect, beachside shack restaurant.
Hint: Burgers and beers won't break a $10 bill.
If you guessed Uncle Ernie's, out on world famous Shoal Bay East Beach, you win! (Collect your free burger and beer next time you visit Ernie -- just tell him Nori sent you. Just kidding.)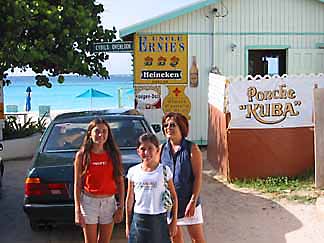 Uncle Ernie's is easy to find. Actually, you can't miss it. It is right smack in the middle of Shoal Bay East.
It's at the dead end of the road that runs down the hill, which bisects the beach. Just park your car, as we did here... and you're there!
Don't you hate it when you go to a restaurant, starving, and have to wait forever-plus-one-hour for your food to arrive? Not at Ernie's. The food is done fast.
And it's delicious. (My dad says that in business "you can't have it fast, cheap and good" -- but he's wrong, at least where Ernie is concerned.)
What do they serve? Mainly your typical beach bar foods... cold pop and beer, Häagen Dazs ice cream, chicken, ribs, fish, hamburgers... even lobster or crayfish when it's available.
I guess you could call Uncle Ernie's "the best little beach restaurant on the best beach in the world." My Dad certainly seems to be enjoying himself...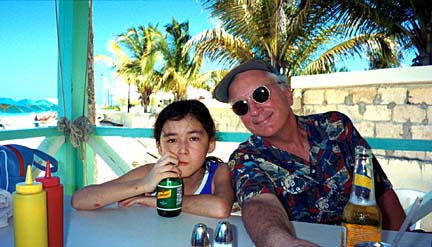 How could it get any better? You look out over the most beautiful beach in the Caribbean. You chat with interesting, friendly folks from around the world. And after eating well... you step back onto East Shoal, ready to swim, snorkel, or snooze the afternoon away.
Directions, Hours & Contact
Directions: Uncle Ernie's is located in the middle of Shoal Bay East.
Uncle Ernie's
Good for burgers and rum punches!
Hours: Open daily for lunch.
Tel: 264-497-3907