Mexican Anguilla Restaurants? Wow!
Picante At A Glance
Love Mexican food? You will love Picante!
More on Picante, below...
During our March, 2004 visit to Anguilla, we kept hearing about the strangest of Anguilla restaurants. No, not "nouvelle Françe"... yawn. No, not another "picture perfect, Rum punched, beachbar shack."
Mexican?
Yes, a Mexican Anguilla restaurant!
After hearing about it for the third or fourth time, we had to check it out...
Picante!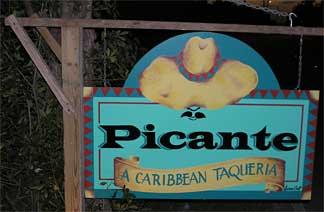 They're only open for dinner, out on the West end, just past the Cap Juluca turn off. So, we planned ahead, and decided to drive that "long drive" all the way to the other end of the country.
Yes, it must have taken us 30 minutes! Ha Ha!
However, I was hungry, and my stomach was becoming very empty. And when that happens, I get cranky. So my Dad drives faster.
So it only took us 20 minutes to get there.
Inside Picante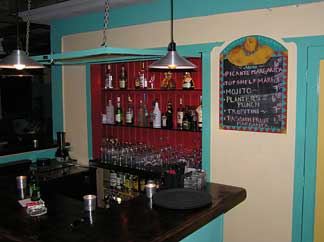 I became un-cranky. This Anguilla restaurant was so beautiful, in a quaint, Mexican style. We had once spent 4 weeks living in Guadalajara and felt like we were back there for the evening.
My Dad gave the ultimate "thumbs-up" to their bar.
For the first time ever in all the Anguilla restaurants and bars we've visited, he passed on the rum punch.
"A margarita, please. No salt."
The Food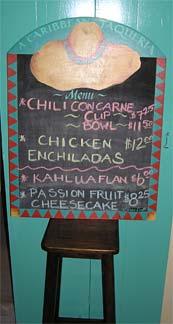 We scanned our menus, and checked out the daily specials.
My mom chose chicken enchiladas.
As for my sister and I? Soft shell chicken, and hard shell steak, tacos.
My Dad ordered another margarita! Ha! Ha!
And we started with an appetizer of wings and ribs.
Were we ever pleased! They were done to perfection, spicy and juicy. Mmm-mmmm...
You can just seen them in the photo below...
Wondering who the lady is (sitting between me and my Mom)?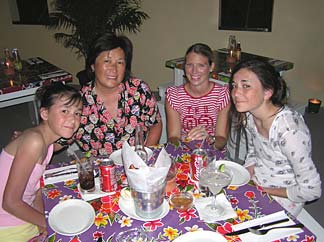 Let me tell you a little history about this Mexican Anguilla restaurant.
A lady named Zoe Tise-Hodge is the owner. She has been living on the island for quite some time as a private chef. Her son in-law, Theron Loizos, runs this Anguilla restaurant. He is the chef. The lady in the picture is his charming wife, Chloe.
Theron and Chloe have been visiting Anguilla for around eight years now. Like others before them, they decided leave the rat race in Northern California, where they were already running two thriving restaurants, to settle down in Anguilla.
And how did the rest of the meal go?
Wow. Wow. Wow. Look at my blissful face!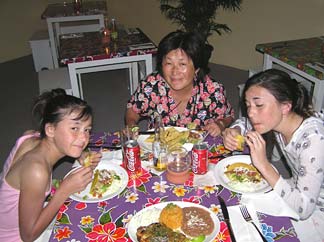 It was the greatest of all the Mexican Anguilla restaurants that I've ever eaten at, that's for sure!
Of course, it's the only one. So let me add a bit more. I've never had tacos that I've enjoyed more, not even in Guadalajara.
The flavor was superb and it held together well (I really hate it when they fall apart). The tacos contained steak -- instead of ground beef, there was beef strips in the shell. Together with fresh lettuce, tomato and cheese, they were absolutely superb.
As for the rest of my family? They all really enjoyed it too. But I love mexican food more than all of them combined. So, this time, I enjoyed myself the most.
Magnifico!
Directions, Hours & Contact
Directions: Picante is located on the main road, just a few minutes west of Viceroy's entrance.
Picante
Good for a fun and busy atmosphere, and Mexican food.
Hours: Dinner only, closed Tuesdays in the high season and Mondays/Tuesdays in low-season.
Tel: 264-498-1616