<![endif]-->
Anguilla Restaurants Reviews...
Try Dolce Vita For
Tasty Dining With A Trendy Vibe
Dolce Vita At A Glance
Set on funky, lively Sandy Ground, Dolce Vita has a faster-paced, bustling type of atmosphere. Fun, and with Abbi as your gracious host, Dolce Vita is a cool, trendy spot for a good Italian meal.
More on Dolce Vita, below...
Anguilla is world-famous for its five-star cuisine. Its restaurants are in the league of the Nobu's and Cipriani's of the world, except you enjoy your meal while sitting by the Caribbean Sea.
Of course, those meals often come at five-star prices, too. But, you don't have to pay $300-$400 (for four people) for outstanding dining by the shore.
I had been hearing rave reviews from friends about a recent Anguilla restaurant opening. "Excellent Itlanian, comfortable dining, affordable price, and right on the beach at Sandy Ground."
Bene! Bene! Let's go!
Dolce Vita: Italian Beach Restaurant & Bar
On Sandy Ground

Inside Dolce Vita
Dolce Vita is a white-washed casual wooden building, set right on Sandy Ground's shores. The restaurant exudes a trendy-cool vibe, with friendly service and a tastefully colored and lit-up bar that keep locals coming back.
With such a buzz inside, it's no surprise that every table is always taken!
Inside Dolce Vita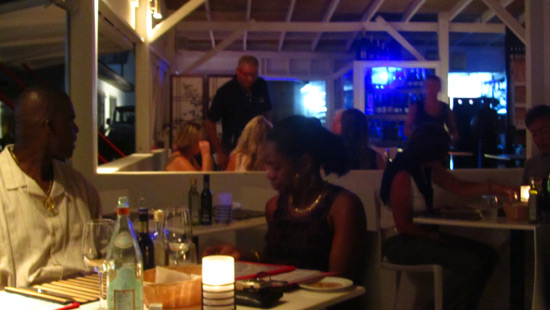 More of Inside Dolce Vita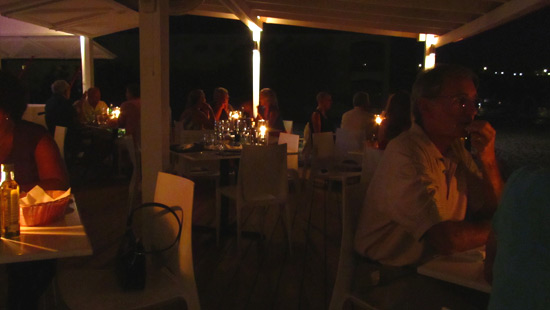 Inside, there are two dining areas... Inside and out on the deck.
Tip: Make reservations ahead, and request a table on the edge of the deck, closest to the sea. The view of Sandy Ground's sailboats lit up against the night sky gives you the best of both worlds... Tranquility straight ahead, and the chatter of the lively, popular restaurant inside.
View of Sandy Ground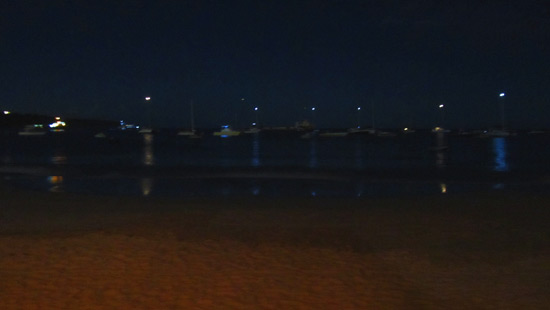 Dolce Vita is run and owned by Abbi Ibraham, former manager at Luna Rosa Italian restaurant in Anguilla. Abbi had been in the Italian restaurant business for many years.
Chef Christopher Bacchiega came with Abbi to partner Dolce Vita. The chef's creations, and the menu, is authentic Italian, with an Anguilla twist, taking advantage of the island's natural ingredients... Seafood.
For starters we tried Caprese di Bufola, Carpacio di Tommo o Pescoe Spada, and Calamari Fritti. Yuki and Mom recommend the fresh Caprese salad (they asked our waitress to hold the olives and pesto sauce).
The most highly recommended appetizer? Dad says their Swordfish Caparcio is the best carpacio he's ever tasted. And not only is it delicious, you can't get it anywhere else on the island!
Caprese Salad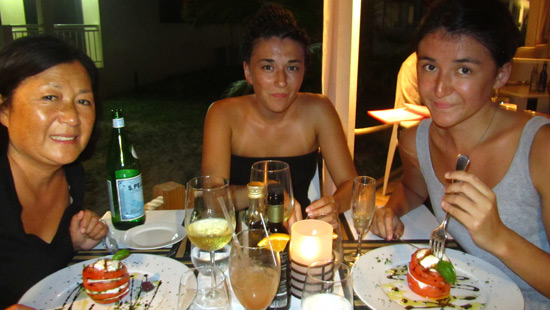 Yuki Eating Linguini with Crayfish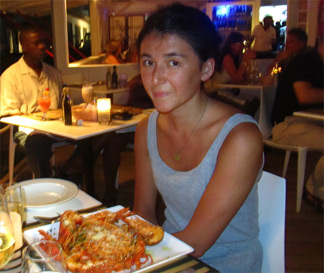 After appetizers, their menu is divided into three sections:
Pasta, meat and seafood.
My parents had eaten here previously and swore by the pasta, so pasta it was!
My Mom went with the classic bolognese.
My Dad tried the spaghetti with shrimp, scallops, mussels and Alaskan crab.
I chose the ravioli with riccota and spinach.
Yuki selected the evening special... Linguini in a tomato sauce with crayfish!
Yuki's was certainly the most sensational looking. See the photo above!
Mom Dining on Bolognese

Each pasta dish was flavorful and al dente, just the way we like it.
The homemade pasta, pasta sauce and seafood were perfect.
Another menu favorite for Dad is the pesto, and he's normally very hard to please when it comes to pesto-based pasta.
The ravioli was in a "butter and fresh sage" sauce, a sizable portion and tastefully tangy.
For the price in Anguilla, these pasta dishes are hard to beat.
As we cleared our plates of pasta we enjoyed the comfortable atmosphere...
People chatting, dining, drinking, laughing, couples taking in the Sandy Ground scenery...
A memorable evening.
As we finished our meals, Abbi arrived at our table, personally ensuring that we were enjoying our meal, and the evening on the whole.
At Dolce Vita with Owner Abbi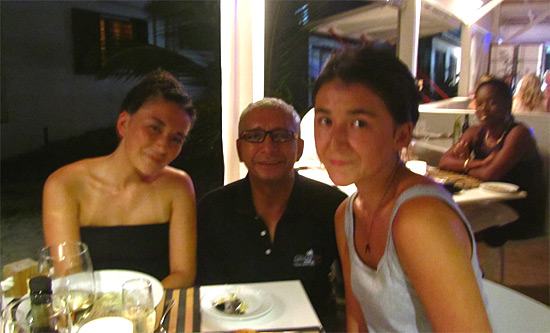 Abbi is a wonderful man, with a warm personality. He is passionate about his business, you can tell by the sparkle in his eye. He is a man who loves what he does!
By the time we reached "dolce" (desserts) we were ready to burst... Creamy cheese cake, Tiramisu, Chocolate mousse and Italian ice cream with amaretto cookies were calling our name, but the thought of taking another bite was too much.
With drinks, wine, appetizers and entrees for four, and considering the superb service, setting and location, the bill was extremely reasonable (especially by Anguilla standards!).
If you are in the mood for a place with a trendy vibe, enjoy people watching, great food and hospitality right on the sea, and all without breaking the bank... Visit Dolce Vita.
Dolce Vita is also a favorite for lunch. Their menu is similar to their dinner menu, and also features some delicious looking paninis. I can't wait to try their snapper sandwich on fresh-baked Ciabatta with capers and lemon mayonnaise, or the proscuitto and mozzarella on Ciabatta!
... Magnifico!
Directions, Hours & Contact
Directions: Dolce Vita is located on the Sandy Ground "strip", before you reach Pumphouse and Johnno's, if you're coming from the south/don't pass Elvis' on your way into Sandy Ground.
Dolce Vita
Good for a more busy type of atmosphere and a night of fine Italian food.
Hours: Open dinner only. Dinner is served Monday-Saturday.
Tel: 264-497-8668
Note: With Dolce Vita has joined Sandy Ground's collection of nice restaurants, including Roy's Bayside Grill, Barrel Stay, Ripples, SandBar and Pumphouse.