<![endif]-->
Bankie Banx's Dune Preserve Beach Bar
Bankie Banx's The Dune At A Glance
A trip to Anguilla is not complete without a trip to Bankie Banx's Dune Preserve on beautiful Rendezvous Bay. This sprawling, funky, laid-back, wooden beach bar built with treasures from the sea, serves terrific food and drinks and plays exceptional reggae tunes.
It's no wonder CNN has voted it the #1 beach bar in the world!
"The Dune" is also home to Bankie Banx's famous Moonsplash festival. Don't miss their nights of live music.
More on Bankie Banx's The Dune, below...
For years people have associated Anguilla's famous reggae artist, Bankie Banx, with his sea-side spot, The Dune Preserve.
The Dune Preserve is a little ramshackle of a place, perfect for a day of lounging, having a few drinks, and ordering from a menu of either chicken or ribs.
Bankie's bar, just washed up from the sea, was loosely constructed with ocean remnants like old fishing boats and adorned with pieces of drift wood and shells.
Today, The Dune Preserve remains on Rendezvous Bay's western shores, complete with its rickety, rustic charm.
This quintessential Anguilla beach bar is loved by locals and travelers alike.
It has even been rated #1 beach bar in the world!
It's not hard to see why...
There's no place like "The Dune!"
Inside The Dune
Set at the edge of Rendezvous Bay, overlooking the Caribbean sea and St. Martin, the location is perfect.
A "boat bar" holds the restaurant together, which is complete with more tables, chairs and hammocks on a wood-plank floor. Another bar stretches towards the sea.
For larger groups dining here, there are two semi-secluded perches at either end of wider, extended sections. They maintain that ever-cool Bankie Banx style, and carry a slightly more refined feel.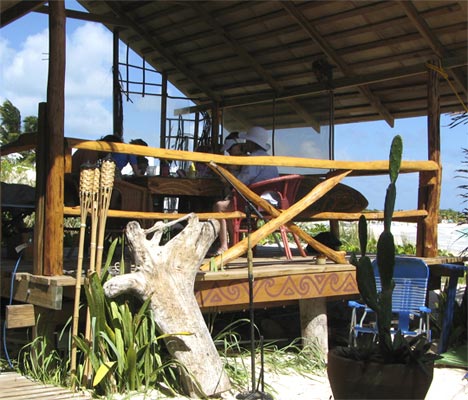 My Dad and I had a delightful lunch at Bankie's new spot with our favorite Anguilla real estate agent, Jackie Pascher.
I ordered the mahi mahi, Jackie tried a steak sandwich and, upon Jackie's recommendation, my Dad went with the jerk chicken caesar salad.
Simply divine!
The mahi mahi was cooked to perfection, served with a Caribbean classic, rice and peas. Jackie declared that her steak sandwich was the best on the island! My Dad didn't say much... he was too busy devouring his delectable salad.
I only remember him saying, "Thank you for the recommendation Jackie!"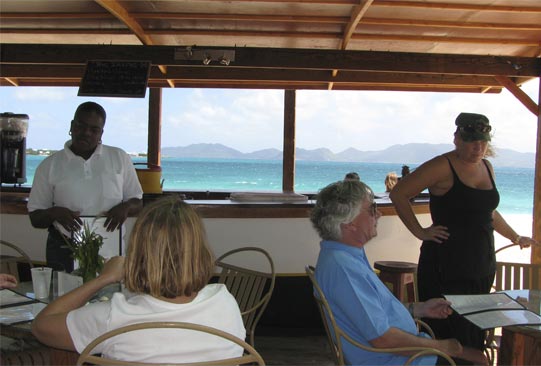 This spot is certainly able to bring in crowds of hungry beach lovers. What's not to love about Bankie's truly, great spot?
Mouthwatering food, a refined beach bar that has that funky Bankie Banx feel, sitting upon the golden sand, with friendly and timely service...
Bankie Banx's original, classic Dune Preserve will always be an island favorite, and is now a personal favorite now, for both me and my Dad!
Note: Since this visit, the menu has changed. Here is their most up to date menu...
Dune Preserve's Current Menu
Entrees
BBQ Chicken - $18
BBQ Ribs - $20
Shrimp - $30
Whole Snapper - $27
Crayfish or lobster - $40
Vegetable plate - $20
All entrees are served with local fruit, rice & peas and salad.
Salads
House - $13
Avocado - $16
Goat cheese - $16
Avocado & shrimp - $25
Dessert
Coconut tart with ice cream - $14
Nightlife At The Dune
The Dune Preserve is especially magical at night.
Dimly lit inside, the lights of St. Martin shine in the distance and the stars sparkle overhead.
Open to the sky (not all parts of The Dune are covered and sheltered), the moon illuminates it all, at times casting an eerie light on the fast-moving, billowing clouds.
And, just beyond the edge of the Dune Preserve, waves lap at the sand.
Bankie's ever-cool setting is enhanced by talented artists who take the stage on Wednesday, Thursday, Friday and Saturday nights, and Sunday afternoons ($10 cover charge on Thursdays, $20 cover charge for all other live music nights).
St. Martin In The Distance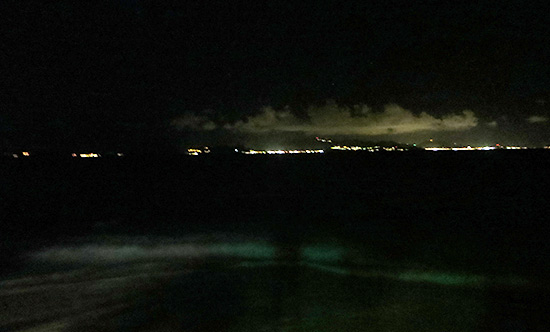 Bankie Banx himself performs on Wednesday nights (starting at 9:45pm). Bankie Banx's son, Omari Banks, plays on Friday nights. Talented and with a high profile region-wide, he always draws a crowd!
Thursdays, by contrast, are more low-key. They are also pretty different, unlike anything you've likely experienced in Anguilla, and closer to something you may have experienced back in the 50's in a cool cafe in The Village in New York City, or only read about in a Jack Kerouac novel.
The Dune At Night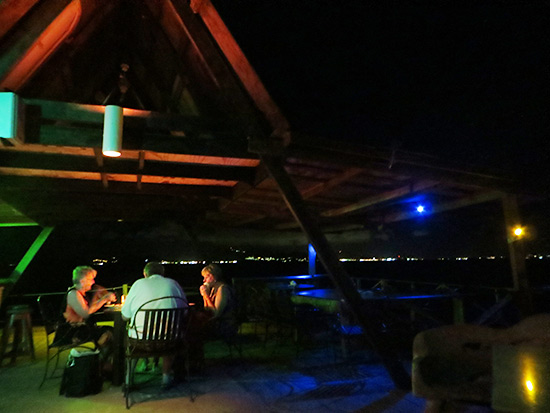 The Dune has entitled their Thursday night event, "P-3 Sessions." It's a poetry, piano and iPod party. Starting at 9pm, Ginette Benjamin performs powerful spoken word with the accompaniment of Asher Brooks on piano.
The combination of poetry and piano ranges from obscure and off-beat, to more melodic. Whatever the style, Ginette and Asher perform with soul.
Here's a little taste of the P-3 Sessions...
Comfortable seating, a cool breeze blowing, the sound of the ocean in the distance...
Add poetry, piano, and even table-side service for drinks and dinner and you have a recipe for an interesting evening of introspection and reflection.
There's nothing else quite like it in Anguilla.
With Ginette Benjamin At The Dune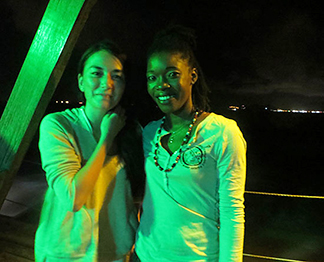 Brilliant moments of improvisation completed the experience.
Bankie Banx himself was hanging around The Dune, talking with guests and taking in the entertainment.
The whole audience smiled when he got up on stage.
With Bankie Banx At The Dune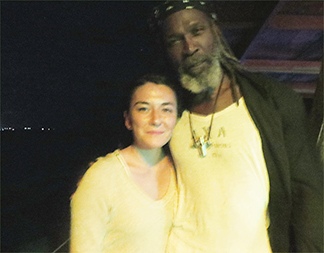 Perhaps inspired by Ginette, he performed some spoken word as well, with Asher Brooks' piano accenting his words.
He played a harmonica solo, a cover of Waiting In Vain, and, what was especially exciting for my Mom, an impromptu performance of her favorite song of his, "Just Cool."
Totally unexpected, we were delighted.
We caught up with Bankie at the end of the night and thanked him for such a unique evening.
"This is what I like, this is the music I like," he said cooly.
It's the music, setting and overall vibe that I like, too. There's something about it, about the music of such emotion played under a light night sky and beside the dark ocean, that stays with you long after the evening fades.
To see Bankie's performance of "Just Cool," watch the video below...
Directions, Hours & Contact
Directions: Head towards the "old" entrance to CuisinArt Golf Resort & Spa (ie. don't enter through the golf course) that is across the street from Hughes Medical Center. When you reach CuisinArt, keep going straight and then hang a left. You will see Bankie's down by the sea.
Bankie Banx's The Dune
Good for a relaxed afternoon of drinks, reggae tunes, beach and views of St. Martin.
Hours: Daily for lunch (kitchen closed Sunday), Wednesday and Friday for dinner. Closed Monday. See Anguilla Events for live music schedule.
Tel: 264-729-4215