<![endif]-->
Previous Hurricane Irma Updates
Update - Oct. 4 @6:15pm EST
SXM airport re-opens for commercial flights on Oct. 10. Update here.
List of airlines flying into SXM & SJU courtesy of Carimar Beach Club. List of flights here.
Calypso running boats SXM-AXA Monday-Saturday. Boats leave TO SXM at 9:45am, 11:30am. Boats leave TO AXA 10:30am, 2:45pm. Residents can go over, but must come back the same day. $65 USD per person each way, cash only. Call Rosmund at 1-264-476-8504 or in SXM, call Jasmin at 1-721-554-3188.
FLOW has restored most of the company's LTE mobile sites.
THIS WEEKEND AT ROY'S: FRIDAY: Happy Hour 5-7 PM with $15 entrees and a $5 dessert. On the menu this week: 1.) Fish & Chips or 2.) Roast Pork with Mashed Potatoes & Vegetables. Dessert: Carrot Cake!

THEN from 7:30 on, enjoy Natty and The House as they entertain at Roy's and raise funds to help the Anguilla Schools replace needed supplies for the upcoming school year.

SATURDAY night the band Generate will play at Roy's from 7:30 to 10. Come out, join friends and have a fun and relaxing night!
Best Buy resumes normal business hours. East: Sunday- Friday: 7am-8pm Saturday: 7am-9pm // West: Every day: 7am-8pm
NEW supplies arriving at Pampered Pets. They are open 8am-1pm this week. To schedule a grooming, call: 264-235-6204
This Saturday: Geraud's offering FREE baked goods at the rock oven in South Hill from 8am.
Mighty Mystic & Band to hold a benefit concert on Long Island, Sat. Nov. 12. Updates to come.
AARF flies 18 Hurricane Irma survivors via Anguilla Air Services to SXM. They are now on their way to their new forever homes in the US.
70 tonnes of corrugated iron roofing destined for Anguilla this week from the UK government and transported by the Netherlands. Post here.
Four Seasons, Cap Juluca, Malliouhana and Zemi Beach form the Anguilla Stronger Emergency Relief Fund (U.S. non-profit 501(c)3 organization). Details here. Help Anguilla here.
Blowing Point gets taken down in preparation for the building of a NEW ferry terminal.
Picante moves forward. More damage than previously anticipated.
Progress at the Anguilla Tennis Academy
"We are strong and resilient people and we are determined to rebuild our country as quickly as possible," a message from Perin Bradley, Anguilla Deputy Governor and Head of the Recovery Task Force
---
Update - Oct. 3 @6:40pm EST
Seaborne resumes flights between SJU and AXA - 3 times per week. DEPART San Juan (SJU) – 12:10pm ARRIVE Anguilla (AXA) – 1:15pm. DEPART Anguilla (AXA) – 1:45pm ARRIVE San Juan (SJU) – 2:50pm. Click here to book.
Comprehensive and up to date look at flights to/from SXM and SJU courtesy of Carimar Beach Club. Flight information here.
Water production is currently limited. Water rationing has begun. Full update from Water Corporation of Anguilla.
The Anguilla Archaeological and Historical Society working to assess damage to historical buildings and to build a more secure roadmap into preserving heritage. Update via Radio Anguilla.
Department of Disaster Management conducting data collection sessions for consideration for relief/recovery. Details here.
TOMORROW - Surf n Turf specials (steak tenderlion in a green pepper sauce or lobster with lemon butter - served with garlic mash and stir fried veg for $35) at Flavours with live music by DJ Kue. Kitchen closes at 9:30pm, DJ Kue 6-11pm.
THIS FRIDAY - Natty & The House Benefit Concert at Roy's Bayside Grill from 7:30pm until. All funds raised will be donated to local primary schools for purchase of school materials. Raffle tickets will be on sale one (1) ticket for US$1.00 and six (6) tickets for US$5.00.
Coconuts open for lunch everyday. Anguilla Great House looking for a partial opening in Dec. Full update here.
Covecastles' beachfront villas are still standing. Interiors (terra cotta tiles, clay vessels, wood shutters, wicker furniture, etc.) will all be replaced. Clean up has begun and will be followed by a full renovation. Re-opening will be in 2018. Full update here.
Christian's famous burgers and wings are back at Ferryboat Inn
A note of positivity from Pumphouse
Progress at Straw Hat. News to come next week.
Post-Irma look at Blowing Point.
---
Update - Oct. 2 @4:30pm EST
Non-residents and vacationers are all able to enter Anguilla. UK Government travel advice here.
Seaborne to resume SJU/AXA flights on Oct. 5
Winair to begin SXM-Curacao flights this week. Update here.
Ferryboat Inn is open 5-10pm. Wings available.
Ben's Pit Stop has opened with pizzas and French specials (4-9pm daily)
Andy's to open on Oct. 9 8am-5pm
Tropical Treats serving slushies at the People's Market today
Albena Lake Hodge Comprehensive School re-opens today (using shift system). Full update on schools re-opening here.
Albert Lake's has tarpaulin, gensets and chainsaws
Next issue of The Anguillian will be Oct. 4. Special issue on effects of Hurricane Irma on Oct. 6.
Tropical Sunset begins to rebuild. To help Tropical Sunset, click here.
Today's lunch specials at Tasty's: Grilled Mahi Mahi, chicken in coconut curry sauce, lobster salad, penne pasta with meat sauce, and our grilled spicy corn & smoked BBQ chicken and ribs!
A look at CuisinArt Golf Resort & Spa
APLO & Thomas Kelly's container being loaded and prepared for shipping
Trattoria Tramonto begins to pour concrete.
Roy's repairing the roof on the pavilion.
Update from Anguilla Great House: Winds took nearly all rooftops, some buildings suffered structural damage. The kitchen and bar of the poolside restaurant is intact, but the roof was taken. The front office suffered tremendous damage. Rebuilding is underway. Full update here.
---
Update - Sept. 30 @5pm EST
SXM reporting $100 million in damages to airport. Full update on extent of damages here.
Update from Help Anguilla RE Amazon Wish List in light of Hurricane Maria affecting San Juan: Click here for the udpate.
West End Bay Apartments open
Ferryboat Inn opens today with a limited menu
CuisinArt aims to re-open August 2018
NOTE: If you are traveling through Antigua with a pet, you NEED a health certificate from an Antiguan vet. Antigua Immigration uses: Dr. Nneka Hull James, 268-728-2495 / Email: nhulljames@gmail.com
REMINDER: Flavours has live music, eats and drinks 'til 10pm tonight
For an updated list of OPEN business, click here
A HUGE thank you to Haydn Hughes for the updates on Anguilla's Dock in St. Maarten and Anguilla Great House.
Anguilla's Dock in St. Maarten (Dutch Side)
Anguilla Great House shows significant damage
Tasty's served up $5 crayfish with $3 sides and live music by DJ Deany yesterday evening
Laurie & Deb of Tradition bring in emergency supplies
---
Update - Sept. 29 @5:15pm EST
Seaborne to resume flights to/from SJU and AXA tomorrow
Anguilla Air Services granted permission to operate daily flight to/from SXM. Update here. SXM otherwise remains closed. That news here.
Frangipani to re-open Dec. 1
Tropical Shipping will arrive with Best Buy Anguilla Produce tomorrow.
Morris Vanterpool Primary School reopens on Oct. 4 at Mr. James Hodge's (aka Jim Lewis) apartments
List of rental car companies OPEN. If you know of any other rental cars currently operating, please comment here.
REMINDER: Live music, eats and drinks tonight & tomorrow 'til 10pm at Flavours
ATB update on the state of Anguilla: Anguilla's recovery is proceeding at an extraordinary pace. Phone and internet communications have been restored to most parts of the island. Roads and beaches have been cleared, there are no longer lines at gas stations, and grocery stores are well provisioned. Many local restaurants have reopened, along with a number of hotels that are housing relief workers and UK government officials. Significant progress is also being made on the restoration of the electricity grid; power lines to many villages on the central line through Crocus Hill and The Valley have been restored in the three weeks following Irma.
ATB Airport Update: The British government will be responding to the need to expand Anguilla's airport. A team from the British Corps of Royal Engineers will oversee the project to extend the runway by 600 feet from its current 5,400 feet. This extension will allow the airport to accommodate operations from larger aircraft, including the B-737 series, used by a variety of North American carriers. The airport will remain open to private and commercial aircraft during this planned expansion period.
ATB Blowing Point Update: In the aftermath of Hurricane Irma, the terminal at Blowing Point will be demolished. Architectural plans have already been commissioned for the design and construction of the new facility. Construction is expected to begin shortly, at which point a more detailed timeline will be provided.
Irma damages Anguilla Youth Sailing Club.
ANGLEC restores 6% of island's power. As of last night, working on George Hill road, The Valley, Stoney Ground and Rock Farm.
Road School demolished.
Picking up the pieces at Nat's Palm Grove. Click here to help rebuild Palm Grove.
Beautiful Meads Bay
---
Update - Sept. 28 @6:45pm EST
Winair looking into adding flights to/from San Juan and SXM.
Malliouhana said to re-open April 2018. Waiting on official update.
La Vue to re-open on Dec. 1. Will make exceptions and open a bit earlier for travelers in need of a place to stay. Update here.
Calypso ran boats to SXM for people IN TRANSIT today. Update here.
NAPA has generators for sale.
Best Buy in East End now has pizza.
Timelapse video of Hurricane Irma hitting Cane Garden Bay on the island of Tortola (BVI)
This Sunday at Johnno's: Beach Fish Fry with fried fish, conch soup, Johnno fry cakes, crayfish and live music by Boss.
Reminder: Flavours has live music tomorrow & Saturday 5pm-10pm
Shoal Bay Villas fix their beach and trees.
Plants for sale at Anguilla Garden Center.
Anguilla Tourist Board establishes Voluntourism initiatives. More updates to come.
HMS Ocean brings more aid to Anguilla.
---
Update - Sept. 27 @5:40pm EST
Princess Juliana Airport still under Dutch military control. There is no functional beacon and radar system. Full article here.
Starting Oct. 29, KLM will operate two instead of four flights to St Martin. Flights will stopover on Curaçao. Official update.
Winair working to establish a SXM-Curacao flight for connecting flights. Updates to come.
More news from St. Maarten: First cruise ship bringing passengers is expected on Nov. 11. Article here.
SJU flights are delayed due to radar functionality limitations. Airport is operational but on a limited schedule. There are approximately twelve commercial flights scheduled daily. International flights have not yet been authorized. Follow here for more.
Cayman sends second relief flight with medical team and supplies to Anguilla.
Anguilla Community College to resume classes early Oct.
Mr. Bonnie Lewis of J & B Gases in Corito is offering complimentary ice to those who need to refridgerate medication.
It is with a heavy heart I write that Nico's has closed permanently. If you would like to purchase restaurant equipment, call: 264-772-1990.
Properties in Paradise has villas available for Festive and Winter Season. Contact: katie@propertiesinparadise.com or +1 (264) 235-2816
Reminder: Marc Forgione hosting Anguilla fundraiser in NYC on Oct. 15. Details here.
Irma completely demolishes Elite Restaurant.
View of Island Harbour from Elite.
Flavours opens for lunch and dinner. Don't miss this Friday's & Saturday's event with live music by DJ Kue.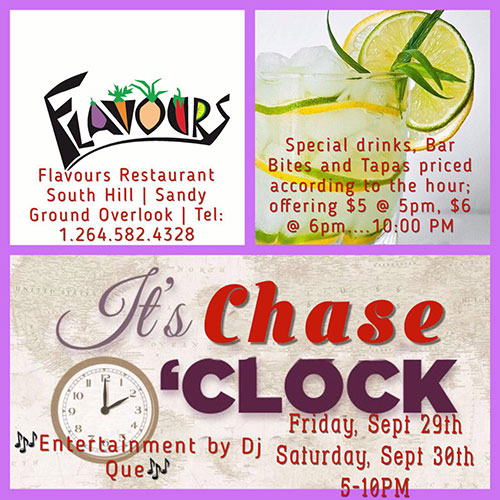 Tasty's smoker is serving up BBQ chicken, ribs, grilled fish and from the kitchen - spaghetti bolognese.
Run For Life Fundraiser this Sept. 30. Proceeds go to Anguilla and Dominica Red Cross.
---
Update - Sept. 26 @7pm EST
ANGLEC re-connects power to the Court House, the Clayton J. Lloyd International Airport, CIBC Bank and the Police Station.
CIBC First Caribbean waives payment due dates for month of September.
Coral Reef Bookstore open 8am-4pm on weekdays, 9am-4pm on Saturdays.
Red Cross aid worker reveals crippling damage of Hurricane Irma as he helps rebuild Anguilla. Article here.
Blanchards' next distribution of supplies will be this Sunday & Monday, October 1st & 2nd from 9am-4pm at Blanchards Restaurant.
SHIPPING UPDATE: The NY address is for PUBLIC goods only. Shipment to leave on Oct. 5 and then once/month for some time. To ship to specific individuals, please see Tropical Shipping info.
Join Chef Marc Forgione on Sunday, October 15th in NYC for a Caribbean BBQ to help rebuild Anguilla. Fundraiser details here.
Why you shouldn't cancel your Anguilla vacation: Sandy Island's Simone Connor shares 5 things to do on your next trip to our shores.
British soldiers assist in cleaning Ebenezer church.
A word from Governor Foy on Anguilla's resilience as the island begins to bounce back.
Ferryboat Inn repairs and rebuilds.
Repairs to Roy's pavilion underway.
Anguilla's Jammin' back up and running.
Post-Irma views from CéBlue.
---
Update - Sept. 25 @6:45pm EST
Blowing Point temporarily resumed operations today from 10am-3pm to allow St. Maarten nationals to return to St. Maarten and to allow Anguilla nationals/residents to return to Anguilla.
Seaborne flights canceled until Sept. 28. Post here.
Note from Anguilla Post Office: Mail to all destinations outside of Anguilla has been temporarily suspended after the passage of hurricanes Irma and Maria which have significantly impacted the transit hub at Princess Juliana International Airport through which Anguilla's mail is routed. Update here.
CuisinArt & The Reef anticipating closure for restoration to last through the summer of 2018.
Zemi Beach House cancels reservations through end of Oct. Article here.
Dungeon Gym offering extended post-Irma hours. Open 4:30am-7pm.
Roy's Fishing Service sold fresh fish and lobster under the tamarind tree in The Valley this morning.
SHIPPING ITEMS: Waiting on information for the NY address - if you can send items to specific individuals via this address. In the meantime, please see info on Tropical Shipping to ship to friends & family in Anguilla.
Picante rebuilding.
APANY's 40 foot container with relief supplies to ship on Sept. 27
Good Korma shows significant damage.
Irma blew out Crocus Bay's famous tamarind tree to Crocus Bay's shores.
---
Update - Sept. 24 @6:15pm EST
Trans Anguilla operating scheduled flights to St. Kitts for $100-200. Book online here.
St. Gerard's Saturday night Mass will be at 5pm. St. Gerard's suffered some damage to stain glass windows. Otherwise, OK.
MacDonna's QFC has re-opened. Menu here.
Traditional Sunday roast lunch returns to Roy's Bayside Grill.
Vanessa Croft shares her family's heartwrenching experience of Irma. Article here.
ANGLEC working night and day to restore power.
Destruction at Karla's Grill & Bar
28 tonnes of supplies delivered by Royal Air Force yesterday.
APANY collects relief supplies.
Help Anguilla on the ground and in action, delivering supplies in Anguilla.
UK helps rebuild the Blossom Centre.
---
Update - Sept. 23 @6:30pm EST
Grand Case Airport re-opened today.
SJU has re-opened for select flights. More info here.
Boss playing at Johnno's tomorrow (Sunday) afternoon.
Mango's assessing damage and beginning to rebuild. Will not be open for Christmas 2017.
If you are in NYC tomorrow, please support "Restore America's Paradise" fundraiser for USVI & Anguilla. Details here.
A huge shout out to Kenroy Herbert and his team who began the island-wide clean up today. Island wide clean up continues tomorrow.
Article on Sept. 17 by NYT shows damage to Anguilla: On Anguilla, the storm "substantially damaged" some 90 percent of government buildings, as well as electricity infrastructure and the main water supply, according to the International Organization for Migration.
Fresh seafood, chicken & ribs at Tasty's.
Tradition to arrive home in Anguilla tomorrow with supplies.
Shoal Bay Villas hard at work to re-open for Nov. 1
More Meads Bay coverage from the outstanding Imogen Gough. Imogen, thank you so much for sharing these photos of beautiful Meads Bay.
Anguilla Tourist Board cleans Shoal Bay East.
---
Update - Sept. 22 @5:45pm EST
All commercial flights canceled to St. Maarten until Oct. 27
Quintessence's opening to be delayed. Article with owner Fieger here.
Beaches Edge villa to re-open in November
Villa Alegria to re-open in December
Covecastles will not be open for the 2017/2018 season due to the extent of damage
Many of Properties in Paradise's villas withstood the storm. Updates to come on rental availability.
RE the NY shipping address - shipping from NY to Anguilla is FREE of charge.
Kenroy Herbert of Leviticus' island-wide clean up scheduled for tomorrow and Sunday.
FLOW holding a family movie night in Telecoms Parking Lot on Saturday from sunset-11pm.
Word of Life Ministries & Merchants Market will be providing FREE meals Sept. 24 at 11am at the Word of Life Ministries in Rey Hill.
Corner Bar pizza is open
Anguilla Tourist Board working to rebuild Anguilla. First intiative took place yesterday - the cleaning of one of Anguilla's premier beaches, Shoal Bay East
A word from Trudy Nixon of True Anguilla on Irma and the aftermath. Article here.
Branches of Learning demolished by Irma. To help: 1. Visit: https://www.apa-ny.org/donate-to-projects 2. Click DONATE next to BIG On Learning 3. Complete PayPal Donation MUST include in the Memo section: BIG On Learning
Tropical Treats served ice cream at FLOW today.
A look at Blue Waters.
Blanchards Restaurant is operating as a hurricane relief center.
Nature Explorers Anguilla shows shorebirds returning to the wetlands.
A HUGE thank you to Imogen Gough for her updates. Today she shares a look at Road Bay and Meads Bay.
East side of Meads Bay shows a higher tide line
Relief aid continues to arrive via Road Bay.
---
Update - Sept. 21 @6pm EST
Anguilla Air Services to resume flights (to St. Kitts and Antigua) tomorrow.
ANGLEC has re-connected power to the hospital.
FLOW mobile service has been restored to Bad Cox, Little Dix, Welches, Island Harbour and Sea Rocks
The New Testament Church of God will be offering free lunch tomorrow from 11:30am across from NCBA.
UPDATE ON SHIPPING ITEMS TO INDIVIDUALS: The most reliable information that has been sent in is the NY address here. They are supposed to be shipping a container next week Thursday.
Bamboo Beer Box has been totally trashed. Fishie is currently in Jamaica.
German station, ZDF interviews Bankie Banx at The Dune, Mirabel West, Rolf of Carimar, Ingrid Parker, Victor Banks & others post-Irma.
NOTE: If you were booked to fly to/from SXM from now through the end of October, please contact your airline to check your flight's status. Many airlines (ex., AirFrance, KLM, AA, JetBlue, etc.) are offering opportunities to change flights at no cost and/or refund in full in light of flight cancelations.
ECCB disburses 1 million EC to each Anguilla and Antigua & Barbuda for relief and recovery.
Kenroy Herbert spearheads island-wide clean up for Saturday and Sunday.
A word from Garvey.
A look at where Palm Grove once stood with Nat's daughter, Natalie.
Rebuilding begins at Trattoria.
---
Update - Sept. 20 @5:30pm EST
Hurricane Maria devastated Dominica last night, hits Puerto Rico today. Anguilla received tropical storm effects. Tropical Storm Warning and Hurricane Watch has been lifted for Anguilla.
ANGLEC's plant in Corito has been re-connected. Focus is now on the hospital.
FLOW restores mobile service to Stoney Ground, Cauls Bottom, Tackling and Little Dix.
Blue Waters did not suffer structural damage. Should re-open on schedule. Check back for updates.
CéBlue to re-open on schedule. Previous re-opening date was mid-October.
Frangipani re-opening date pushed back to Dec. 2017
ABC Supplies running a 15% store wide discount.
Nails R Hair will be open from Sept. 21-23 from 8am to 1pm. Appointment only. Call 264-584-7377, 581-4247 or 235-4615.
Proctor's & English Rose opened today.
Spirit planning relief flights to SXM on Sept. 22. Flights are otherwise suspended. Travel advisory here.
Hurricane Maria brings 2 feet of sand back into Trattoria Tramonto.
Hurricane Maria brings waves to Sea Feather's area.
Blanchards Hurricane Relief Center to open Sept. 23. Generators to arrive Sept. 27.
Significant damage to Anguilla's Jammin's aquaponic garden. Tilapia survived.
Recovery begins at Frangipani.
---
Update - Sept. 19 @6pm EST
Hurricane Maria hit Dominica as a Cat 5, now approaching Puerto Rico and St. Croix. Anguilla not in the cone. Received Tropical Storm effects (currently under Tropical Storm Warning and Hurricane Watch). NHC update here.
Update from Four Seasons Anguilla's Suzanne Willis: As you can imagine, ownership and Four Seasons is moving heaven and earth to open Four Seasons Resort and Residences Anguilla as soon possible. I know we definitely will not reopen in 2017 but it's incredibly difficult, at this time, to know exactly when we will reopen. We're very hopeful it will be sooner, rather than later. Stay tuned to this page and to Four Seasons Anguilla's social media as Suzanne will be sending me and posting frequent updates about Four Seasons Anguilla's re-opening.
Rendezvous Bay Hotel has begun process of recovery. Goal is to open in December.
Josveek Huligar shares 360° virtual reality photos of Anguilla post Irma. A big thank you, Josveek for all of your dedicated work and for sharing these photos. View photos here (best viewed in Safari).
Blanchards Relief Center UPDATE: Shipping delayed due to Maria. Check back for center's opening date. Generators expected Sept. 26.
How to help the animals of Anguilla. Click here.
Substantial damage to Arawak Beach Inn
Where Palm Grove once stood. Help Palm Grove rebuild here.
W.I.S.E. Anguilla update from Gabriele Klaren: The classrooms and workshops are cleared of debris and water damaged equipment and materials. The driveway is clear and the backhoe and crew will finish clearing the schoolyard tomorrow. The roofers are putting up the tarpaulins from sunrise. The staff is working very hard, with an iron sense of humor. We must get back up. Soon. WISE students need to get back to school asap. They are getting bored and mischievous.

Photo: Gabriele Klaren
Anguilla National Trust conducting damage reports on erosion, wetlands and beaches. A HUGE thank you to Kevin Archibald for his tremendously hard work, providing photos and videos in this difficult time.
Coconuts at Anguilla Great house is serving drinks (NOTE: may be closed today due to Maria).
Tasty's is open with happy hour specials (NOTE: may be closed today due to Maria).
Tropical Sunset shares a photo of Shoal Bay East. Still beautiful.
---
Update - Sept. 18 @4:30pm EST
Hurricane Maria strengthens to a Category 4. Anguilla under Tropical Storm Warning and Hurricane Watch. NHC advisory here.
The Department of State continues to warn U.S. citizens to avoid travel to Sint Maarten due to Hurricane Irma. Advisory here.
The Montserrat Bottling Company donates 400 gallons of Soufrière Springs Water to Anguilla Relief Effort
Roy's closed today - as restaurant is normally closed on Monday until Nov. 1. Supposed to re-open tomorrow, but may be closed due to Hurricane Maria.
Mass has resumed at St. Gerard's church.
Western Union not yet operational in Anguilla.
Seaborne Airlines will only fly one more flight - on Tuesday to St. Croix. Moving fleet to Bonaire in light of Maria. All other flights canceled through Thursday. Reports to come on resuming flights.
As of 2:30PM Sunday September 17th 2017, Anguilla Air Services has suspended all operations in preparation for the passage of Tropical Storm/Hurricane Maria. Flights will resume as soon as an all clear is given.
Significant damage to Arawak Beach Inn.
Help Anguilla has lift off! Not one but TWO planes of relief supplies safely landed in Anguilla yesterday. The incredible volunteer team has been unloading and sorting through several tons of donated goods, re-packaging them for distribution and more.
These supplies are now out for delivery. The amazing team of volunteers has been serving people in more remote villages that have not been able to leave their house, or may not have a car or money to do so. The spirit of Anguilla's strong community is well and alive.
Properties in Paradise reporting little damage to their villas. Cerulean Villa will re-open for this season.
Coconuts at Anguilla Great House opened today with Garvey Lake manning the bar. Huge thank you to True Anguilla for their coverage.
---
Update - Sept. 17 @7:30pm EST
Hurricane Maria strengthens to a Category 1. Anguilla under Hurricane Watch.
Report states that CuisinArt will not open until Sept. 2018 (waiting on official update with official re-opening date).
Scilly Cay suffered damage to dock, gazebos and beach.
International Wines & Spirits still operating. For more, contact: Info@iwas.ai
Johnno's open Thurs. - Sun.
Anacaona will not re-open as scheduled (October 10th, 2017). In the process of evaluating damage.
Sandy Island now.
Blanchards Relief Center opens Sept. 20
A HUGE shout out to Kenroy Herbert of Leviticus who has been sharing videos of Anguilla since Irma passed. His coverage, at a time when Internet connection is at a minimum, is nothing short of heroic. Today, he shares a look at Rendezvous Bay.
Lunch at Tasty's today.
Coverage from CNN: A Paradise On Hold
---
Update - Sept. 16 @7pm EST
Tropical Storm Maria strengthens. Antigua, Barbuda, St. Kitts, Nevis & Montserrat under Hurricane Watch. Anguilla Tropical Weather update here.
Tasty's has re-opened. Call 264-584-2737 for more.
Hot Johnny Cake fundraiser tonight at 7PM at Roy's.
For the latest from Help Anguilla (who is bringing thousands of pounds of relief supplies into Anguilla daily), follow them on Facebook here.
Turtle's Nest has suffered "enormous" damage. Diesel generator was also destroyed, resulting in lack of water and power.
Carimar currently hosting 70 guests (British military, insurance assessors, etc.). The hotel will able to accommodate guests who need a place to stay in October (renovations will be on-going) & will accept guests in November as well. Official re-opening is December 21st. Full update here.
What remains of Nat's Palm Grove.
Trattoria Tramonto shares photos from Shoal Bay West. Severe damage to certain Covecastles villas & Altamer villas. Irma took Trattoria's kitchen roof.
Blue Waters still standing.
B&D's re-opens after Irma.
Straw Hat repairs and rebuilds.
ANGLEC hard at work rebuilding poles.
Department of Disaster Management press conference by CM Victor Banks and Governor Foy.
---
Update - Sept. 15 @7pm EST
A HUGE shout out to True Anguilla for the terrific coverage of Shoal Bay East area. True Anguilla shares the following on Shoal Bay East...
Hurricane Irma brings back Upper Shoal Bay East.
Madeariman clears out the sand from Irma.
Uncle Ernie's still standing.
Falcon Nest repairs.
Anguilla Fire & Rescue clears roads.
New deck at Roy's Bayside Grill.
Sensational Flavours picks up the pieces.
---
Update - Sept. 14 @7:30pm EST
Two tropical waves have formed off of the Cape Verde islands. NHC update here.
House of Assembly convened a meeting today to pass new laws to assist after Irma.
Support teams from Dominica arrived today to help ANGLEC restore power.
Omololu International School will officially open Monday, September 25.
Johnno's opened for lunch today.
Roy's open with Happy Hour specials today.
Tropical Treats has been serving ice cream.
Earlier today, three planes courtesy of Caribbean Flyers landed in Anguilla from Puerto Rico, stocked full of Help Anguilla relief supplies. Amazon orders from the Help Anguilla Amazon Wish List have started to arrive at their warehouse in Puerto Rico. Thousands of pounds of relief supplies are being prepared for the next flight tomorrow. In addition, there are four different groups on the ground in Puerto Rico connecting with corporations and grocery stores. 7000 lbs pounds of food and water will be delivered to the Puerto Rico warehouse tomorrow.
Tradition bringing supplies from where they have been moored in St. Lucia.
The British help rebuild Blanchards Restaurant.
Sand shoveled out of Trattoria. Restaurant equipment relocated. Rebuild to start on Monday.
Work is underway to restore and repair the hospital.
Update - Sept. 13 @6pm EST
BBC reports: UK's aid budget cannot be spent on overseas territories.
From the Anguilla Tourist Board: Information on how to help Anguilla & aid coming to Anguilla.
Best Buy Anguilla new hours: Long Path 7am-7pm, West End 6am-7pm.
ATM for NCBA open from today. Hours: 9am to 5pm at the Main Branch.
CIBC First Caribbean open from 9am to 12noon.
Note from Attorney General: Regulation has been drafted for a 3 month period of exemption on Customs Duty for relief items (ex., medicine, generators, batteries, and food and clothes sent by friend or relations). Needs to be approved by House of Assembly.
As of 1pm, Princess Juliana Airport in St. Maarten open for evaculations and emergencies only.
Foreign Secretary Boris Johnson visits Anguilla to see recovery operation. Work has begun on the hospital. Food relief has begun to arrive. Royal Engineers are working with The Ministry of Infrastructure on water supply issues. UK electricity companies are supporting Anglec to restore power.
Foreign Secretary Boris Johnson discusses UK's response and more on Radio Anguilla.
Severe damage to Ruthy's Yum Yum. Back wall blew out.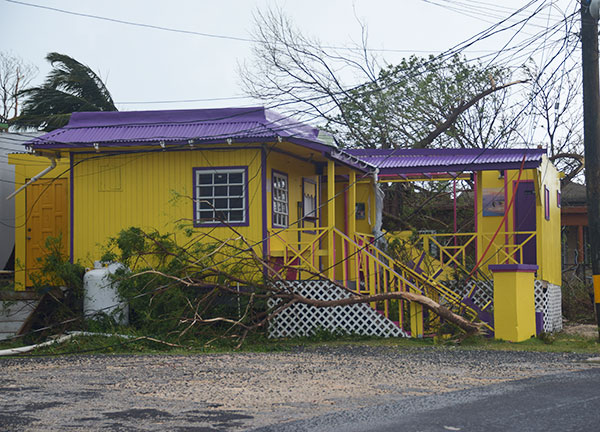 Damage sustained at Ben's Pit Stop. Covered dining area gone, roof peeling.
Sandy Hill Club Condos appear to have weathered the storm. Exact condition not confirmed.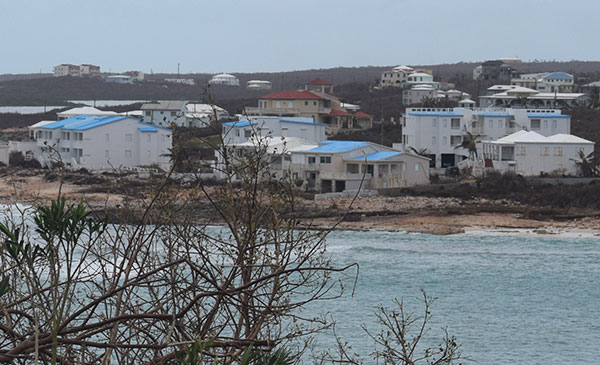 3 tons of UK Aid arrives today
Anguilla Red Cross distributing aid
Cleaning up Anguilla has begun
Shoal Bay Villas repairs. Now housing doctors and nurses from The Cayman Islands and also The PAHO.
Hall's Bakery has re-opened
Four Seasons Nevis sends relief supplies to Anguilla
Hurricane Irma damage seen on a fly over Anguilla
---
Update - Sept. 13 @11:10am EST
Notice from U.S. Department of State: Consular Affairs US citizens in Anguilla: proceed to airport NO LATER THAN 12:30pm for evacuation flight today, Sept. 13.
GREAT NEWS: Plane has been confirmed to bring the 6000 lbs of Amazon Wish List cargo mentioned in this post from SJU to AXA. Amazon Wish List has also been updated with NEW items.
Hibernia Restaurant & Art Gallery sustained very little damage. Plan to re-open on November 1st.
Hibernia Villa had a little damage to one room. Already under way with repairs and expect it to be back in order by December 15th.
Progress from Water Corporation of Anguilla. 1 megawatt generator for the Sea Water Reverse Osmosis Plant arrived on the British Aircraft. Intake is intact and there should be no sand blockages in the extraction of water from the sea. Tests to begin this morning
As aired on PBS: Is the island of Anguilla getting the Irma aid it needs?
More coverage as aired on Channel 4 in UK: Questions arise about the speed & size of Britain's response
SandBar & destruction to Sandy Ground homes
Cayman Islands brings medicines, medical supplies, shelter materials and other essentials to Anguilla.
Roy's pavillion
Destruction at SeaSpray Boutique, Shoal Bay West, Roti Hut (use arrow to scroll right)
---
Update - Sept. 12 @4:15pm EST
UPDATE ON SHIPPING ITEMS TO ANGUILLA: Kenroy Herbert, Judd Burdon, Francie Tanner and others have been working around the clock to setup Anguilla's needs list, shipping, duty clearance, tax deductions, distribution teams and sites on Anguilla, working in tandem with Government of Anguilla.

The BEST way to send the items most in need right now with zero duties, is via this Amazon Wish List.

The shipping address will auto fill and much needed items are being added constantly, so check back often.

If you have HIGH PRIORITY items (like generators), you may want to wait until later today when a PR address will be confirmed.

For everything else, this is the recommended address to use as the receiving and shipping channel is secure.

c/o Thomas Kelly
attn: APLO Relief Initiative
110 Wall St
New York, NY 10005


From ANGLEC - 60% of electrical grid was hit. ANGLEC bringing in extra resources from sister islands to restore power as quickly as possible.
Heritage Collection suffered roof damage but will be back on its feet.
Savannah Art Gallery is in good condition.
Roy's open until 6pm today.
Calypso Charters & Seaborne Airlines both brought in supplies today.
Arawak has suffered significant damage.
Rendezvous Bay Hotel and The Place stood. In process of recovery now.
Governor Foy asks the public to be patient regarding fuel. Two gas stations in the Valley as well as the Blowing Point station are open. Customers are limited to a $30. purchase. They are working with Sol to rectify supply.
United Nations Institute for Training & Research report 2,147 potentially damaged structures (this represents 42% of the total number of structures on the island not covered by clouds). Damage assessment report here.
Josephine Gumbs reports to CNN that Anguilla is being forgotten in this time of need.
West End's pink West Indian house has been demolished.
Albena Lake Hodge Comprehensive has suffered significant damage.
Many homes badly damaged in Sea Feather's area.
---
Update - Sept. 12 @10:45am EST
***Awaiting official updates on shipping items***. Disaster management is asking people to hold off on shipping items until addresses have been confirmed. Shipping items to other addresses may delay receipt of much needed items. Updates expected later today.
Gas station in The Valley has re-opened. Two banks (NCBA and FCIB) are expected to re-open tomorrow.
British were seen back in Anguilla today.
Anguilla Great House has suffered some structural damage. Repairs to begin as soon as construction materials are available.
Drone footage as Anguilla comes together as a strong community. Streets are being cleared and rebuilding is beginning.
15 units at Carimar are currently full with 56 guests and more arriving today. Carimar is housing officials from the United Nations, the British government, the military, UNICEF and several insurance companies who have arrived on Anguilla to help assess damage after Hurricane Irma. General Manager Rolf is also giving out showers to anyone who needs it.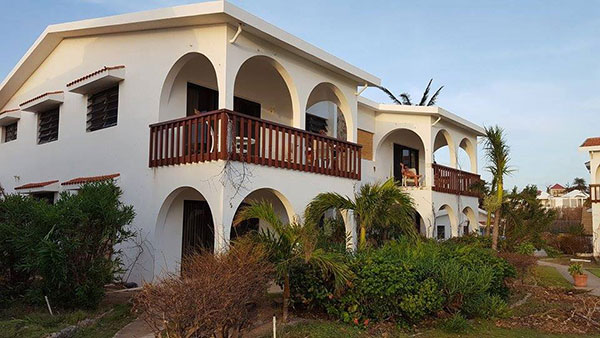 Damage at Tropical Sunset on Shoal Bay. Open air dining area destroyed. Overhang roof gone. Restaurant has been inundated with water.
Trattoria Tramonto begins to clear the rubble.
Beach bar at The Dune is completely gone.
Damage to Anguilla's Pharmacy in The Valley
---
Update - Sept. 11 @6:15pm EST
Please hold off on sending relief items to the address mentioned in a previous post. Waiting on exact instructions on items needed and information on the best way to send.
Meads Bay Beach Villas are structurally fine. Only need to replace some furniture and landscaping.
CéBlue is structurally sound. Damages sustained are repairable. They look forward to opening for the season.
The Fountain is still standing. Some units suffered damage from debris hitting windows. Expect to be open this season.
No major structural damage to Malliouhana.
CuisinArt has been significantly affected. Full assessment ongoing.
Quintessence suffered fair amount damages, but will be able to repair. Nov. 1 opening will be delayed.
Geraud's & Grands Vins de France are OK.
Spyglass Hill Villa & Little Butterfly are both in tact. Spyglass to open for Nov. 1.
Bird of Paradise sustained the 185 mph winds.
British arrived via air today with emergency relief supplies
Anguilla Air Services has resumed flights. Info below.
Watermelons now available at Sensational Flavours
A look at Roy's terrace now (restaurant has been opening for lunch/dinner as they are able to)
Damage at La Vue. Flavours has lost windows, furniture and doors. Walk-in freezer and other equipment has suffered damage.
Church in West End, up the road from Sarjai's and Meads Bay, experienced serious damage.
Blanchards Beach Shack as seen from parking lot
Damage to the historic Lucy Restaurant (more recently Sarjai's)
---
Update - Sept. 11 @10:30am EST
British Navy ship has been spotted returning today to Anguilla
Foreign Secretary Boris Johnson states it is an "absolute priority for the UK Government to help people in Anguilla." UK government will be there for the long-term. Post here.
Road Bay port has re-opened.
Best Buy East re-opened at 8am this morning and can receive 3 containers today and tomorrow via Road Bay.
Masara only suffered flooding.
Carimar's damage was primarily cosmetic and landscape. They are currently housing officials from the United Nations, the British government, UNICEF and several insurance companies who have arrived on Anguilla to help assess damage after Hurricane Irma. They have also taken in stranded guests from other hotels, displaced staff and locals. Their generator is working (providing hot running water and electricity), but they do not have Internet so staff is having difficulty replying to emails. Carimar plans to re-open for this coming season.
Damage at Ocean Echo. Meads Bay's waves and sand washed inside Ocean Echo, making it to their kitchen and equipment. Structure still standing, bar still standing. Damage to roof. Exhaust is gone.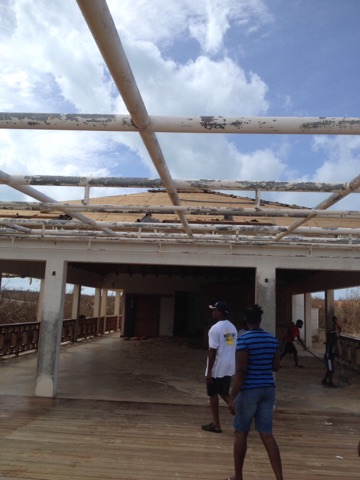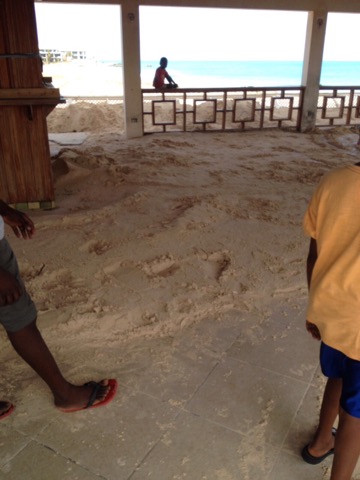 Very bad damage at Beach Happy
Digicel packing supplies to send from St. Kitts to Anguilla, BVI & Turks.
Seaside Stables has sustained damage, including loss of 2 months of food. All 7 horses are safe with just a few minor wounds.
East End School demolished except concrete bathrooms.
Major damage at The Big Store / Megasavers
Destruction at The Dune Preserve
---
Update - Sept. 10 @5pm EST
Reminder: Anguilla Air Services is now operating flights to/from St. Kitts and Antigua.
Ocean Echo has sustained damage, including loss of roof.
SeaSpray boutique still standing, smoothie hut has been demolished.
Pink West Indian cottage in West End has been demolished.
Altamer sustained damage. Windows showing as having blown out. Buildings in tact.
SandBar is OK.
To ship relief items to Anguilla, below is the address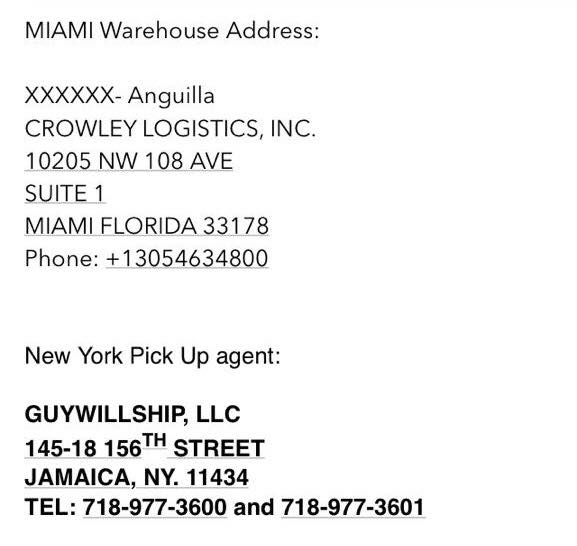 da'Vida has sustained damage. Restaurant structure is still standing, but there is damage to the roof and they have lost the canape on the second floor of the loft. Bayside Grill's dining area needs to be re-built. Bar is in tact.
---
Update - Sept. 10 @10:15am EST
Official Government of Anguilla update on ways to help, including information on volunteering time and expertise and landing aircrafts (ports are closed).
Anguilla Air Services has resumed flights. Charter flights available to and from St. Kitts and Antigua. Contact info@anguillaairservices.com or 1-264-235-7122. Flights available as early as 11:30AM on Sunday, Sept. 10. (If you are flying in, please bring relief supplies. Immediate need for tarpaulins, small generators, power inverters, water, and solar operated flashlight, insulation spray foam, candles, small tents.)
What are the British doing? Royal Navy Ship RFA arrived in Anguilla on Thursday and delivered six tonnes of emergency aid, clearing roads and helping to restore power. Ship is now travelling to the British Virgin Islands. HMS Ocean is also being sent from the Mediterranean. Not expected to arrive for another two weeks. Full article here.
Britain comes under fire as 'not doing enough' to help its Caribbean territories. Article here.
Valley Bistro's Stone Art Gallery suffered major damages. Part of roof is missing.
A look at storm surge on Anguilla's south coast. This video was taken just west of Sandy Hill Condos. The south was hit badly with strong, high surge. (1:50 in video below.)
Straw Hat suffered bad damage. Structure of building still in tact.
Significant damage at Anguilla Tennis Academy where windows blew out.
Johnno's seen from Sandy Ground road.
---
Update - Sept. 9 @4pm EST
Hurricane Jose passing to the north, Anguilla not at risk of being hit.
Zemi Beach House held strong during the storm.
Ferryboat Inn still standing. Exact condition, unsure.
Karla's Bar & Grill completely destroyed.
AARF still standing (fixable damage) with pups and kittens safe.
St. Maarten's Princess Juliana Airport has evacuated a number of tourists. Hoping to open airport by Sunday for relief flights.
Ocean receding at Sandy Island
Frangipani showing damage. Together with Straw Hat's report of being in "very bad shape," it sounds like this area of Meads was hit much harder than the east side.
Ebenezer Methodist Church
NYT shows Irma's damage to Anguilla
To help rebuild Anguilla, click here.
---
Update - Sept. 9 @11am EST
Hurricane Jose warning discontinued for Anguilla. Jose is still a strong storm, but should not affect Anguilla.
The Reef has significant damage. Based on the reports, the south side of Anguilla seems to have been one of the hardest hit areas.
Sandy Island is showing signs of coming back.
Straw Hat in very bad shape.
ANGLEC is estimating 4-6 months without electricity.
Blanchards Beach Shack still standing
A look down Meads Bay. Malliouhana and Carimar still standing.
Current situation at Anacaona
Significant destruction to Anguilla's hospital
---
Update - Sept. 8 @8pm EST
Anguilla is under Hurricane Warning as Hurricane Jose strengthens to a Cat. 4.
CuisinArt has suffered extensive damage.
Blanchards has damage but is still standing.
Roy's opened today.
Tropical Treats was giving out ice cream in Stoney Ground today.
Dune Preserve has been completely demolished.
Severe damage to hospital, wing gone, partial roof gone, experienced bad flooding
IWAS warehouse destroyed
Destruction of Albena Lake Hodge Comprehensive School
---
Update - Sept. 8 @11:30am EST
Anguilla is under Hurricane Watch as Hurricane Jose tracks north (via StormPulse).
ZaZAA Boutique in West End has been demolished. Buildings at Anacaona are still standing, hard to determine in what condition otherwise.
Picante still standing.
NEWS from Roy's: OPENING NEWS: Roy's will open today, Friday, at Noon with a reduced menu and reduced bar. We will be closed Saturday while Jose passes. We will post when we will open again.
Blowing Point terminal has been badly destroyed
RFA have brought supplies ashore
Jacala appears to be in tact. Meads Bay's shoreline looks very high.
Las EsQuinas still standing.
---
Update - Sept. 7 @6pm EST
Anguilla is under Tropical Storm Watch as Hurricane Jose intensifies (via StormPulse).
Structures of Dad's, Johnno's and Body & Soul still standing. Second floor doors/windows of Body & Soul have blown out.
Johnno's and Dad's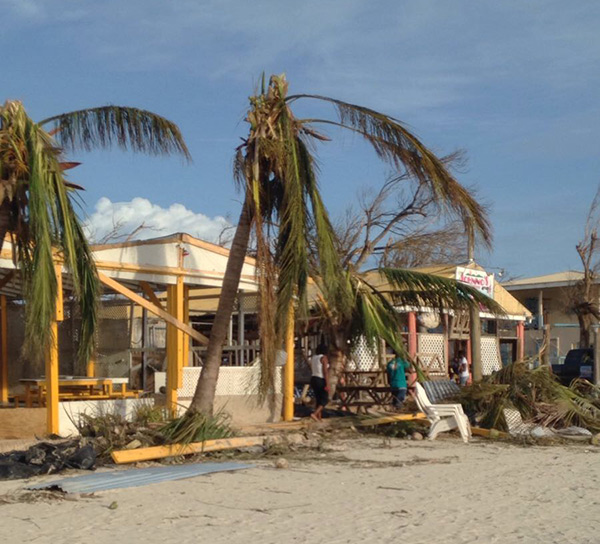 Body & Soul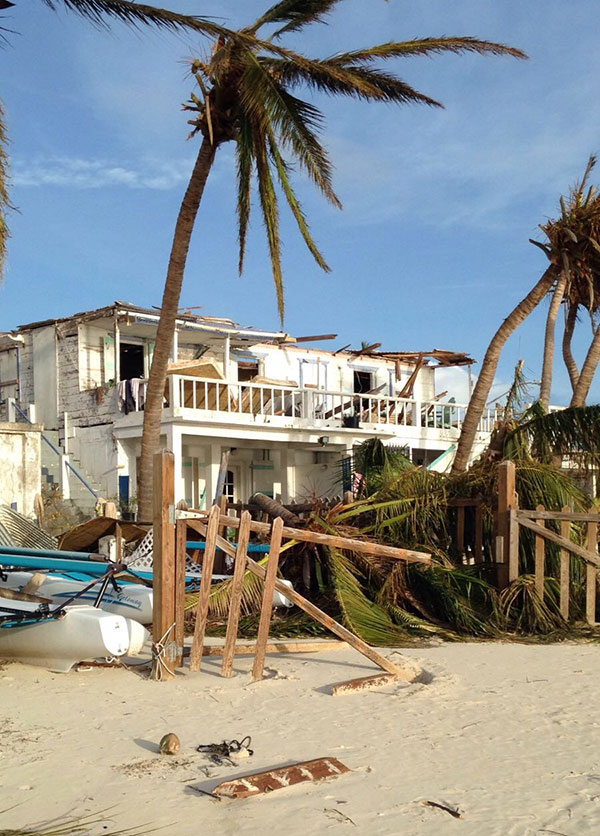 Video of destruction at Sunshine Shack
A look at Rendezvous Bay from Kenroy Herbert. Anguilla Great House looks badly damaged.
Blowing Point's main terminal has suffered destruction. Part of the roof has been taken by Irma.
---
Update - Sept. 7 @1:30pm EST
British army has docked in Sandy Ground and are coming ashore.
FLOW is open from 12pm to assist with anything and have chargers on-hand to use.
Malliouhana seems to be intact - no major structural damage reported now.
Carimar is OK - mostly cosmetic damage.
No major damage to Madeariman. Sand in restaurant.
As an update to previous report, Seafeather's area is reporting heavy damage to homes.
Long Pond area near Ocean Terrace Condos experienced very bad surge.
Ripples has been largely destroyed
Irma washed through Smokey's restaurant. @17 minutes in Kenroy Herbert's video below.
A look at The Valley by Lake's Haberdashery & The Quarter where lines are down and many homes & businesses have been destroyed. Everyone is working together to rebuild.
---
Update - Sept. 7 @8:30am EST
East End is showing very bad damage with many poles down, trees blocking roads, flooding of pond areas and complete destruction to a number of homes.
Hurricane Jose is being watched as a possibility to develop and be in the region by this weekend. Please join Anguilla Tropical Weather group and follow updates there as Roy is doing an excellent job of keeping everyone updated on the hurricane's track.
Shoal Bay Villas showing flooding of pool area and doors blown out on certain beach facing doors
Current situation in Island Harbour (Falcon Nest right foreground)
Penny reports 75% of electric poles down in Shoal Bay, Welches, Deep Waters and Island Harbour
Current state of Elvis'. Touching video from Brett of Elvis' on the realities of the storm's devastation RE power and rebuilding, and in light of the weekend's potential storm.
People's Market roof and partial structure, and a large part of The Strip have been blown away
---
Update - Sept. 6 @8:52pm EST
East End showing damage of overturned trucks, a lot of vehicles moved from storm and flooding. Exact report still not clear.
Palm Grove is gone
Drone photos of Crocus Bay area. Lots of damage to Red Cross and surrounding homes, Lloyd's roof has blown off. Can't tell da'Vida and CéBlue damage from this angle/range.
---
Update - Sept. 6 @7:55pm EST
Frangipani on Meads Bay reporting they have sustained damage, but are OK.
Back portion of Irie Life's roof is off.
Ebenezer Methodist Church roof in Historic Lower Valley is gone. Smaller, lower buildings seem to be OK. Parts of Village Bakehouse look OK, other parts look very bad. It is hard to tell. Follow The Only Vanessa on Instagram and view her Instagram Stories.
Tropical Treats porch blown out. Building itself looks in tact.
Church in West End on the road from Malliouhana to the main road has been blown out (roof off, doors blown open, etc.). Video here. (NOTE: Clicking link will take you off-site to Anguilla Tropical Weather Facebook group. Excellent group. Suggest following.)
Current situation at Dolce Vita on Sandy Ground
Trattoria Tramonto on Shoal Bay West inundated with sand and suffering some roof damage and bad damage to kitchen equipment, structure to overall restaurant looks OK
Destruction in Blowing Point. As an update to previous 5:30pm report, looks like "further inland" (relative in Anguilla) was hit very, very hard.
Destruction in The Valley with quite a few of immigration building's windows blown out
Lake's Hardware in The Valley has been decimated
Signs of damage at St. James Medical School
Best Buy East's main building seems to be in tact overall, but side storage structures are decimated
---
Update - Sept. 6 @5:30pm EST
Blowing Point terminal is ruined (no roofs, private ferry areas blown out, etc.). Inland at Blowing Point seems to have faired better.
More reports that The Dune & a large part of the south coast have been badly damaged.
Video of Anguilla Great House here. (NOTE: Clicking the link will take you off-site. You must be a member of the Anguilla For Tourists Facebook group to view content. For minute by minute updates, Anguilla For Tourists is a tremendous resource. Simona, the group's admin, is doing a terrific job.)
Best Buy West is OK.
Dad's on Sandy Ground has suffered damages but is still standing.
Mango's is destroyed
Visual confirmation of destruction to Pumphouse
---
Update - Sept. 6 @3:42pm EST
The East End sounds like it was hit particularly hard. Communication is down there.
Reports are in that the Sunshine Shack and Pumphouse have been swept away.
Cap Juluca & Maunday's Bay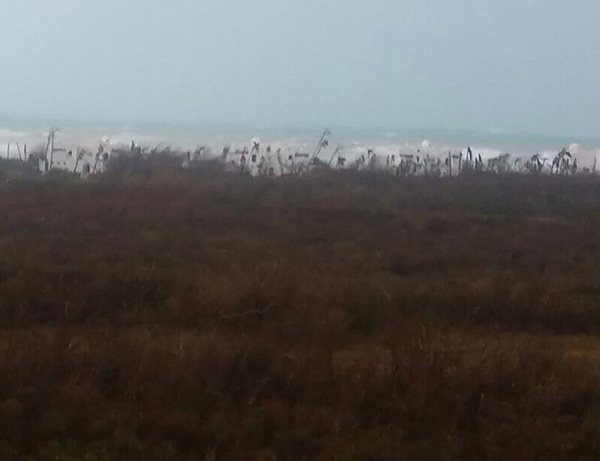 Sandy Ground
Bethel Methodist Church
The Valley
The Hospital
Clayton J. Lloyd Airport
West End Gas Station
Roy's Bayside Grill
Sandy Island
SXM's Princess Juliana Airport
St. Martin's Marigot