20 Knots at Zemi Beach House...
Laidback Luxury on Shoal Bay East
By: Kirmani Honoré
The soft sound of lapping waves tickles your ears. Powdery flecks of white sand sift through your toes. You lounge, relaxed in your beach chair, exhaling deeply as you take in the infinite, breathtaking blue views of "the best beach in the Caribbean," Shoal Bay East.
Where are you? None other than 20 Knots restaurant at Zemi Beach House.
Sun, Sea and Deep Sighs on Shoal Bay East...

Zemi Beach House has brought a unique experience to Shoal Bay. Their one of a kind Thai spa and five-star beachfront suites are just two examples of the hotel's luxurious offerings. 20 Knots is yet another. Here, luxury has a laidback vibe, making it an idyllic spot for a casual yet high-end beachfront meal.
Inside 20 Knots
Right on the sands of Shoal Bay East, at 20 Knots you can dine feet-in-the-sand (perfect for families with young children)...
In the shade of wooden pergolas out on the deck ...
Inside the lofty restaurant with 32' ceilings and central air conditioning...
Inside...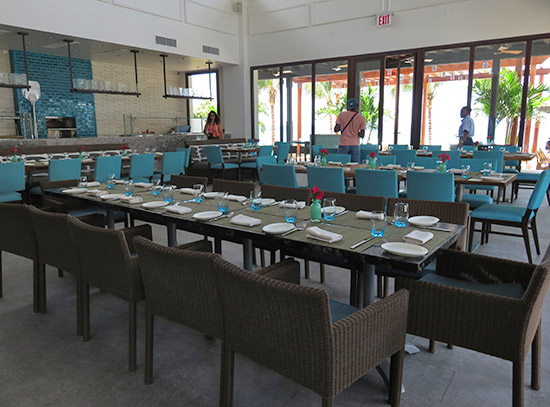 Or, just outside of the restaurant itself. Dine on the elevated patio and you see how 20 Knots got its name. Catching a gentle ocean breeze, it also has a lovely view of the sea and a more refined feel.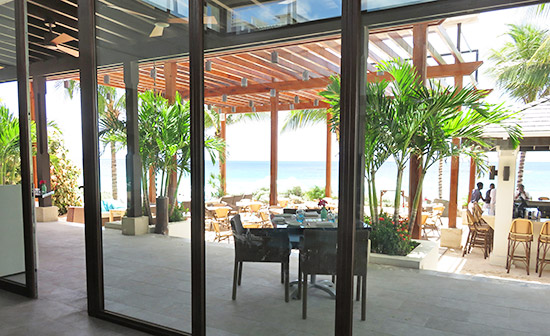 From down on the sand, to up in the restaurant, the trademark Zemi Beach House design captures the warmth of Anguilla with its earthy tones and striking blues. It accentuates Anguilla's natural beauty, the golden sand and enchanting azure seas and skies.
A Latin-Caribbean Menu
Their menu features everything from salads and burgers to a Cuban sandwich and grilled veggie wrap. For more adventurous tastebuds, 20 Knots also has a wide variety of dishes inspired by local flavors and ingredients, with hints of Latin influences.
Grilled lobster with corn salsa and chimichurri. Grilled red snapper with a creole sauce and coconut rice. Caribbean saltfish cakes with lemon coulis. Caribbean mahi fritters. Lobster empanada. Curry. 20 Knots has a plate for every palate.
The Beach Bar at Shoal Bay Zemi Beach Club

As if that menu isn't enough, there is a second menu. 20 Knots is the restaurant at what is called Zemi Beach House's "Shoal Bay Zemi Beach Club."
Shoal Bay Zemi Beach Club whips up a variety of signature cocktails, including the Zemi Blue. Ciroc Peach is mixed with fresh pineapple juice, Cointreau, Blue Curaçao, lemon juice, it is finished off with mint. A sweet treat!
Zemi Blue

The Beach Club also has its own menu with beach bites (quesadillas, burgers, pizzas, tostadas and other snacks). You can order from this menu, too, when having lunch at 20 Knots.
Fresh-Baked Focaccia

While you contemplate the two sizable menus, fresh-baked focaccia bread with olive oil and balsamic vinegar whets your appetite.
The Chips & Dip Trifecta

To start, we kept it simple with Chips & Dip (reasonably priced at $8). Light and crisp, they are served warm with salsa picante, pico de gallo and a seasoned sour cream that tastes almost more like blue cheese dip. Delightful, devouring the chips and dip did become a bit of a game of "who can stack the most on their chip?"
A word of warning: while not hot at first bite, the salsa picante's heat builds!
"Knots Burger" with Brie Cheese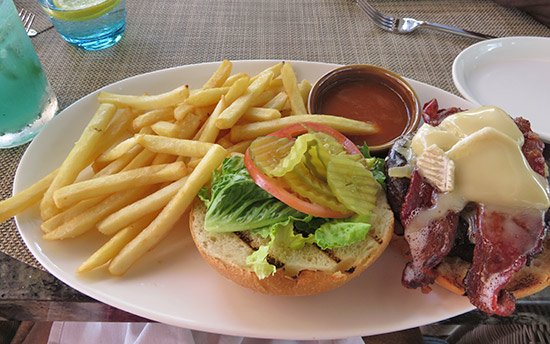 Our friend, Louise was tempted by both the "Shoal Burger," which comes with brie cheese, and the "Knots Burger." The attentive and helpful waitress suggested, "why not do both?" And so, Louise's burger grew to a tower of... beef patty, caramelized onion, bacon, Corona-infused BBQ sauce and brie cheese, all on a charcoal-grilled bun.
More than content, we hardly heard a peep out of Louise as she polished off the monster burger. "After brie on a burger, I can never go back to cheddar," were the only words she squeaked out between bites.
Yellowfin Tuna Ceviche

Nori opted for a classic Latin dish, the tuna ceviche. Doused in citrusy juices, each bite was refreshing. The touch of red peppers brings a gentle zest to the colorful dish.
Zemi Beach Tacos

Last, but not least, I went for the steak Zemi Beach Tacos. My eyes widened when I saw their size. 20 Knots does not skimp on portions. These tacos mean business! Three flour tacos are filled with steak (or mahi mahi, shrimp, chicken or octopus) and lettuce. Pico de gallo, sour cream and cabbage slaw are served on the side. The cabbage slaw adds a nice crunch to the filling meal.
The extra-special part of lunch at 20 Knots? Beach chairs are included with your meal.
So, after lunch? It's back to the beach for more lounging, another cocktail, and maybe even another peek at the Shoal Bay Zemi Beach Club menu!
Map, Hours & Contact
Directions: Set on the beach at Zemi Beach House on Shoal Bay East.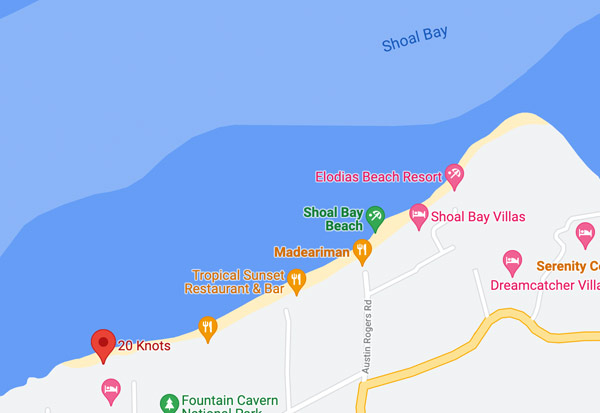 Hours: Daily for breakfast, lunch and dinner.
Tel:: 264-584-0001