<![endif]-->
Anguilla All Inclusive...
Not!
Every now and then, someone will ask me about "Anguilla all inclusive" vacation packages.
I asked my Dad about this the other day. He just smiled and said...
"Oxymoron."
Naturally, I was insulted. No one likes being called an "ox" nor a "moron."
No, I'm just kidding. I learned that word in the movie Renaissance Man years ago.
The term "Anguilla all inclusive" is kind of like "military intelligence," in that "Anguilla" and "all inclusive" are contradictions in terms.
There are no cheap charters, cookie-cutter hotel chains, and buffet lines here.
Many people long for a vacation such as this. So I even did searches at Google and Yahoo!. You'll find lots of sites, but they all try to lead you into an all-inclusive trip somewhere else.
No doubt about it. You'll have a hard time finding an Anguilla all inclusive vacation package.
Anguilla is simply determined to remain a non-mass-market, low-key, high-end tourist destination. No crowded beaches, no Holiday Inns, no jumbo jet airports...

And we shouldn't take that the wrong way. Anguilla is a small island. If it started to advertise "Anguilla all inclusive just $495 for 6 nights/7 days"... well, it wouldn't be the Anguilla that we know and love for very long.
It's hard to get to Anguilla... and that's the way we love it.
Once there, spending time is a privilege. Experience it to the max.
Of course, do try to reduce the price of your airline tickets as much as possible. Check out Priceline or other tips on my "Getting There" page. Or, use our Cheapest Flights-to-Anguilla Finder, which finds your fastest and cheapest flights to Anguilla!
Our best prices have come from our local travel agent who has a trick I don't quite understand that involves "consolidators."
From there, the best bargains on the island are Anguilla villa rentals. I've talked about Anguilla villa rentals elsewhere -- our favorite Anguilla realtor, Jackie Pascher, can find you the best bargain on the island... no matter what your price range.
Continuing on "Nori's special price-conscious" Anguilla all inclusive package deal ;-) ...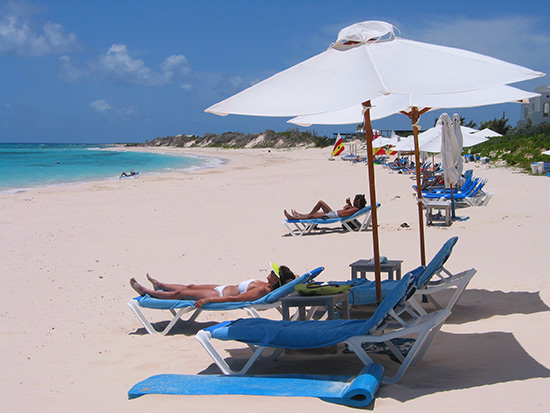 Endless hours on these flawless beaches are free.
And so are ...
• journeys to caves, and my favorite...
&nbsp• a Malliouhana sunset is not free, but it's pretty darn reasonable!
Actually, there is whole lot to do and see, either free or inexpensively.
And the last thing you would want to do on Anguilla is be trapped in an "Anguilla all inclusive" buffet line.
Nor is there any need for it. You can dine very cheaply at Anguilla, all over the island.
If you think about it. There's no comparison. Any Caribbean all inclusive vacation (that you might find) simply cannot compete with...
sleeping in your own anguilla villa rental
eating well and inexpensively wherever you like (no need to rush back to your hotel to "get your money's worth")
walk-swim-snorkel 33 perfect beaches and do countless other fun and free activities, and then
return to your ideal Anguilla villa, kick your feet up, slow all the way down to "island time" and say: "wow, what a day!"
And there you have it... "Nori's Special Anguilla all inclusive!"