Murray's Jerk Chicken Centre...
Cheap and Tasty Eats in Anguilla,
Right on the Beach
Murray's Jerk Center is no more, I am sad to say. Their location is now home to Sea Pro Charters.
Murray's Jerk Chicken Centre At A Glance
The name says it all... Murray's Jerk Centre serves up tasty jerk chicken, right on the beach, for cheap!
More on Murray's Jerk Chicken Centre, below...
On island for the weekend? In the mood for some jerk chicken, laid-back style?
If so, you are in luck! Murray's Jerk Centre is open on the weekends, serving good and cheap food, beach-side.
The view just out from Murray's Jerk Centre on Sandy Ground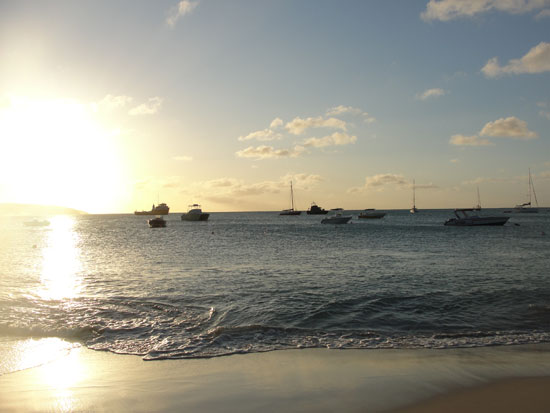 Com on in and make yourself at home!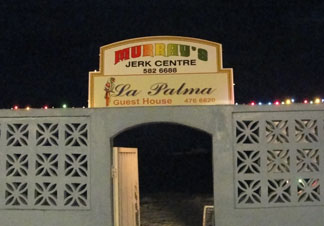 Murray's is situated on the ground level at La Palma Guest House in Sandy Ground, on the beach.
It is about as relaxed as you can get in Anguilla...
The menu is written on a chalk board that sits on the sand just outside the doorway.
The water, soda, and beer are in a cooler. You serve yourself.
If a mixed drink is what you're seeking, Murray will make it for you.
To order, simply walk up to the counter and tell Murray what you want.
The building from the beach.
You sit in the blue patio area in the fresh air!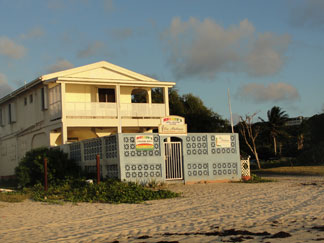 Next? Sit at one of the tables and look up at the stars as you listen to the soft reggae music and the sound of the sea.
The gentle breeze passes over you and then you start to smell what Murray is cooking for you... It smells good!
Murray's menu may vary from time to time but he will always have the jerk chicken. He better since it's called Murray's Jerk Centre! ;-)
I can't speak to other items on the menu but I ordered jerk chicken (his sauce comes on the side), rice and peas, and a "carnival." The meal came with a side salad.
Side Note: A "carnival" (not the party!) is similar to an Anguillian johnny cake. Murray's are Jamaican style, delicious and go perfectly with your jerk meal.
The other menu options are mostly local dishes. Stewed chicken was an option the night I was there.
This was a nice amount of deliciousness for only $7 US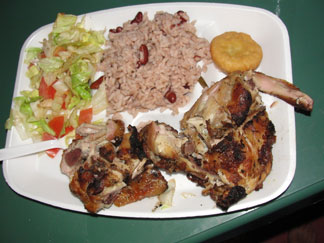 I loved the jerk sauce and I loved how you could control how much of it went on to your chicken.
The chicken was grilled perfectly and Murray serves a nice portion.
My plate was $7 US. A great deal.
It's nice to sit in a such a relaxed atmosphere and pay a fair amount for your experience.
Win-win-win!
After a first taste of Murray's, I wish he were open more often. In the same breath, there is something special about only being able to get it for dinner on the weekends (Murray isn't opened for lunch).
I'm looking forward to expanding my experience at Murray's and trying other menu items. But I know I will need to get at least a bite of someone's jerk chicken to achieve 100% satisfaction now that I know how tasty it is!
Directions, Hours & Contact
Directions: Located along the road that runs parallel to Sandy Ground beach.
Murrays Jerk Centre
Good for cheap, jerk chicken on the beach.
Hours: Weekend only.