Anguilla Hotels: The Guide...
Long Pond Bay
The red pin (below) is Long Pond Bay.
Long Pond Bay
Long Pond Bay is a small spit of sand with constantly rolling waves. The water here is choppier and a bit darker. Rarely do you see many people "beaching" at Long Pond Bay. It is very quiet. Although not an ideal spot for a relaxing afternoon, it's rough nature is beautiful in a different way.
Surrounding Long Pond Bay is mostly rocky shoreline. Amidst the sea rock there is one small, hidden beach, Dropsey Bay. Protected by a reef, this beach is calm, quiet and has some of the best snorkeling on the island. Click to read about Dropsey Bay snorkeling.
There are not any hotels directly on Long Pond Bay, but there are villas and other accommodations options in the surrounding area.
Ocean Terrace Condos
Size: Medium
Location: 5 minute drive from the beach.
Description: Ocean Terrace Condos is a complex of privately owned apartment-style units. When the owners aren't on-site, these condos are available to rent both long term (by the week, month or year) and short term (by the night).
My family and I enjoyed our stay in the peaceful, simple atmosphere at Ocean Terrace Condos. The Anguilla condos are well cleaned and maintained, complete with full kitchens and a comfortable living/dining area. Each condo also has a private balcony.
The complex also has BBQ equipment and a cool pool, which everyone is welcome to use.
What makes Ocean Terrace Condos super special? The people! The owners and staff are accommodating and kind. The owner, Ambrose Fleming always makes sure you're having a good time, and brings everyone together over drinks and BBQs.
Location-wise, these condos are set back from the sea-rocks on the island's southern shore. The views of St. Martin are breathtaking. We love the sights of St. Martin's lights at night, too.
There is no sandy beach in the immediate area, but it is just a 10 minute drive to Shoal Bay, one of the best beaches in the world.
Price: $$$ — Return to Hotels By Price
Ocean Breeze Holiday Apartments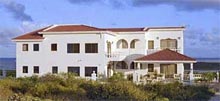 Size: Small
Location: Short drive from the beach.
Description: Clean, well-kept, spacious Anguilla apartments with private balconies and sweeping views of St. Martin.
To book, contact the owner at: 264-235-7094
Price: $$ — Return to Hotels By Price