Anguilla Real Estate: The Guide...
Island Harbour
Welcome to the quaint fishing village, Island Harbour. With Anguilla villas dotting the surrounding cliffs and shores, sailboats docked in the calm waters and Scilly Cay just offshore, this is a perfectly picturesque paradise.
Let's see where we are on the island...
Sailboats, fresh lobster and crayfish, "better-than-St.Martin" croissants, and tasty pizza and burgers.
You can find it all on...
Island Harbour is honest perfection. Three "must do's"...
1) Artisan's pizza One of the island's best!
2) Le Bon Pain Bernard (from France) and his wife Yvonne bake baguettes and croissants that are better than the the best from St. Martin! What a find!
3) Scilly Cay for fresh lobster and crayfish
Your beach problems are all taken care of. Island Harbour's beach is ideal for swimming The calm waves lap at the shore, leaving you able to float for hours!
Watch this video for more on Island Harbour...
The area is steadily increasing in value, too. With Michael Dell in the neighborhood, it's no wonder! There are many villas, including some sensational mansions, along the cliffs east of Island Harbour.
His Anguilla Villa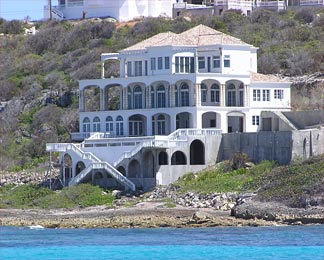 But, Michael's isn't the only mansion up in the ridge surrounding Island Harbour...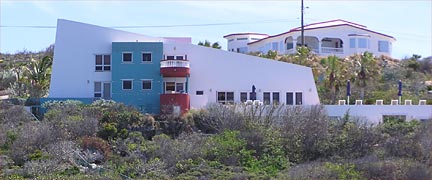 Being so far East, it's rather out of the way, a good 20-30 minutes by car to the Valley! But that may not be important to you... and Anguilla real estate does abound, both high in the cliffs to the east of the harbour, inland from the beach, and in some rocky areas to the west.
To be nestled up in the cliffs would be bliss... with the spectacular views, the nearness to perfect pizza and seafood, and also just a short hop to East Shoal Bay.
Truly... Anguilla real estate at its best.
Here's a quick peek...
Looking West Over the Beach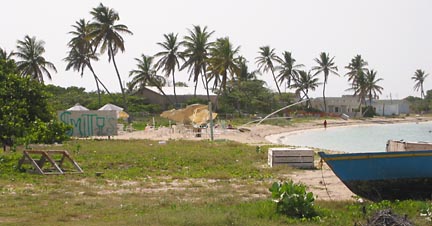 Scilly Mom... Scilly Yuki!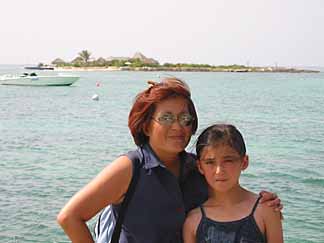 From the great food, to the classic Anguilla villas, to the more abstract ones, Island Harbour certainly is booming!