Anguilla Real Estate: The Guide...
Little Bay
Welcome to the ideal beach, Little Bay. You know those hard-to-believe, it's-too-beautiful-to-be-true, beaches you see in movies? Well, Little Bay is the beach they use. And the ones that don't... should.
Let's see where we are...
I used to shake my head in awe at picture-perfect, tropical beaches in movies. "Nothing on Earth could be that beautiful," I'd think.
And then I saw Little Bay...

Can a more idyllic spot exist on this planet?
Only a few other people on boats and on shore from time to time.
Couldn't you marvel over it for hours?
Well, such beauty comes with a price.
Because the beach is surrounded by cliffs, there are only two ways to get to this Hollywood-perfect beach...
A) Hire a boat. There's always a boat near Roy's on Crocus Bay willing to drop you off and pick you up. This is actually the best way... not just because it's safest. But also because your guide will take you to the best snorkeling spots (the snorkeling is among the best on Anguilla, and the most accessible). And we've visited, swam, mellowed out twice with Shaun Webster, Captain of Sea Grape.
Or, for the adventurous...
B) "The Rope"! It goes down the side of the cliff (right side in the above photo). Place your feet carefully, don't lose your grip and you'll make in onto that golden, soft sand.
We've done both ways. Each has its perks. Plan B does have that element of adventure, but plan A lets you...
Basking in the sun, jumping off the boat, cooling off...
Basking in the sun, jumping off the boat, cooling off...
Basking in the sun, jumping off the boat, cooling off...
It's a pattern you get used to.
For more on Little Bay, watch this video here...
If you are not sure whether you would enjoy a home here, take a close look at the photo below...
Cliffs. Sand. Sea. Perfect little beach and the "turquoisest" turquoise that you'll ever witness.
Take a closer look. See that house perched up there? That's the life.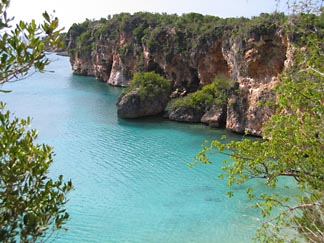 Since the photo above was snapped the shoreline has changed. This "perfect little paradise" has become more developped. There are two luxury villas on that cliffside now.
Who knows if there are more to come?