Anguilla Real Estate: The Guide...
Little Harbour
Welcome to Little Harbour, one of the most protected bays in Anguilla. If you're looking for super-safe, calm water to teach your children to swim, this is it.
Let's see where we are on the island...
Little Harbour is sheltered by a breakwater. On the other side of the breakwater is the old Cinnamon Reef Resort. Complete with swaying palm trees, shallow waters and picturesque sail boats, docked in the still bay, I hope it will come back to life once again...

To take a closer look at Little Harbour, here is a video clip...
As you approach Little Harbour by boat from the east, there is a landmark villa that you simply can't miss.
This sensational Anguilla villa seems to guard the bay's entrance.
It also reminds me, for some reason, of Kentucky Fried Chicken. But I'm not sure why...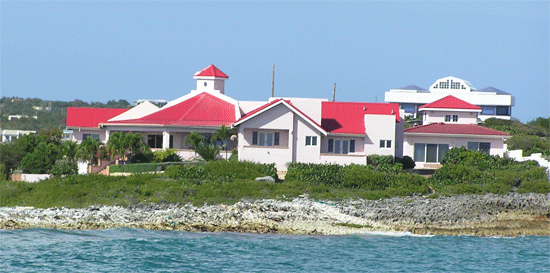 There are some truly spectacular mansions and villas in and around Little Harbour...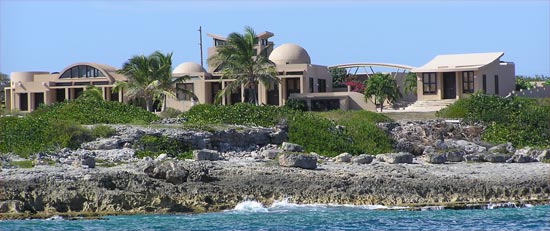 Continuing west beyond Little Harbor, there is a string of wonderful villas, many for rent...

The villas here offer truly magnificent views of St. Martin. We stayed at a friend's here once, and thoroughly enjoyed it.
All of that spectacular scenery, palm trees, peaceful waves, and docked sail boats means that there is lots of developed residential properities. But the area has pockets of undeveloped Caribbean real estate, just a bit West of the actual harbour itself.
Developed or not, check with Jackie Pascher.
This area will continue to grow.
Now, let's head a bit west of the sheltered bay. The homes along here are in the million dollar territory. But, heading West, past the last house along the bumpy waterfront road, there is raw land available... both on the rocky waterfront, and higher up in the hills.
During my family's vacation to Anguilla in March, 2003, we were fortunate enough to stay at a friend's seafront villa in this area.
Naturally, we took a good look around...
My Dad At Little Harbour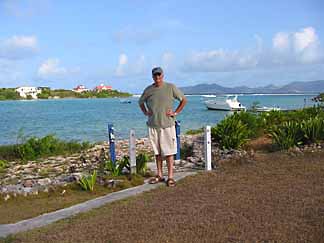 My Mom At Little Harbour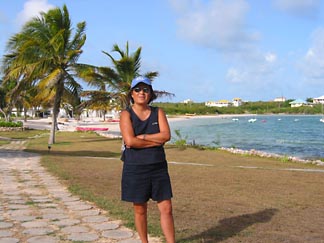 View From Little Harbour!


Eastern Tip of Little Harbour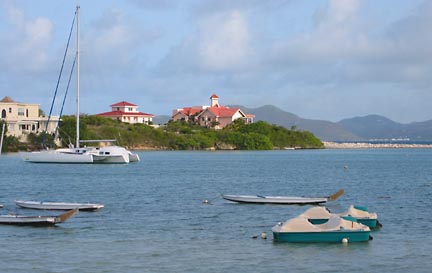 Overlook of Little Harbour


This picture is taken from up in the hills, where there is raw land available. Let's continue westward...
Following Shore West Outside of Little Harbour


View From "Western Little Harbour"


Rocky Ocean Front!
(Some still available!)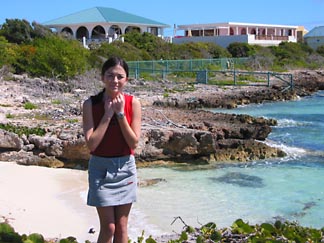 More Rocky...


Small Sandy Beaches!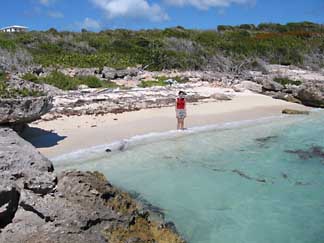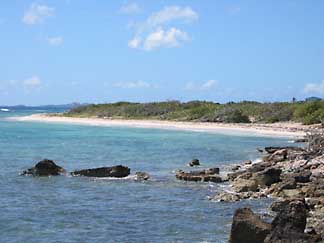 "Western Little Harbour" is the best Anguilla real estate in this area. See the first small beach (second photo above)? It's so small that it may be considered rocky land, and so might be available.
The photo immediately above shows an unnamed sandy beach -- you will never see a tourist here, but I've seen Anguillians come here to snorkel. A best key secret!
So, if you're looking for land in Little Harbour, go West! You will find both "highland seaviews" and seafront properties! Just one more reason that my dad feels that Anguilla real estate is amongst the best in the Caribbean.