Anguilla Villas...
What a Caribbean Vacation!
Anguilla villas are certainly the way to go!
As I've described elsewhere, there are many reasons to stay at Anguilla villas. They are less expensive than hotels. And they give our family the room we love. We feel more at home with two or more bedrooms, a kitchen, a dining room, and a living room. And we love the feeling of "living there."
So, to save money, and have room to breathe, we hunt for Anguilla villas! Actually, as I've written elsewhere, Jackie Pascher hunts for us.
During our first two trips to Anguilla, we were fortunate to stay at the villa of a friend of my Dad. It was right on the Barnes Bay beach, one of our favorite beaches -- click to open a new browser window for more info on this beach, then close it to return to this Anguilla Villas page. Yes...
We had it extra-good!
But on our third visit, bad news! The Barnes Bay villa was occupied for the first half of the trip. However, luck was with us! Malcolm and Penny Hope-Ross, parents of another friend in Anguilla, made their Anguilla villa (I love that rhyme!) available to us.
We gratefully accepted!
It was a calm and peaceful night when we arrived in Anguilla. I was exhausted! Three flights from Montreal usually takes 12-15 hours (depending on connections and which U.S. city we have to route through). So, the minute we arrived, it was straight to bed!
But... the minute my eyes opened the next morning, my sister and I raced around to tour our new home. Let me take you on my Anguilla picture tour of this beautiful villa...
My Bedroom
(with great view of the Caribbean and St. Martin)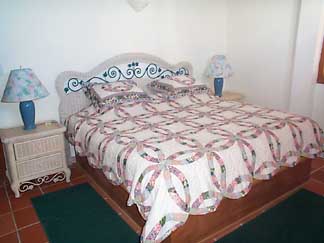 Kitchen and Dining Room
(my Mom was in Heaven!)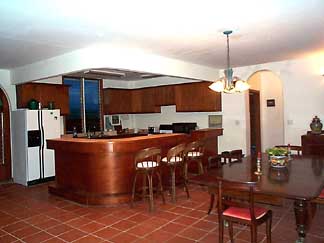 Kitchen, Dining, and Part of the Living Room

Master Bedroom
(also with great view of the Caribbean and St. Martin)

View From Master Bedroom
(Spectacular, Isn't It?)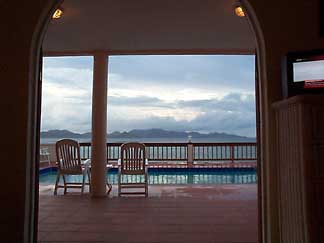 Looking into the Master Bedroom From the Pool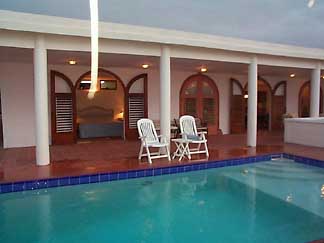 View From Deck
(Ahhhhhhhhhhhhhhhhhhhhhhhhhhh..........)


The Pool!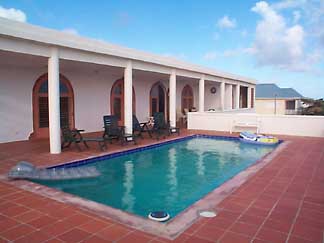 Perfect, isn't it?
The only thing missing was a sandy beach! My Dad and I took care of that in short order...
Two Perfect (Un-named) Beaches!
Our very first day, we spotted two perfect sandy beaches from the deck of our villa. (My Dad talked about a strategy for buying Anguilla real estate here -- click to open a new browser window for more information, then close it to return to this Anguilla Villas page.)
Following our adventure-hungry instincts, we walked over the check them out. We struck gold... or sand... golden sand!
Not one, but two perfect quiet, calm, Anguilla beaches. Here they are...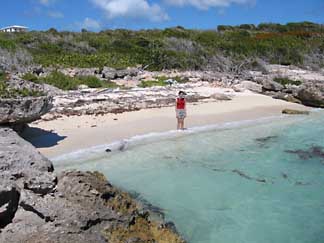 This is the smaller one... what my dad calls the "quintessential perfect personal beach."
It's only a 2-minute climb over the rocks, and it sure is worth "the effort"... crystal clear turquoise water, soft powdery sand, and sublime solitude!
Want a bigger beach? No problem. Just a few minutes walk further east...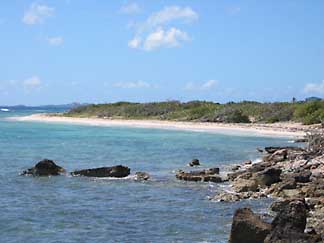 It, too, is perfect.
Turquoise water, white sand, and trust me - you'll never see another person on this beach!
These beaches are so secluded, they don't even have names!
This Anguilla villa is just a bit east of the Little Harbour area. It is certainly not part of that beach -- the Little Harbour beach ends well before you reach here. So basically... just a bit to the east, you have two unknown, un-named beaches, all to yourself!
What's This? A Pool!
I loved the beaches, of course, but they were not my favorite part of the villa. No, this time we discovered something else to love about Anguilla villas... your very own pool, complete with a magnificent deck -- click here for a separate page about "my pool"...
We sat high up on the elegant, tiled deck, the tropical breeze gently cooling us.
We looked out to the light blue sea and the mountains of St. Martin.
There's nothing like that feeling. Unless, of course, it was actually swimming in the cool pool and enjoying the view!
Pssst...
I Think My Mom Liked The Deck Too!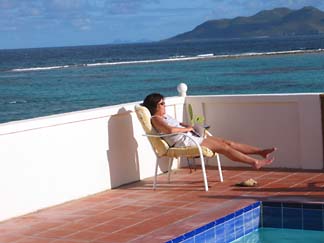 All in all, the Hope-Ross' abode was everything that Anguilla villas are meant to be. They have situated it brilliantly, with a constant, gentle, cooling trade wind. The views are breathtaking. You practically "own" your own beach(es).
And the pool and deck, with its view, is simply to die for!
Most people with Anguilla villas rent them out when they are not using them. Unfortunately Mr. and Mrs. Hope-Ross have since moved into it permanently. (I've noticed how people tend to do that here -- wonder why?)
But do check out our #1 recommendation.
Or ask Jackie Pascher to help you find "your most perfect of all Anguilla Villas."
Because there is nothing, simply nothing, like Anguilla villas.