Anguilla Villas?
Our #1 Carribean Choice
During our first two visits to Anguilla, our family stayed in my Dad's friend Doug's, Anguilla Villa for the entire time. But things were different the third time around.
We stayed at Doug's for the last few days of our third trip, but it was occupied during the first week. So we stayed at the villa of the father of another of my Dad's friends. His name is Malcolm, and he lives on Anguilla.
What a treat! It was spectacular! The villa is located just by Little Harbor overlooking St. Martin. I've written about it, somewhat, on another page -- click here.
This second page about Malcolm's wonderful Anguilla villa is a special page about one of my favorite aspects of living in Anguilla villas...
The Private Swimming Pools!
Here's a photo of us after a hard day of touring Anguilla (poor us!)...
I spent most of my spare time in the swimming pool!
I love "pool-swimming."
And I love the privacy of having your own swimming pools at Anguilla villas.
The days spent at Malcolm's paradise-by-the-Caribbean were so relaxed and slow-paced... just hanging around the house, swimming, and walking along the rocky seashore to find some cute little beaches nearby.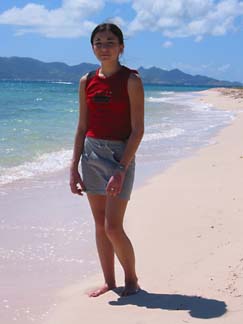 The first day that my Dad and I set out, we walked eastward along the coast, found some charming little beaches close by... quite a successful outing (click here for details).
However, the second day, we decided to go in the opposite direction. That did not turn out quite so good.
We didn't find any beaches. The neighbours set up obstructions, which ran right down into the sea.
So my Dad almost ruined his camera in the water since he had to carry my little sister (who came along this time) into the sea and around these fences.
These blockages force you to detour into rocky water waist-high -- very annoying if you aren't planning a swim.
And, to top off our misadventure, we got lost... sort of.
Rather than return the way we came and fight those fences, my Dad decided to find a hotel. We'd walk through to the road and then walk the road back to the villa. So, he found what he thought was a resort and we walked on through into...
Someone's home! Their living room, to be precise.
How embarrassing to walk into someone elses's private home.
At first, the couple was quite startled (I would have been too!). But once we explained who we were, why we were there, and apologized, they were quite nice. I felt so stupid, and am glad they were so gracious -- they even offered us cool drinks.
We didn't expore the shore in THAT direction from our Anguilla villa again! Which was a good thing for me, of course... This meant more time swimming in the pool and relaxing on the deck!
Our family spent a lot of time out on the deck. It is so spectacular! The bright blue ocean... the mountains of St. Martin... the sun... the breeze... the pool!
My mom came swimming occasionally, but spent most time out on the deck soaking up the sun, just "enjoying the moment"...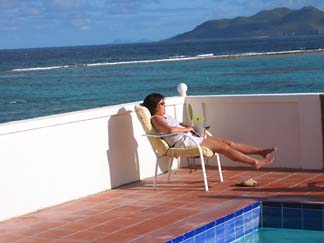 The interior of this "perfect Anguilla villa" was superb as well -- click here for details.
There were two bathrooms, three bedrooms, one kitchen, one dining room, one living room, and one study. The house was very spacious and a comfortable tradewind was always passing through.
We were never boiling hot! My favorite room was my bedroom. A gentle breeze cooled me , and the sound of the waves lulled me, as I drifted off to sleep.
The week passed all too quickly. I really didn't want to leave this spectacular place, my favorite of all Anguilla villas up to that time (loved that pool!).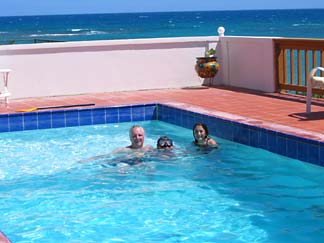 Hopefully, it will not be long until our next visit!
Too bad it won't be to this perfect example of what Anguilla villas offer.
Why not?
Because the owners are moving back in, full-time, soon.
But I'm sure Jackie will help us find another "best of all Anguilla villas."