Anguilla Real Estate: The Guide...
Long Pond Bay
Welcome to the waters of Long Pond Bay, some of Anguilla's most turbulent seas. Down by the rocks, watch for the "Swim At Your Own Risk" sign. Ha! That's putting it mildly.
Let's see where we are on the island...
Don't you love the roar of the ocean?
What about when a wild wave "explodes" all over cliffside?
Many Anguillian homes and a few villas enjoy the daily show...
Long Pond Bay!

Hike out onto the rocks of High Cliff and you'll find a real cauldron.
Wild White Waters

The other claim to fame for this area lies inland...
Long Pond... a long (surprise!), calm, salt-water pond. Perfect for birdwatching.
Watch the video below for a better idea of the Long Pond Bay area...
There is plenty of real estate available in this area, both on Long Pond Bay beach, inland, and on the rocky cliffside to the east and west of Long Pond Bay. It is a great area to live. We live down the coast line of Long Pond Bay and absolutely love it.
If you are interested in condos, there are Anguilla condominiums available just down the coast of Long Pond Bay.
Ocean Terrace Condos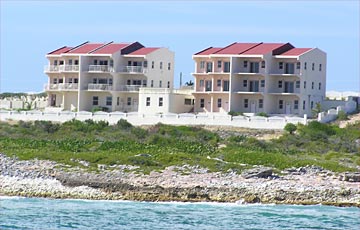 In Long Pond Bay itself, there are plenty of homes in the hills and real estate avialable.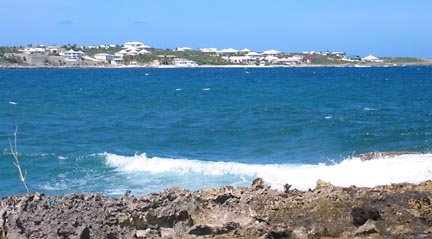 I'm sure there's still some Anguilla real estate available there. So, a hillside home would be one option. But Long Pond Bay has a lot of rocky waterfront, some of which comes onto the market from time to time.
(Naturally, you don't have to wait for it to come onto the market. You can always find a property you like, then contact the owner and make an offer they can't refuse!)
Let's visit some more of Long Pond Bay. Here's the proverbial fork in the road...
The Waves Rolling In!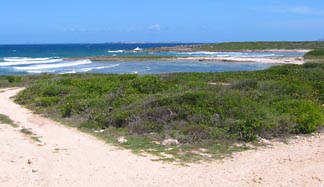 Crash!

As you can see, it can get pretty crazy out there! But, it's not all like that. The calm salt pond is just a few steps inland, home to a myriad of waterfowl. It's perfect for bird watching and hikes.
From the tranquil pond, to ocean wild and white, Long Pond Bay could be for you.