Royale Caribbean:
A Five-Star Anguilla Resort For
Anguilla Trade Shows, Conventions & Conferences
Royale Caribbean is a new Anguilla resort, 85% completed, nestled in the lush hills of Little Harbour.
This Anguilla hotel is the first of its kind. Royale Caribbean is introducing a new form of Anguilla tourism, Anguilla conference, trade show and convention tourism.
The 70,000 square foot Anguilla resort mainly targets large groups planning Anguilla conventions, trade shows, or conferences, and will also accommodate travelers vacationing in Anguilla.
With the capacity to seat 1,600 people, and with 80 spacious guest rooms, I had more than just a feeling that Royale Caribbean would have a huge impact on Anguilla tourism.
Royale Caribbean is of a scale and type of hotel that the island's tourism industry hasn't seen before. It offers five star Anguilla accommodation at four star prices, specifically targeting a new kind of tourist... the conventioneer.
And now, good news for Royale Caribbean...
It has joined forces with Choice Hotels, a company that owns many large chains around the world. Choice Hotels covers every market, from low cost hotels, to mid-priced hotels, including Comfort Inn and Comfort Suites, up to five-star luxury resorts.
Choice Hotels' "Ascend Collection" is the company's ultra high-end brand, featuring luxurious resorts and hotels.
Now, Royale Caribbean joins their elite listing.
It's not difficult to imagine why...
Taking in The Endless Views at Royale Caribbean

Mr. Quincy Gumbs, the man behind the extensive Royale Caribbean project, has strong support and high hopes for Anguilla and Anguillians. His vision of convention tourism is an important new direction for the island. Everyone is excited about Royale Caribbean!
Standing With Mr. Quicy Gumbs in Royale Caribbean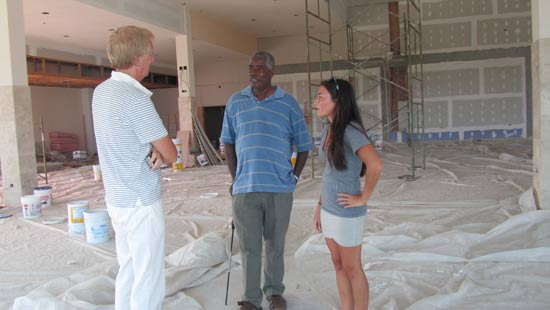 With Choice Hotels' global presence, Royale Caribbean skyrockets to a whole new world of opportunity. This relationship puts the prospect of Anguilla conferences on the map and into the minds of many who might not have otherwise discovered this opportunity.
Set to open early 2011, and with the island's warm encouragement and full support, Royale Caribbean is destined for unparalleled success.