BJ's Big Spring Restaurant...
Fine French Food, Pizzas, Pastas &
One Of The Best Burgers in Anguilla
Big Spring has closed.
BJ's Big Spring At A Glance
Big Spring serves one of the island's tastiest burgers, French specials, pizzas and pastas. On the road to Island Harbour, this is one of our go-to spots for take out.
More on Big Spring, below...
I can't count the number of times we've driven right past "BJ's Big Spring Restaurant" on the road to Island Harbour. Across the street from the turn-off to the Arawak, the building is charming, but not eye-catching, with a non-descript sign.
One night we did stop and discovered that we had been seriously missing out. BJ's Big Spring is one of those delightful surprises, a small spot with big flavor.
Outside Big Spring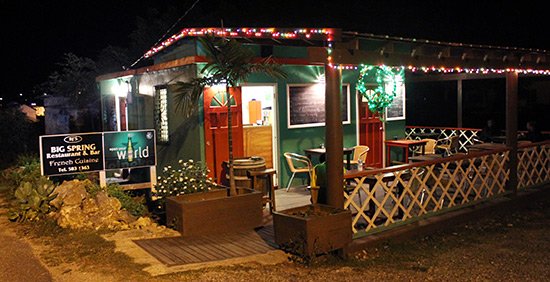 Meet BJ's Ben and John
I first met Benjamin Denjean Bronche years ago in 2004. He had moved to Anguilla from France and was working with Bernard at Le Bon Pain bakery. Evidently, he's honed his cooking skills for years.
Ben & Me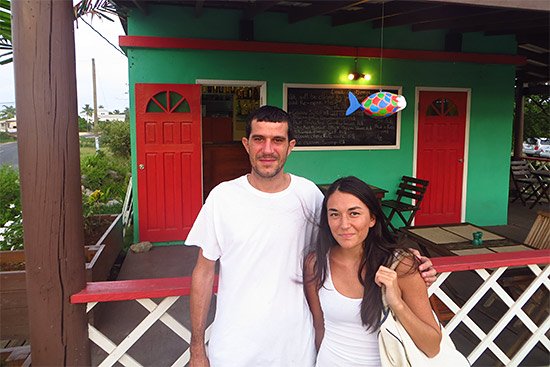 Today, Ben co-owns Big Spring with John Lloyd. Ben is the chef and server during the day. In the evening, Akio, John's son, takes care of you. Sweet and hospitable, together they make a good team.
John & Akio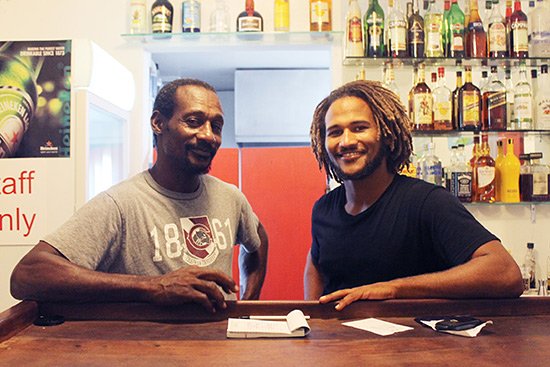 So, what made us stop at Big Spring that fateful evening in early September?
Word of good French food! A friend mentioned the pizzas, pastas and burgers, but highly recommended it for the daily French specials. They were one of the only restaurants still open in September (many close for the season in late August), so we decided to give Big Spring a try.
Displayed on a chalkboard, written in fanciful French lettering, indecision struck as we looked at the daily specials...
Escargots bourguignon, pork tenderloin, chicken in black pepper sauce, shrimp provencal. It all sounded good, and tasted even better!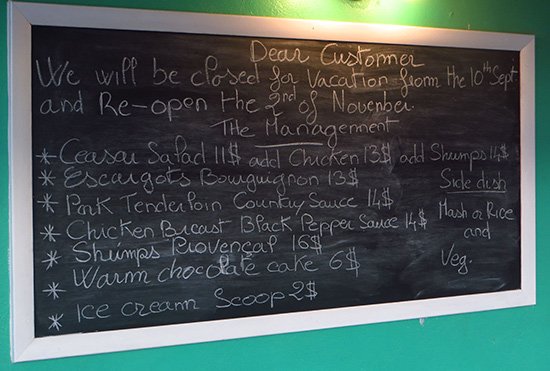 It was early in the evening, Ben kindly took our order and brought us drinks.
Set inland of Island Harbour, the restaurant has a neighborhood feel.
The Chicken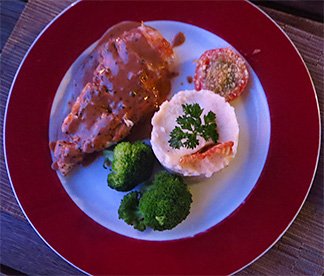 From ex-pats to locals to tourists, everyone in the east end of Anguilla stops here for a bite to eat, or to pick up take-out.
Out on the restaurant's seating area on an open deck, we chatted and enjoyed the evening.
In good time our food was ready.
My Dad went with the escargots.
A friend we were dining with tried the chicken.
I chose the pork.
The Pork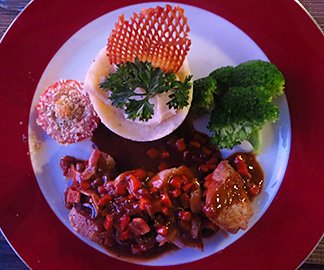 It was excellent!
The meat was so tender, full of flavor in a stew-like sauce.
The choice of sides was mashed potato or rice, and vegetables.
The mashed potatoes were so creamy, the vegetables tasty.
The presentation was pretty, too!
I especially enjoyed the baked tomato topped with breadcrumbs.
My only recommendation would be to make sure you specify how you want your meat cooked.
The French do like their meat "saignant!"
Escargots

My Dad had the escargots bourguignon.
He "oo-ed" and "ahhh-ed" the entire meal.
The quintessential French menu item, the escargots were cooked and presented perfectly, as the French are known to do.
For the quality of food, the prices are more than reasonable!
The escargots were $13, and the pork tenderloin only $14.
At the end of it all? We even had room for dessert...
Warm Chocolate Cake
It was heavenly!
This is the spot for affordable French food.
Big Spring is not only famous for its French specials...
The Best Burger in Anguilla?
Big Spring has a large take-out business. Many love their pizzas, pastas and burgers.
The pizzas are French-style, with a very thin crust. My Dad's favorite is the veggie pizza with olives, red peppers, mushrooms, tomato and onion, which is $13.
Pepperoni Pizza

Pizza choices range from margarita and pepperoni pizzas, to chicken, to ham, to napoletana (olives, anchovies, capers), to Hawaiian (onion, pepper, chicken, pineapple).
Each of their pastas are different.
The chicken pasta is in a mushroom-tarragon cream sauce, the veggie pasta is in an onion-pepper-tomato-mushroom pesto and the fish pasta is in an onion-garlic-parsley cream sauce.
They also have bolognaise and carbonara. These go for $11-12.
As for burgers, they have chicken burgers, fish burgers, cheeseburgers and bacon cheeseburgers. These are $11-13 and come with fries.
We have tried all 3... the burgers, the pastas and the pizzas.
We love them all, especially the burgers.
When we dropped in for take-out, we weren't expecting to find what might be one of the best burgers on the island, but it happened all the same. It was really love at first bite. ;-)
The Burger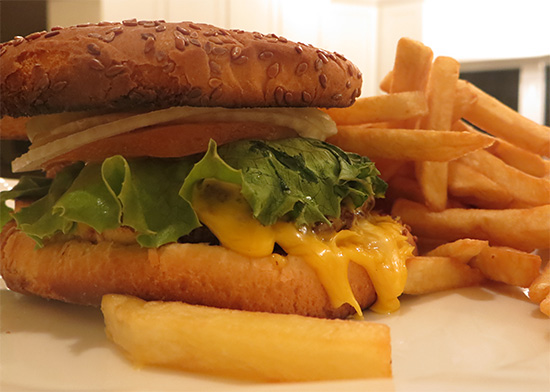 On a sesame seed bun, topped with fresh tomato, raw onion, pickle and lettuce, the burgers are hand-made, not processed, packaged or store-bought. At 6 oz, they are just the right size. Not too small, not too big. Mouth-watering and juicy, Big Spring's burger is amongst our favorites on the island.
From the French specials, to the burgers, pizzas and pastas, Big Spring is our go-to spot for an affordable & quiet meal out, or night in.
Directions, Hours & Contact
Directions: From West End Anguilla, Big Spring is about a 20-30 minute drive. From Shoal Bay, it's only a 5 minute drive. See the map below for full directions.
Big Spring
Good for fine French dining, burgers, pizzas and pastas, BJ's Big Spring is a neighborhood favorite in Island Harbour. All at reasonable prices ($14 for pork tenderloin), it's a top-deal in Anguilla.
Hours: Big Spring is open for lunch from 11am-2pm and dinner from 6-10pm. They are closed on Thursdays.
Tel: 264-583-1363