Goats on Bikes?
Exotic T-Shirts has renovated and expanded!
Bigger & Better

Our friend Dedric Webster is our #1 man for t-shirts. Goat T-Shirts to be specific. He laughed when he saw us...
"Everyone always asks for 'The Goat.'"
But this year he had a surprise for us.
He still had our favorite shirts, of course, an even better and wilder selection, actually. But that wasn't all...
Bikes!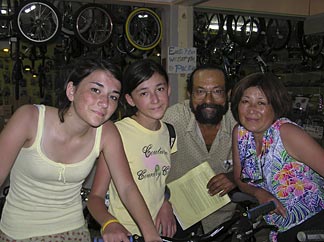 He has expanded his store, doubling its size. What has he done with all that extra space? Bikes!
What could be better than a leisurely bike ride in the warmth of Anguilla?
If you feel like going for a spin, drop by Exotic Plus T-Shirt Depot. Ask for "The Goat", put on your new t-shirt, and bike around the island.
Goats on bikes! What will Dedric think of next?