The Chef's Bakery...
Breads, Cakes & Cookies Galore in the Heart of
South Hill
By: Kirmani Honore
Scrumptious, chewy, chocolate chip cookies... loaves of sourdough and pumpernickle baked with love... hearty sandwiches, healthy salads... refreshing, tropical smoothies made from scratch...
Anguilla's newest bakery, The Chef's Bakery, delivers the goods!
Delicious Chewy Choco-Chip Cookies at The Chef's Bakery

Owned by beloved community leader, Pastor Williams, The Chef's Bakery opened its doors in September 2021 and has been the talk of the town ever since! Getting rave reviews for its baked goods, I knew I had to stop by to sample a selection of sweets.
Welcome to The Chef's Bakery
Wrapped in Anguilla's patriotic colors of orange, white and turquoise, The Chef's Bakery makes a statement! Its vibrant exterior makes it easy to spot next to Mingz grocery store, while cruising on by the bustling South Hill main road.
Vibrant and Patriotic, The Chef's Bakery is Hard to Miss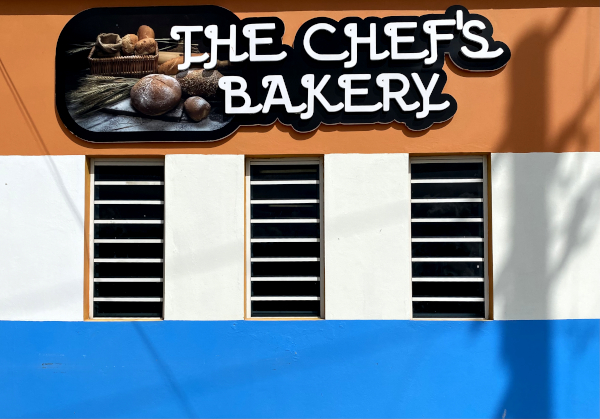 As soon as I entered, I was greeted with happy smiles and cheerful welcomes by Francesca and Aleda, the barista and baker working that day. The happy conversation put me at ease as the smell of warm, freshly baked breads and hints of mint, hibiscus and banana filled the air.
The aromas are enough to make your mouth water!
Friendly Smiles From the Staff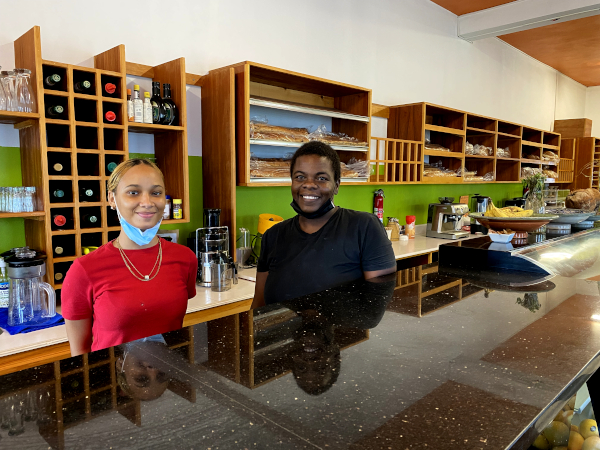 Once inside, I fell in love with the interior.
With chic high table tops in earthy tones and complementary wifi, this isn't just a bakery. The Chef's Bakery is a hip cafe where you can munch on fluffy pastries, drink refreshing smoothies or chit-chat over freshly brewed coffee, all with the possibility to stay connected and "productive" via wifi.
Moving onto the food, what really stands out is their variety. Just glancing at the "Barista Bar," your eyes widen.
Fresh Coffee, Tea and Refreshing Smoothies at the "Barista Bar""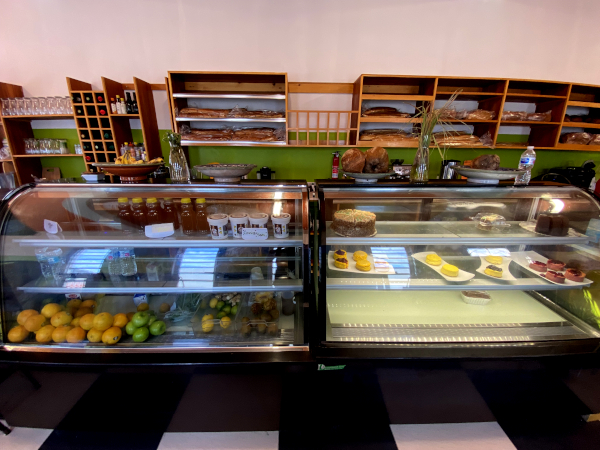 The fresh fruit, the healthy hibiscus and ginger juice infusions, macha ice cream made in-house... this isn't your typical boulangerie.
Loavely Loaves of Fresh Bread
First, let's begin with the quintessential bakery item, bread. Chef's Bakery ups the bread game in Anguilla!
Cabinets are piled high with light, fluffy Anguillian-styled baguettes, perfect for BLT sandwiches. Prefer buns? Their buttery buns served warm, fresh out of the oven put me in bread heaven!
Soft and Puffy Sandwich Loaves and Baguettes

The Chef's Bakery also bakes healthy and new varieties of bread, too... some I've never before seen in Anguilla.
First up, the raisin bread loaves made for toasting are common around island bakeries and loved by Anguillians who swear by their sweetness. But never had I seen them made like this before...
Beloved Anguillian Options In a New Baguette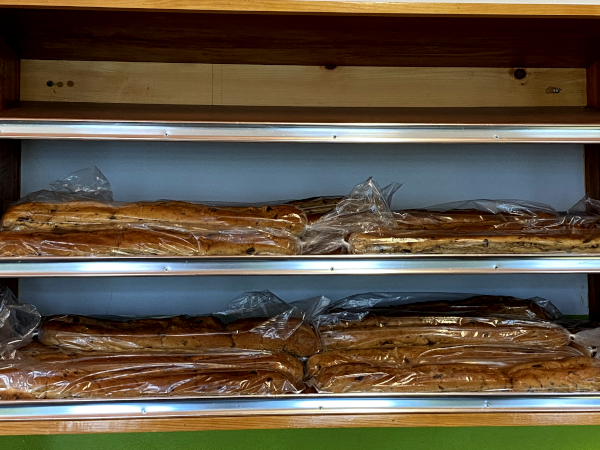 The Chef's Bakery makes them with crispy, flaky shells and the fluffiest, sweetest insides. I have made a mental note to come back later just for these.
Another sweet treat? The chocolate loaf. A light fluffy bread made with cacao, this one disappears fast!
Hardy loaves of pumpernickle and sourdough are also on sale. The sourdough is left to ferment for 2 nights and then freshly baked every morning. This healthy option is usually gone by mid-day, everyday without fail.
Fresh, Robust and Baked with Love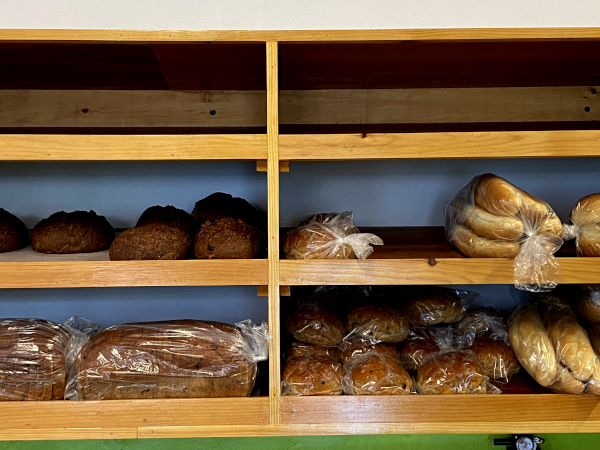 A rare find on Anguilla, The Chef's Bakery brings great variety to the island's bread selection.
Satisfying Sandwich Selections
Naturally, no bakery in Anguilla would ever open without serving the quintessential Anguillian breakfast food... a hearty sandwich.
Typically made with Anguilla's traditional baguette style bread, they come with a variety of fillings. Options at The Chef's Bakery include tuna, ground beef, mixed cheese, bacon and turkey.
I first went with their mixed-cheese options. A filling made of gouada, mozarella, aromatic peppers, onions and cream cheese, it is served on a fresh, flaky, soft and airy baguette.
Creamy, Cheesey Sandwiches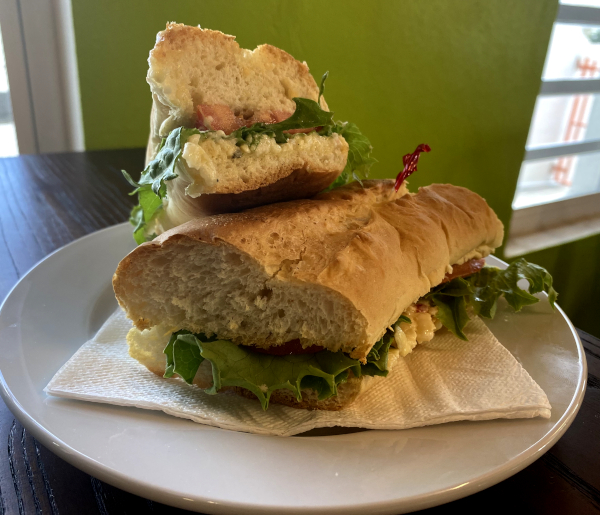 The warm gouada and mozarella are absolutely melt-in-your-mouth fantastic! Served with lettuce and tomato, this sandwich is satisfying and refreshing comfort food all on one baguette.
Next I tried the turkey, lettuce and tomato.
Turkey, Lettuce and Tomato on an Anguillian Baguette

Layers of juicy turkey cuts are stacked and served with lettuce and tomato. A "TLT," it is the perfect BLT alternative and oh so filling!
Delicious Dessert Pastries
When it comes to confectionery creations? The Chef's Bakery has the largest and most mouth-watering selection on this side of the island.
The pastry display counter teems with options. Giant slices of cakes, buttery puff-pastries, donuts and cinnamon rolls... yes, Chef's Bakery has a dessert for everyone.
Let's take a look.
First up, their fresh apple strudels are made completely from scratch with a fresh apple filling, which is also made in-house.
Buttery, Flaky Apple Stuedels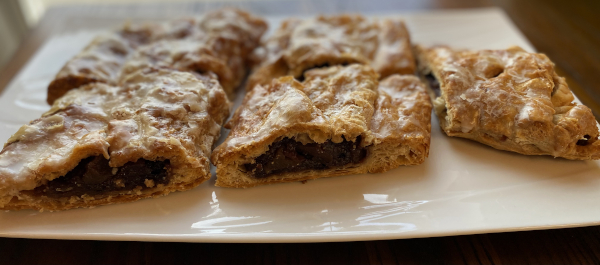 Traditional Caribbean breadpudding, another beloved pastry in Anguilla, is baked with juicy raisins, chocolate chips and infused with real ginger!
Chocolate Chip Bread Pudding

A decadent pick is their rich mini chocolate lava cakes. Made with real cacao, their gooey interior will make your tastebuds sing.
Darling Mini Lava Cakes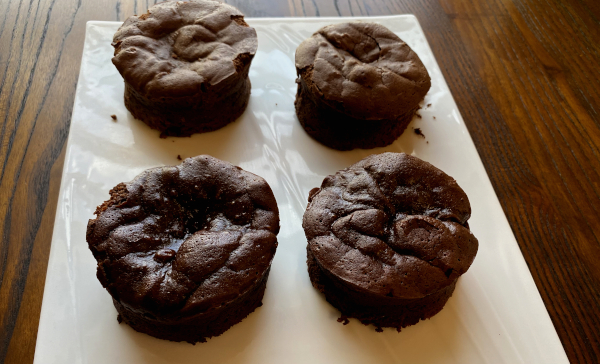 When it comes to cakes, Chef's Bakery's are outmatched in portion size! Giant slices of moist carrot cake are covered in a light frosting and decorated with an assortment of mixed nuts.
Moist, Giant Slices of Carrot Cake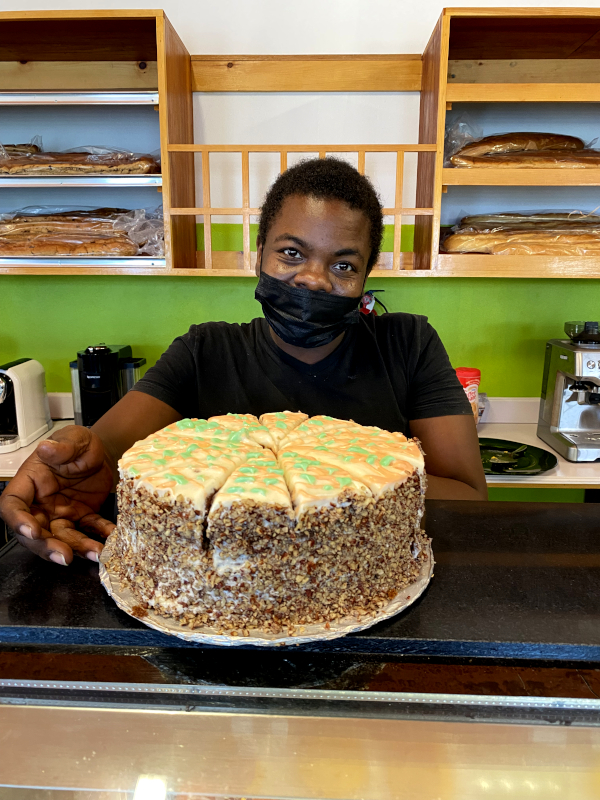 ... and then there's the double choco-chocolate cakes. Rich and creamy chocolate cake is made with cacao and covered in chocolate icing made from scratch. Chocolate fanatics go crazy for a slice of this cake!
A Chocolate Masterpiece

Last but not least, when it comes to donuts and cookies their options are knee-buckling. My head spun trying to make a decision... they all looked so tempting.
Tasty, soft, fluffy donuts come in three options: sweet, sweeter and sweetest!
My Pastry Dessert Plate

I settled on a few selections of donuts, some glazed, some powdered, and threw in a fluffy cinammon roll with frosty icing for good measure.
Naturally, a serving of chocolate chip cookies and multi-grain cookies made its way onto my plate! I just couldn't resist the freshly baked, warm-to-the-touch and sweet-to-the-taste cookies in the display.
Cold Desserts
Chef's Bakery's deliciousness doesn't stop with warm, baked goods. The Chef's Bakery has a fully loaded cold desserts menu, too!
Tall Refreshing Fruit Smoothies

From juices and smoothies, to cheesecakes and ice creams, The Chef's Bakery has ALL your sweet tooth cravings covered.
Their ice creams are completely made in house and come in a variety of flavors. Flavors include rich cacao, chocolate, strawberry and even macha!
Homemade Ice Cream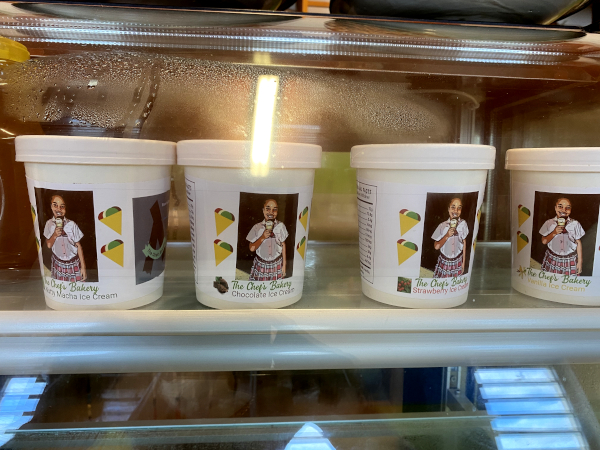 The Chef's Bakery's mini cheesecakes pair perfectly with their ice creams. Cheesecake flavors include strawberry, carrot and mango.
Fun Cheesecake Flavors and Toppings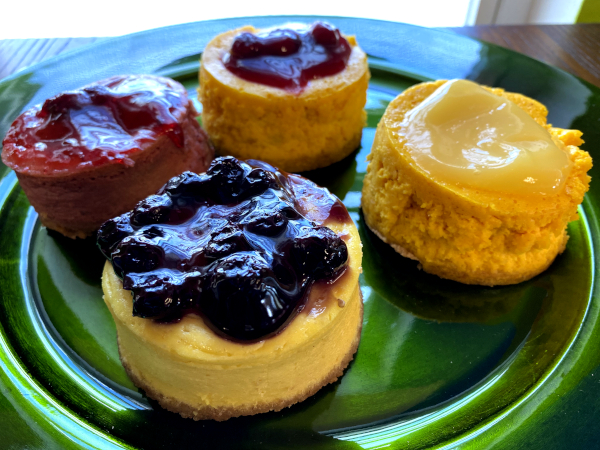 Topped with creative compotes made from cherries, lime and black currants, these mini cheesecakes are equal parts refreshing and satisfying.
Last but not least, the fresh fruit in the display kept catching my eye during my entire visit. I couldn't leave without washing everything down with a smoothie.
I settled on a lime, mango, kiwi and mint smoothie with fresh coconut water as the base. I couldn't take my eyes off of the bright yellow mixture as my barista, Francesca, poured it all into a tall satisfying glass.
Thick, Icy and Loaded with Nutrients

Refreshing and tangy, it was the perfect drink to cool down on a hot Anguilla day. It is, hands down, my favorite smoothie in Anguilla.
A Tasty Day At Chef's Bakery

The Chef's Bakery is a pleasant surprise. It's no wonder why word of their great pastries and service are on the tips of everyone's tongues.
Opening at 6am, you can pop in at almost anytime until 8pm and grab a quick coffee, tea or a stack of freshly made donuts. They're constantly restocking as the day goes by.
Chef's Bakery Lovely Staff

The Chef's Bakery delivers on food and service, and that makes it one tough cookie :-)
Opening Hours: Open 6am-9pm Monday-Saturday, 3-8pm Sunday.
Tel.: 264-772-2433
Directions: Next to Mingz grocery store in South Hill.