CuisinArt Golf Resort & Spa...
Anguilla Resort, Refurbished & Sparkling!
Update: Since the page below was written, CuisinArt Golf Resort & Spa has made even greater strides. Click here for the latest on CuisinArt Golf Resort & Spa.
By: Kristin Bourne
Each of Anguilla's resorts go the extra mile to deliver five-star experiences. CuisinArt Golf Resort & Spa has recently spent millions to upgrade the property.
Nori and I spent about an hour with CuisinArt's Kerin. With first-hand knowledge of the changes, he walked us through some of the upgrades.
Property Changes
CuisinArt Golf Resort & Spa's new interest is accessed by the entrance to their golf course. Large and grand, you enter through the golf course gates, drive down the palm tree-lined drive, complete with local rock accents and flowers. Passing different fairways and holes, it is quite scenic.
A gorgeous new entrance leads you in to
one of Anguilla's top resorts: CuisinArt Golf Resort & Spa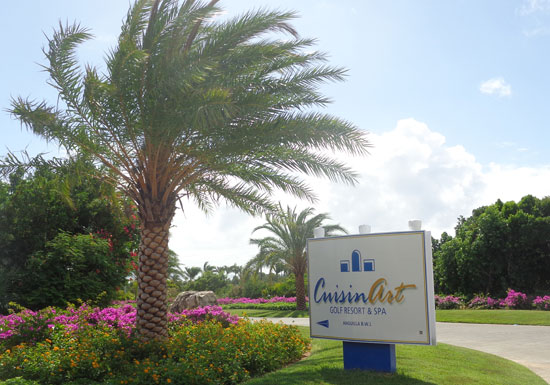 This entrance leads to everything CuisinArt... the Greg Norman Golf Course, Greg Norman Estates, Italia Restaurant & the Clubhouse Grill, and then on to the original CuisinArt grounds. Here, you will find the lobby, hotel, spa, hydroponic farm, Tokyo Bay Restaurant, Mediterraneo, Le Bistro at Santorini, and the Lobby Bar and Beach Bar & Grill.
This Anguilla hotel pool as been retiled and is ready for you!

Besides the beauty of that grand new entry, the pool and guest rooms at CuisinArt have also been refurbished.
Their amazing pool on Rendezouvs Bay as been retiled and looks more inviting and soothing than ever.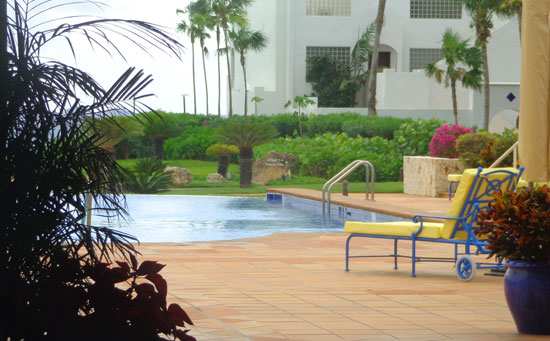 Room Changes
We try out the new furniture...

The rooms that have been refurbished have kept the same look and feel CuisinArt is famous for.
The key color theme of white, yellow, and blue remains, but has been toned down with more classic, neutral curtains.
Older, boxier televisions have been replaced with large, new, sleek flat screen televisions.
All of the furniture has been replaced with new pieces. New rugs accent the new furniture as well.
Some of the new pieces of furniture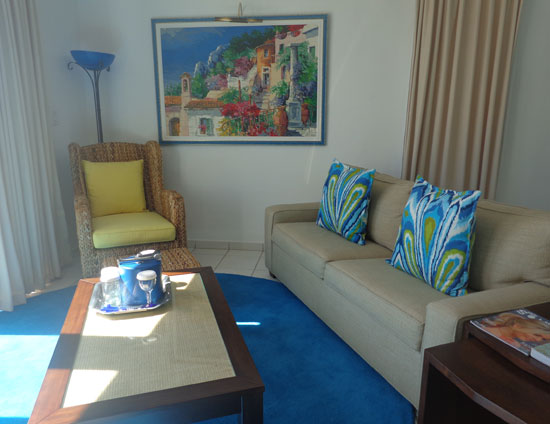 The beds are all new, too!
A new luxurious bed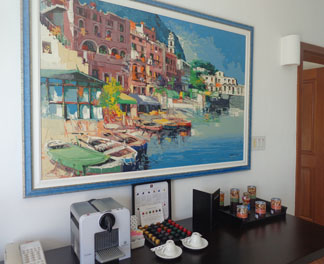 Nori and I dared to sit on one of the mattresses and our fear became a reality... we did not want to get up!
The mattress was as soft as I imagine the clouds lingering over Anguilla to be.
As we moseyed in to the spacious bathroom we noticed nice, high-end toiletries and luxurious robes.
There were also gourmet goodies, including Nespresso machines and pods.
Grateful to Kerin for the tour of this beautiful Anguilla resort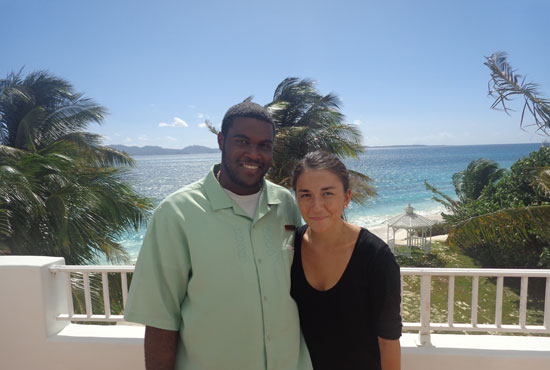 Nori and I were impressed with the renovations and had to snap ourselves back to reality when we exited this beautiful property.
The high-end Anguilla hotels work hard to surpass standards, keeping the rooms and grounds as luxurious as possible for their guests.
CuisinArt is spruced up with many new positive changes for 2013. The only thing that didn't get better? The view. How could it?