Faustina's Kitchen...
Smoked BBQ To Go!
Update 2019: Faustina's is closed.
Slow down as you drive through West End or you just might miss Faustina's Kitchen! Inconspicuously set on Anguilla's main road, this tiny spot is one of the island's fastest growing BBQ's.
Faustina's Kitchen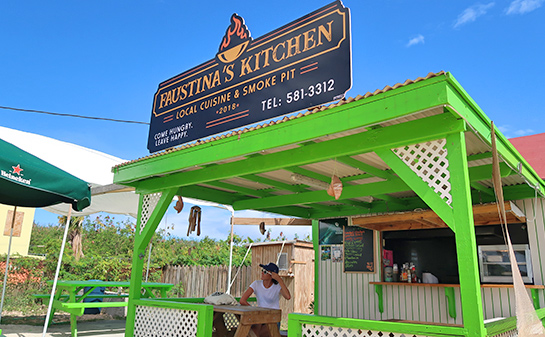 Who's Ready For BBQ?
THE Smoke Pit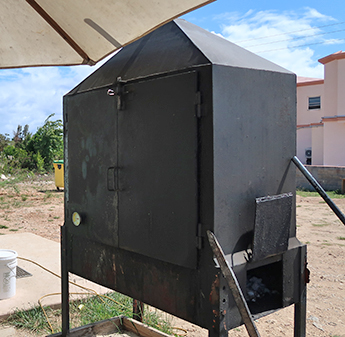 Faustina's Kitchen has become an overnight success.
Visitors and locals alike have been flocking to this gem of a spot for a quick, convenient and affordable bite.
The hype all makes sense as you walk up to the charming wood structure.
A smokey BBQ aroma in the air, the hefty smoker out front gives it away...
This isn't your average BBQ.
Faustina's specializes in smoked BBQ!
Smoked Chicken & Sides

Faustina's keeps it simple. Their menu features smoked chicken, smoked ribs, jerk wings and fried fish.
With the smoker on full display, we had to go with the BBQ.
Straight off the bat, the alluring smell of the food drifts into your nostrils. Your tastebuds begin to water.
Slightly seasoned and crispy on the outside. Tender and juicy on the inside. Faustina serves up a mean chicken leg.
And the ribs?...
Smoked Ribs

Full of smokey flavor!
It all goes down best with a few sides. The options at Faustina's are plentiful, including rice and peas, potato salad, coleslaw, steamed vegetables, salad, plantain, fries and even...
Johnny Cakes!

Louise could not get enough of the fresh, crisp and colorful coleslaw. The potato salad comes in at #3 for "favorite Faustina sides." Unlike most potato salads, Faustina's is more mashed potato-esque in texture and flavor.
BBQ Ribs & Sides

You can't have BBQ without excellent sides. Faustina's over-delivers on that end, too!
BBQ To Stay or Go
Cassie at Faustina's Kitchen

With a steady flow of customers coming in and out all day, most items on the menu are pre-prepared.
The service is almost always quick, making it a top spot to drop in and pick up BBQ to go.
Faustina's is truly built for convenience!
If you prefer to "dine in," there's plenty of shaded seating.
At under $20 for lunch (including sides, Johnny cake and a beer), Faustina's offers serious smoked BBQ bang for your buck.
Directions, Hours & Contact
Directions: If you are coming from The Valley, Faustina's is set on the left side of the road just before the Leviticus building (about 100 yards before the West End Gas Station and road to Cove Bay).
Hours: Open Tuesday-Sunday all day.
Tel.: 264-729-4102