La Collena, A Taste of Mexico in Anguilla
Anguilla dining is anything but boring. There are so many choices in all different price ranges, from beach bars to elegant cliff perched restaurants overlooking the turquoise Anguilla sea.
The latest entry to the Anguilla restaurant scene just opened its doors in what promises to be a mouth-watering experience.
La Collena is a Mexican restaurant serving breakfast, lunch and dinner located in Stony Ground just across from Lake's Market.
La Collena Mexican Restaurant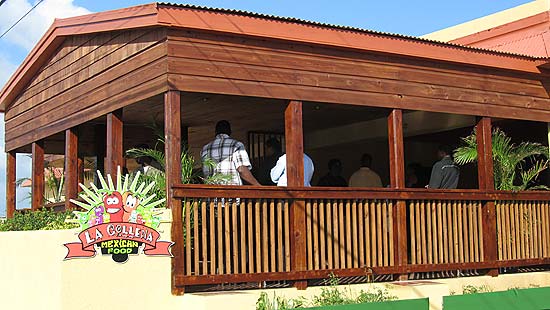 La Collena was once the family home of Collin and Lenora Hodge and their 12 children. Collin and Lenora have passed on and their children, being very close, wanted something that would help focus them on being together. The restaurant is named from the combination of Collin and Lenora. The fanciful logo represents Collin and Lenora surrounded by their 12 children.
La Collena's Fanciful Logo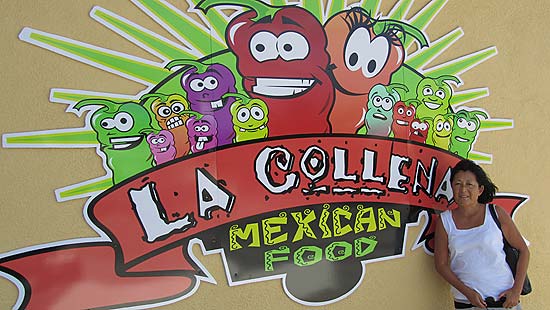 How did this become a Mexican restaurant? Their son, Sutcliffe Hodge, also owns and operates Pelican Trail and Water Sports at Little Bay. He spoke of how some of his siblings had spent time in California with the influence of Mexican cuisine and how this had brought on the idea that Mexican food would be something different for Anguilla dining. The wish to use earth based ingredients such as tomatoes, beans, corn, etc., also influenced the idea to bring a more broad based Mexican dining experience to Anguilla.
And so, with Chef Miguel Brito, who hails from Acalpulco, and whose resume includes 18 years working in restaurants in Mexico and California as well as on cruise ships, La Collena was born.
Chef Miguel Brito and my Dad

Facilities include the main indoor dining room surrounded by Mexican decor, (which reminded me very much of some restaurants in Guadalajara), two rooms for private, intimate dining where a call on a button will bring your waiter, to outdoor dining on the terraace. There is take out and... drive though! The first in Anguilla.
La Collena's Colorful Main Dining Room

La Collena's Take Out Entrance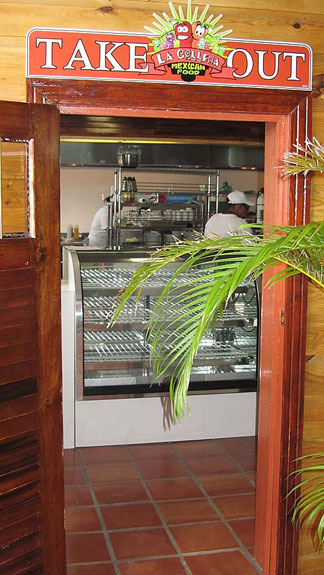 The kitchen is open concept and the smells that waft throughout the restaurant and outside are delicious!
Open Concept Kitchen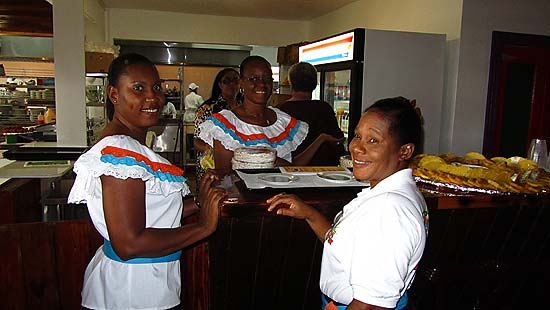 Dad enjoying some Aztec soup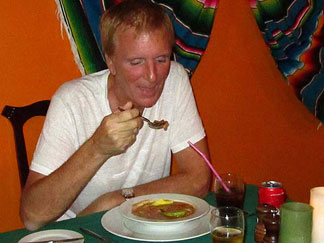 While travelling in Mexico, one of our favourites was Aztec soup which is a famous Mexican dish made differently as you move from region to region in Mexico.
When my Dad saw Tortilla Soup Azteca on the menu he was hoping it would be as good as he rememembered. He was not disappointed.
In fact he said it ranked among the best he has tasted.
Mouth watering main courses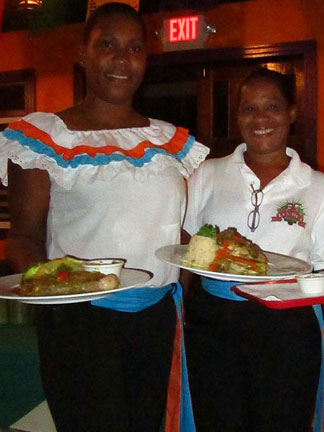 For their main course my parents chose pollo escabech Campeche style and rib eye de res en salsa de cilantro y aguacate. Both, they said, were delicious and came with sides of rice, beans and guacamole.
The guacamole and beans were outstanding.
Just before their main course arrived, Miguel brought a bottle of tequila to their table and treated them to an authentic coscorron, which literally means, bump on the head, and that might happen if you drink too many of these tequila shots and fall down!
Miguel prepares the coscorron & Mom downs her coscorro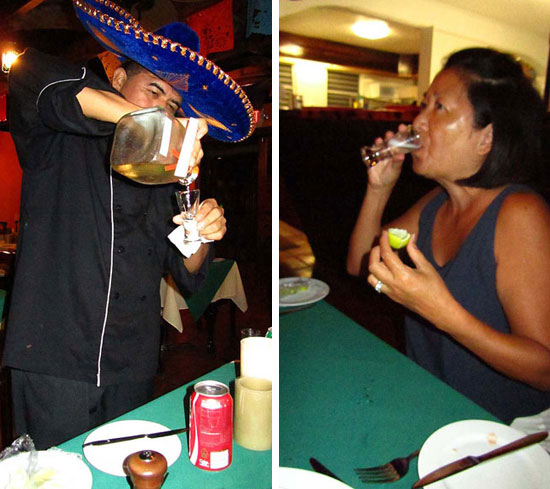 As La Collena joins the Anguilla restaurant scene, it will please your taste buds and not hurt your pocketbook.
For more information on dining hours, take outs and reservations call 497-1935 (the combination of Collin and Lenora's birth dates.)
Update on take out menu: La Collena's take out menu is a set price of $8.00 for a choice of 7 different items all coming with tossed salad or guacamole and plaintain.