<![endif]-->
Behind The Scenes With Lisa Curran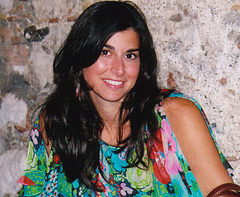 With her popularity growing here at boutiques in Anguilla, I wasn't surprised to discover that she's widely loved throughout the United States.
Gracing the likes of Kate Upton and Kate Bock in Sports Illustrated's Swimsuit Edition, her line was featured for good reason. There's something for everyone.
Growing up on the shores of Cape May County, New Jersey, Lisa's parents owned a small beach hotel. Naturally, Lisa spent most of her childhood days at the beach. Finding just the right swimwear and beachwear was always tricky. After attending FIT in New York City and then the University of Delaware, she started her brand, Lisa Curran.
Curious about the designing process, I was excited to track Lisa down and chat a little more about what goes on behind the scenes...
What motivated you to start your own brand?
I always wanted to design bikinis. I didn't understand why bikini tops were not sized similar to a woman's bra. And growing up at the beach and living in a swimsuit, I could never find one with the perfect fit. Going to the beach or after a day at the beach then hitting a local seafood shack was how I spent most of my summer days. So I needed something to wear after a day with my friends at the beach... something that was chic and simple.
Yes! Living in Anguilla, I completely understand where you're coming from. So, where do you look for inspiration? What inspires your designs?
Inspiration comes from everywhere. The designs usually reflect what I am feeling at the moment, with inspiration coming from wherever I happen to be traveling or an old French film I recently watched. Generally though, my designs are feminine and sophisticated.
I can definitely see that in your cover ups and swimsuits. Which, by the way is one of the toughest things to find... that perfect cover up. What is your idea of the ideal cover up and swimsuit?
My ideal coverup is something you can wear that can pass for a dress and you would be comfortable walking around in other than the beach. When I design any piece of clothing that is always my goal. Can you wear this running into a store or a restaurant? A swimsuit is something you want to feel most comfortable in. Don't always follow trends. Do what works for you and your body type. And I would suggest finding swimsuits that are of good quality. We use all Italian lycra and have our own factories in the US. So our quality control is very strict.
Great advice! Classic, effortlessly elegant and easy to wear, I find your styles fit Anguilla's vibe (laid-back yet luxurious) so well. Is that something you had in mind when bringing the brand to the island?
Classic, effortless, chic, simple is the foundation behind the collection. Simple with feminine touches. The Anguilla life is the life I desire to lead. Though we live just outside of NYC now, spending most of our time between Montauk, Cape May and Sicily, I hope to get to Anguilla soon and spend more and more time there.
... and there you have it from Lisa Curran herself!