Bamboo House...
An Asian Cuisine Favorite
in Cole Bay, Sint Maarten
By: Louise Fayet
If you have been to Sint Maarten, you have probably heard of Bamboo! Previously located in Simpson Bay, Bamboo has long been a Sint Maarten hot spot loved for its Asian cuisine.
This island favorite has been operating for over 15 years. Today, you can find Bamboo and all of its flavorful Asian dishes at the top of a hill in Cole Bay overlooking the island.
Let's step inside one of Sint Maarten's most popular sushi spots...
Welcome to Bamboo House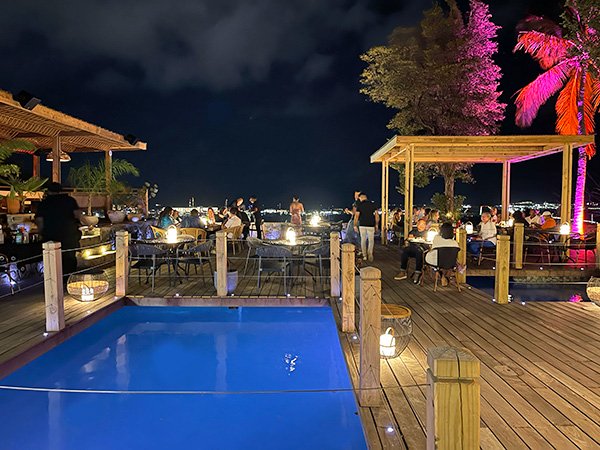 Time to Dine!
There isn't a bad seat in this house! Every table offers breathtaking views of Cole Bay, Simpson Bay and even Cupecoy. The dazzling lights will captivate you all evening long.
To start off your night, begin with a classic cocktail or two. Drinks at Bamboo are equal part delicious and beautiful...
Tonight's Forecast: 99% Chance of Cocktails!

Bamboo's reputation is built on excellent cuisine. Their dishes are rich with contemporary flair, blending Latin and Asian flavors.
The menu begins with small plates of accras, vegetable tempura, BBQ chicken sate, grilled avocado, duck nachos, crispy mango noodle salad, Korean style wings and...
Sweet & Spicy Edamame

It isn't "sushi night" without a plate of edamame! Steamed soy beans are tossed with red miso, honey, sesame oil and sriracha. You can also have your soy beans with a gentle sprinkling of sea salt.
Another tasty starter from the small plates section...
Bamboo Buratta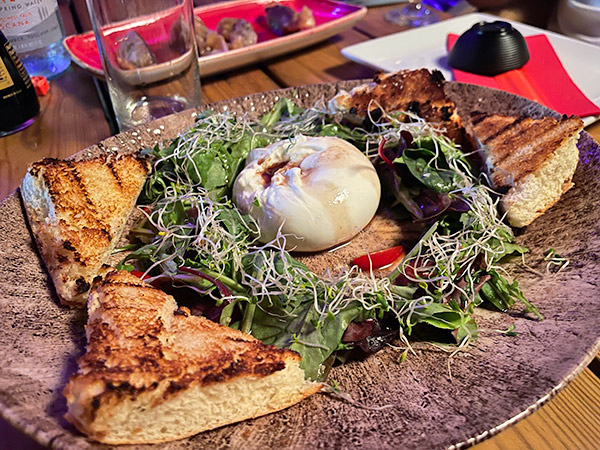 The star of this dish is the soft and creamy burrata cheese from France. Surrounding the cheesy ball is a fresh salad and tasty toast. All drizzled with a balsamic-ponzu vinaigrette, this dish is both light and rich!
Another light starter is...
Bamboo Crispy Rice Topped with Tuna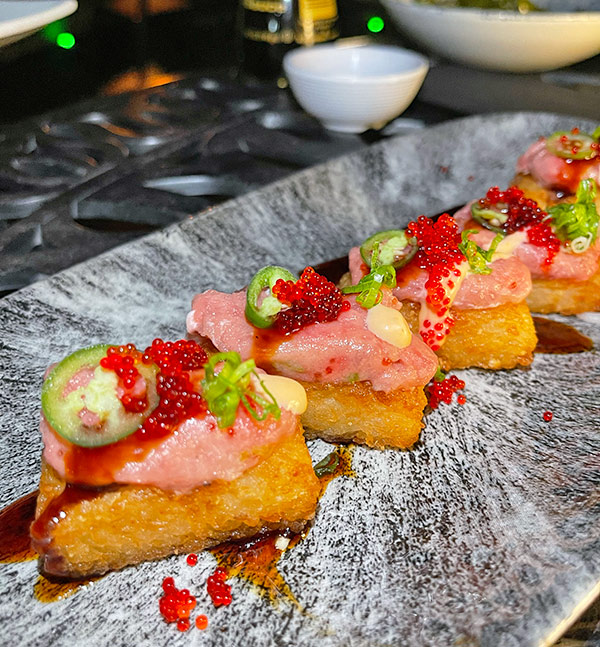 These crunchy bites can be topped with your choice of spicy tuna, yellowtail tartare, or truffle avocado.
Next up, the Crispy Dynamite Shrimp...
Whole shrimp are deep fried in a fluffy, light batter. They are served in two exceptional sauces: Curry Aioli and Spicy Mayo. The sauces complete this appetizer. Mouthwateringly delicious and fun to eat, this starter scores a 10/10 for me!
Last but not least?...
Crispy Calamari

Squid rings are cut thin and fried to perfection. The aji amarillo aioli served on the side will blow your tastebuds away. It is loaded with flavor!
After starters, the menu flows into the dumpling section.
Wagyu Beef and Honey Dumpling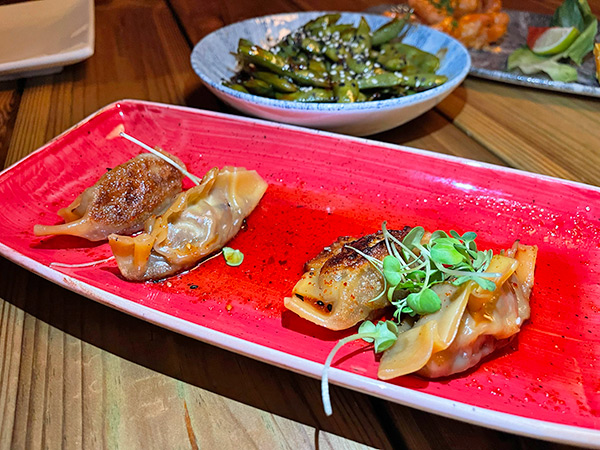 Four pieces of pan-fried dumplings are stuffed with minced Wagyu beef and served with a togarashi ponzu sauce. Bamboo's dumpling options don't end there. Other choices include: Snow crab and prawn, shitake mushroom with snap pea and Chinese chives, and the chicken truffle dumplings.
From the Rice & Noodles section...
Stone Pot Rice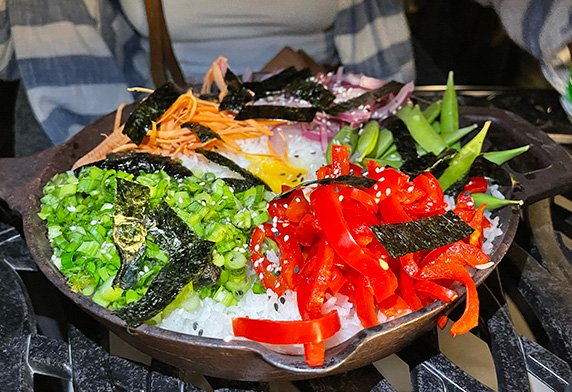 Mixed vegetables, egg yolk, kimchi and gochujang are served in a hot cast-iron pan. This dish is perfect for vegetarians but if you are a protein lover, add shrimp, beef or chicken.
The menu's main plates section features a variety of well thought out dishes. These are some of my personal favorites at Bamboo House.
The most popular entree...
Braised Beef Short Ribs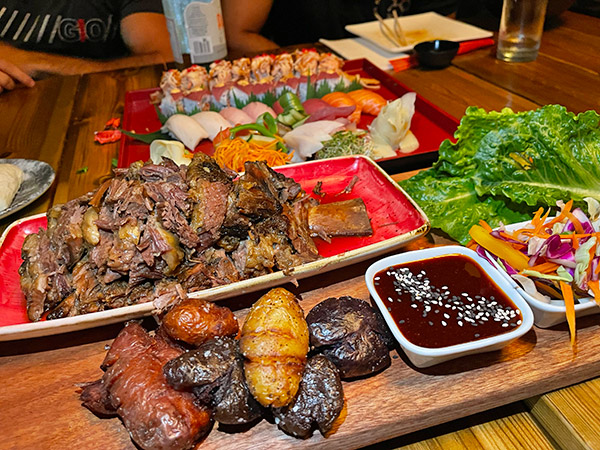 This main course is huge!
Braised for 18 hours, the meat is served still on the bone, soaked in an orange ponzu broth. The beef just melts in your mouth. We are addicted to these short ribs!
The dish is served with smashed potatoes, lettuce, slaw and soft bao buns, everything you need to build your own stuffed bao bun.
Similar to the Braised Beef Short Ribs is...
La Galbi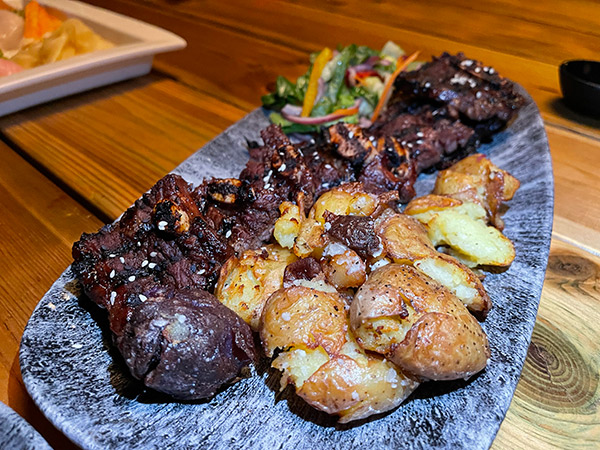 Korean style beef short ribs are marinated for 48 hours! Tender and packed with flavor, they are paired with smashed potatoes and Bamboo slaw. Yum!
Next, a dish that we never miss...
The Tuna Poke Bowl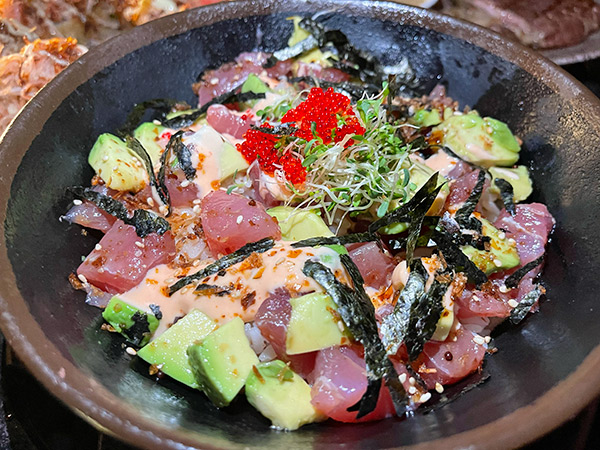 Choose from tuna, salmon or both and prepare for a taste explosion! This poke bowl is always perfectly executed. Flawless sushi rice is lathered with the most delicious poke dressing, and decorated with strips of seaweed, tobiko and sesame seeds.
Bites of fresh fish and avocado bring tears to my eyes. Just the thought of this bowl makes my mouth water.
Also from the main plates, more juicy beef!
Black Angus Ribeye

This steak is served with smashed potatoes, a creamy peppercorn sauce and Bamboo salad.
Next up, did somebody say sushi?
Bamboo's menu features a wide variety of rolls, from classics to contemporary creations. Avocado, California, cucumber and Philadelphia rolls are all on the menu, along with a wide variety of Bamboo originals.
Here are our favorite specialty rolls. First up...
The Birds Nest

This roll is one of Bamboo's one-of-a-kind rolls. Salmon and cream cheese are tempura fried and crowned with toasted Kanikama. This is my number one roll at Bamboo House. It is simply beautiful.
Coming in close to my number one...
Sexy Salmon Roll

Baked salmon and avocado are layered on the inside. Each piece is completed with a slice of fresh salmon, fresh tuna or eel. The final touch? The tempura crunch on top!
Dotted with sweet wasabi and drizzled in a spicy eel sauce, the blend of flavors leaves you in sushi heaven.
If you're craving spicy tuna, kick it up a notch with the...
Island 92 Roll

This shrimp tempura roll is topped with spicy tuna and an extra tempura crunch. The whole plate is drizzled in a savory-sweet eel sauce.
Another option for those seeking spice?...
The Tuna Amazing & Salmon Delight

The Tuna Amazing is a spicy tuna roll with fresh tuna, tempura and spicy mayo.
For lovers of salmon, The Salmon Delight features a unique combination of spicy salmon, mango and cucumber. The roll is completed with toppings of fresh salmon, salmon roe and citrus mayo. True to its name, the mix of spicy and refreshing flavors is pure delight!
Bamboo also features a variety of classic rolls, sashimi and deluxe sushi plates.
Bamboo House Deluxe

There is no other way to cut it! Bamboo's sushi chefs slice a generous portion of sashimi. Thick and fresh, these cuts of sashimi melt in your mouth. The combo plate comes with 15 pieces of sashimi, 8 pieces of Angry Dragon Roll, Tuna Amazing and Sexy Salmon.
This plate is recommend for two people.
To successfully end the evening, dessert is a must.
Choose from the mango passionfruit & yuzu dome, vanilla creme brûlée, banana-strawberry split, an assortment of macarons, colonel coupe and...
Bread Pudding of The Day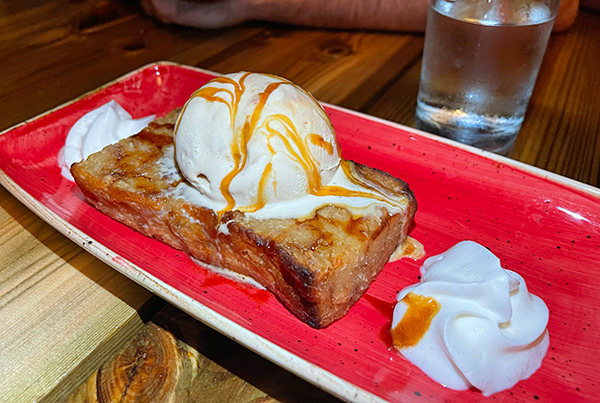 Warm bread pudding is topped with caramel sauce, whipped cream and a scoop of vanilla ice cream.
For the cheesecake lovers, Bamboo has your back with their cheesecake of the day.
Chocolate Cheesecake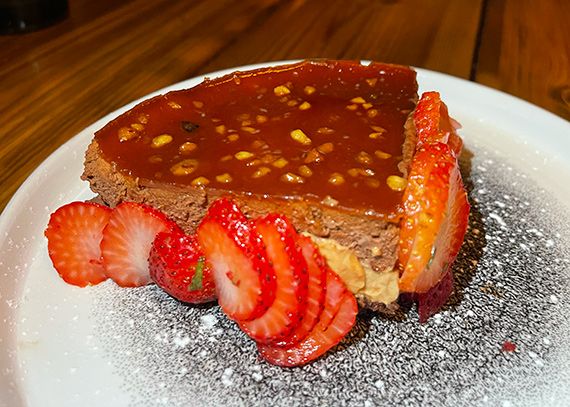 And of course, this article would not be complete without mentioning their molten chocolate cake drizzled in warm chocolate sauce...
Molten Chocolate Cake Topped with Ice Cream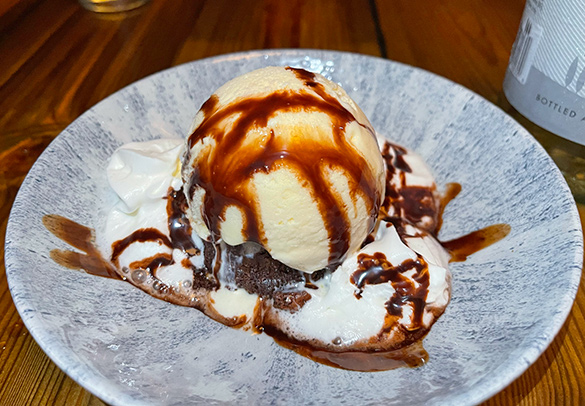 It is safe to say that Bamboo has stood the test of time. This Sint Maarten favorite continues to elevate Asian cuisine and hold a place as one of our go-to's for sushi in Cole Bay.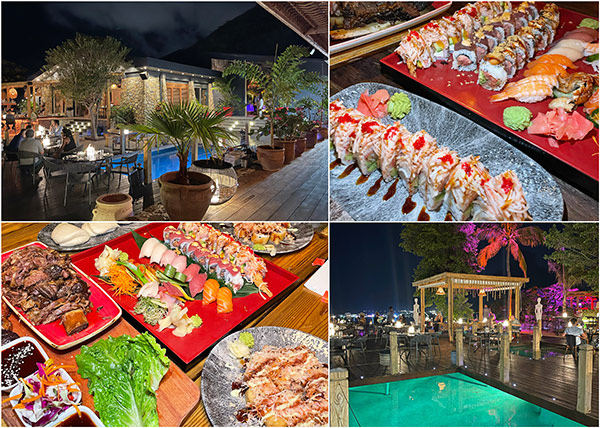 Open hours: Dinner on Monday to Sunday, 5pm - 11pm
Tel & Email: +1 721-523-1508