Anguilla's First Art Gallery...
Pineapple Gallery for Haitian Art
By: Kristin Bourne
As Nori and I were having lunch at Valley Bistro, we found ourselves sitting next to Philippe, the owner of one of Anguilla's art galleries called Pineapple Gallery.
It's hard to believe that such a special gallery has flown under our radar for so long. Here's a preview of what this Anguilla art gallery has to offer...
Located in Sandy Ground alongside the salt pond on the left side of the main road as you head in, this gallery focuses on substantial pieces of Haitian art.
Philippe and his cat with one of his larger panel paintings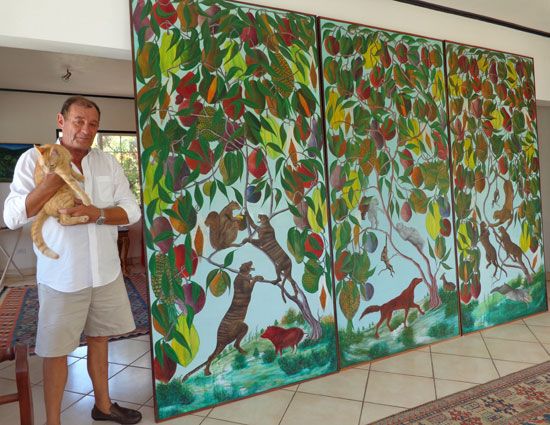 A painting by HR Bresil

The Pineapple Gallery was opened in 1983.
Philippe told me that it was the first gallery on the island of Anguilla.
The building is one of the taller ones in the area and is bright white with the Pineapple Gallery sign in front, by the road.
Pineapple Gallery owner, Philippe Manasse, is a native of Paris who has spent decades living in Anguilla for a portion of each year. An interior designer in Paris, his passion is Haitian art which he both collects and sells.
Some of the paintings are for sale, some are not. All are original. Some are old, some new.
Of the original paintings for sale, pricing starts at $150 US.
Philippe has spent plenty of time in Haiti meeting with artists and his gallery serves as his Anguilla abode, not only for him, but for his Anguilla-based collection of Haitian paintings.
I asked if he was concerned with having so many fine paintings in Anguilla due to the tropical weather. He explained to me that the weather in Anguilla with its humidity was actually good for the paintings.
This Salnave Philippe-Auguste was completed in 1965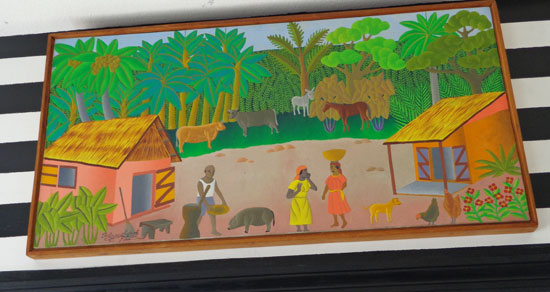 The Pineapple Gallery is a tasteful and simple balanced space. Philippe will graciously guide you through each room and each level and discuss the paintings with you, if you wish.
A painting by Jean-Adrien Seide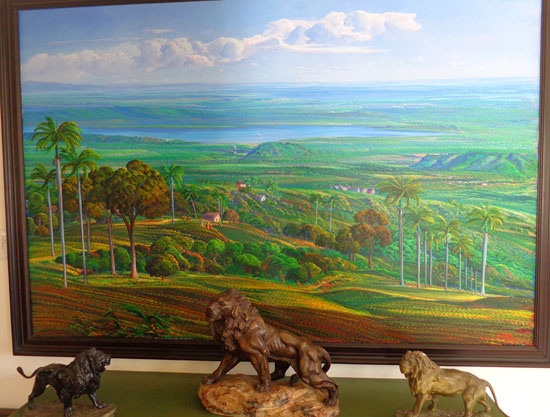 Philippe even has 2 of his own originals on the walls of the gallery. Seen just below.
Of the better known Haitian artists seen at the Pineapple Gallery, some names include:
One of two of Philippe's own originals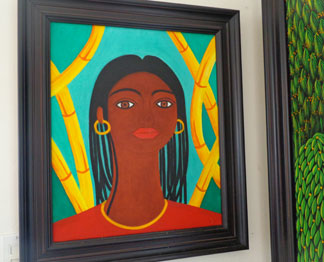 Seymour Etienne Bottex
Jasmin Joseph
Salnave Philippe-Auguste
H.R. Bresil (which seemed to be Philippe's favorite)
Jean Adrien Seide (whose colorful and dreamy landscapes caught my eye)
Bernard Sejourne
Simil
P.L. Riche
Next time you are in Anguilla, make sure you make some time to walk through the Pineapple Gallery.
It is open every day from November 1st - April 30th.
Philippe will tell you that it is even open for 24 hours a day! Reason being, it's his home. He spends most of his time there, surrounded by the paintings he loves and with the company of his adorable dog and sweet cat.
I think you'll find Philippe to be warm and hospitable, even if you knock on his door at any hour.