A Challenge To The Best
Italian Restaurants on Anguilla...
Un Amore is currently closed.
Ever since the first taste way back when, Arawak has held our vote for #1 pizza on Anguilla.
Never had I tasted such a flavorful pizza, cooked to perfection! Who would have guessed that my favorite pizza in the world would be found on Anguilla?
Not me!
So, you can imagine my surprise when my Dad and I tried (as recommended by Anguilla-Beaches.com reader, Mark) another restaurant on Anguilla whose pizza actually rivaled Arawak's.
Two delicious pizzas on one tiny island?
I was amazed!
The new competition in town is found inland Anguilla...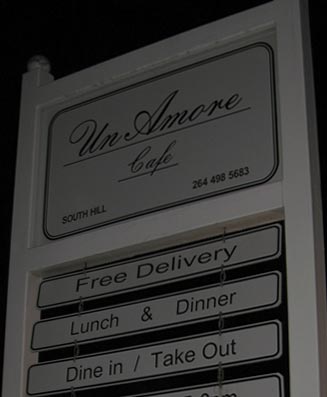 Un Amore Cafe is run by native New Yorkers, and serves up a wide variety of Italian cuisine.
Pasta and pizza of all kinds!
The cafe's decor matches its menu, too.
This is truly Anguilla's first traditional Italian restaurant.
Checked tablecloths cover the quaint tables, pictures of Robert De Niro and stills from Goodfellas adorn the walls.
Am I in The Godfather?
As for those menu items...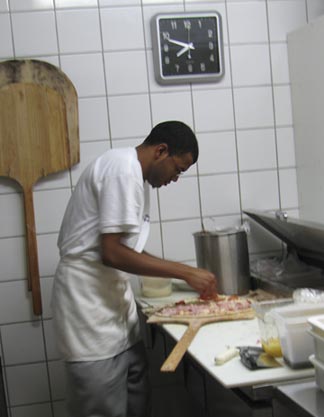 This certainly isn't Pizza Hut.
I haven't tasted pizza so light, crisp, and true to the "real thing" since our vacation to Italy in 2005.
Don Corleone would be proud.
Once we placed our order (half cheese and half vegetarian) with the delightful waitress, we watched the chef prepare our pizza.
He selected the fresh toppings (they even have lobster!) and went straight to work. The best part of course, was watching the dough spiral through the air.
As we waited, the waitress brought another customer his cannelloni. Why didn't I order that, too? How I wish I had four stomachs.
That desire only intensified once we had our pizza in our hands, heading home to put it to the test...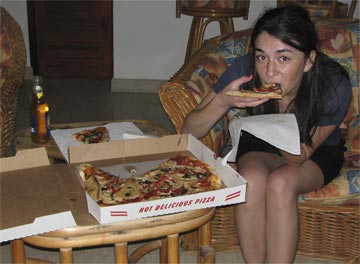 We were in love!
Un Amore Cafe certainly gives Arawak a run for its money!
I still can't decide who holds first place for pizza now, but Un Amore Cafe is the #1 Italian restaurant on Anguilla.
It's truly a little piece of Italy, right on Anguilla.