A Day at The Beach with Ruthy's Yum Yum
By: Kirmani Honoré
A fun, bite-sized restaurant in the tiny village of Little Dix, Ruthy's Yum Yum is a foodie favorite through and through.
Locals and tourists alike come back time and time again to this roadside gem. From taste, to price, to its convenient location, Ruthy's ticks every box.
Welcome to Ruthy's Yum Yum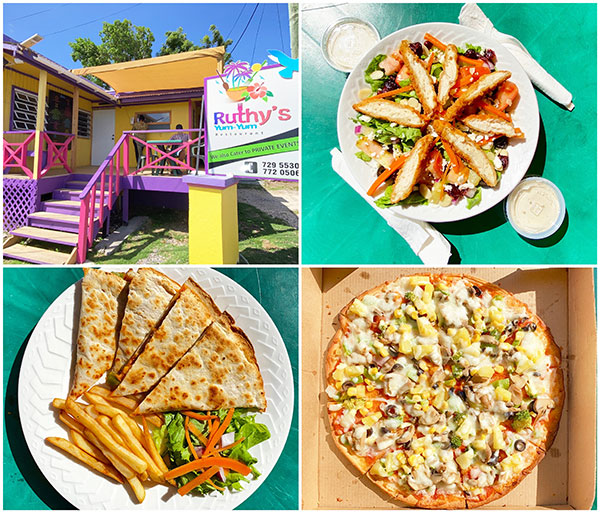 Let's see what makes Ruthy's Yum Yum a top spot for a reasonably priced picnic take-out...
The Restaurant
It's hard to miss Ruthy's vibrant pops of color on your way to Shoal Bay.
Its candy-yellows, bright pinks and bold lilacs ensure you do not drive past without at least slowing down to fully take in the colorful explosion.
Ruthy's Yum Yum's Eye-Catching Entrance

Small and sweet, its hedges of light pink and white hibiscus add to the lovable atmosphere.
Vibrant!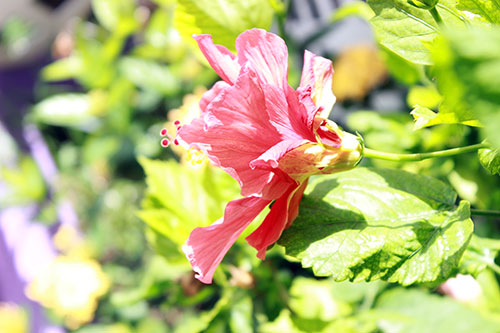 Ruthy's Yum Yum is charming and quaint. Tucked on the roadside, there are a few tables for dining-in but to-go orders are the go-to for most customers.
It's the last restaurant on your way to Shoal Bay East, making it the perfect pit-stop to grab a "beach-nic" lunch.
Let's talk about the food...
Ruthy's Menu
Ruthy's came to fame and gained their reputation for their Yum Yum Wings and their super secret Yum Yum Sauce. It has kept their customers coming back for years!...
The Famous Yum Yum Wings

If you love sauces that perfectly blend savory with sweet, try the wings tossed in Ruthy's BBQ sauce.
Chicken & Fries

These tasty wings will fly right off your plate!
Ruthy's menu doesn't end there.
With refreshing salads, soft and juicy wraps, cheesy quesadillas, and pizzas with more toppings than we can name, Ruthy's Yum Yum is one of the top lunch and take-out spots in Anguilla.
The Menu is Bursting with Flavor

For light bites, I recommend their cranberry and almond caesar salad, topped with crispy chicken and a sprinkle of fresh feta cheese...
Cranberry and Almond Caesar Salad
Very refreshing, the cranberries bring an oh-so satisfying sweetness to this salad.
Another fresh and veggie packed salad...
House Salad with Chicken

A mixture of lettuce, corn, pineapple, olives and peppers is topped with your choice of protein. We like the chicken for its crispy crunch.
Now, for Louise's favorite from the menu...
Ruthy's Nachos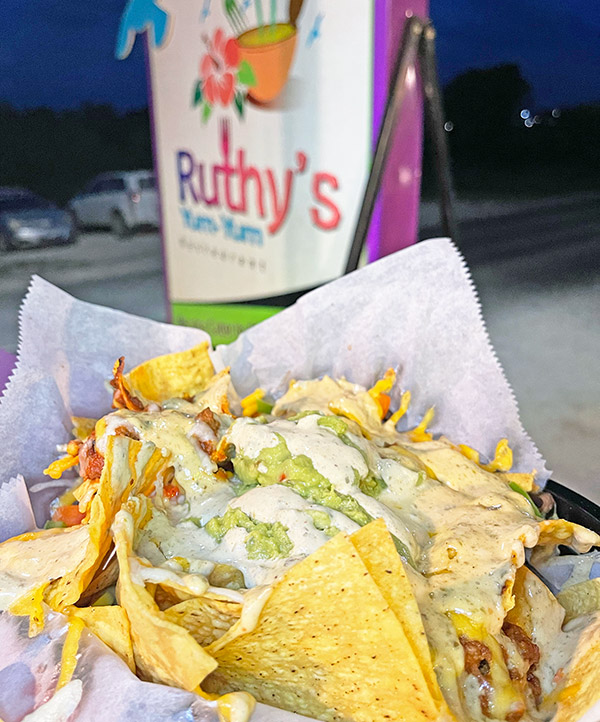 A hefty serving of crunchy nacho chips is topped with guacamole, peppers, tomatoes and your choice of protein. Choose from chicken, shrimp, fish, steak or ground beef. The flavors are rich and divine!
Now, on to sandwiches. The menu features a salmon burger, lemon mahi fish sandwich, tamarind chicken sandwich, cheese burger, double bacon burger, veggie burger and...
Buffalo Blue Cheese Chicken Sandwich & Fries

A thick breast of chicken is battered and fried to absolute perfection. Sandwiched between two pillowy soft buns and doused in a delicious blue cheese sauce, top this creation with coleslaw for an extra burst of flavor.
Another dish that will have you "hooked?"...
Cheesy Mahi-Mahi Quesadilla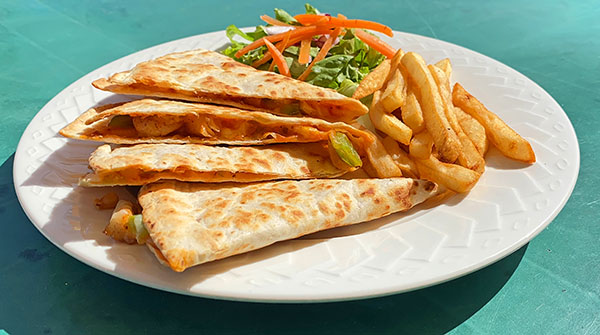 Ruthy's quesadillas are divine and their fish quesadilla just may be the best one on the menu!
Fresh mahi mahi chunks are mixed with cheese and veggies and loaded between two tortillas. Each bite has a perfect cheese-to-mahi ratio that always makes me wish I'd ordered two.
Quesadillas come with a fresh salad and crispy fries. Not a lover of fish? Fill your quesadilla with chicken or shrimp.
Speaking of shrimp, the teriyaki shrimp stir-fry is...
Shrimply Amazing!

This dish will satisfy your comfort food cravings. Seasoned shrimp is lightly fried with veggies and rice. Stir-fries can also be ordered with chicken, pulled pork or fresh fish.
Still hungry for more? You can never go wrong with Ruthy's pizzas. The best part? They can be ordered gluten free!
Gluten Free Veggie Pizza Oven-Baked To Perfection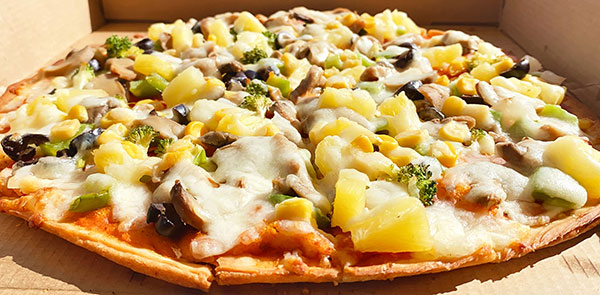 Pineapple, crisply baked capsicum, mushrooms, fresh olives and broccoli... yep, Ruthy's has just about every topping imaginable for lovers of veggie pizza!
As for the pizza crust? The gluten free option does not come at the cost of taste. Crisp, light and airy, it may be my new preference.
Last but not least when it comes to Ruthy's menu? This loyally-loved hot spot is famous for its off-menu special. Needing to know all about it, we talked to the creator herself...
Meet Chef Christina
Chef Christina & The Two Hands Behind The Magic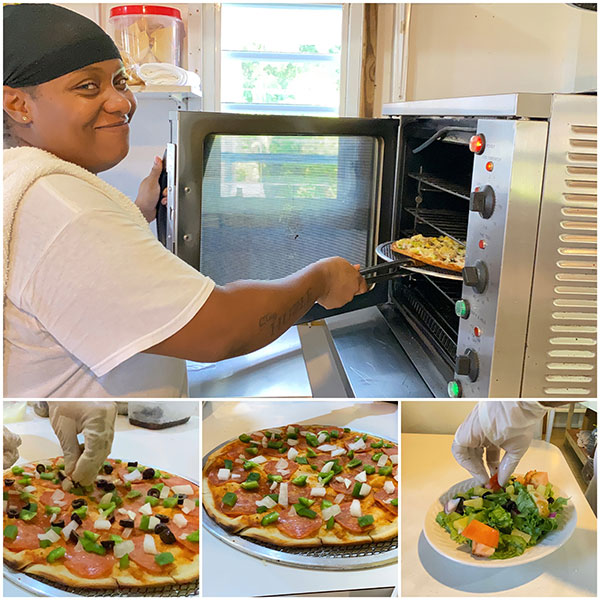 The woman behind all of the culinary magic at Ruthy's Yum Yum, Chef Christina is passionate about her craft.
Chef Christina explained that she often experiments with dishes and flavors. Through all of her experiments, combinations and iterations, one in particular has become a hit. It is now a bonafide chef exclusive...
The Pulled BBQ Chicken & Pineapple Wrap

Pulled BBQ chicken, cheddar cheese, fresh pineapple, lettuce, tomato and broccoli are all wrapped in a floury tortilla.
The steps it takes to create this wrap of perfection are remarkable! From preparing the pulled chicken, to getting that cheese extra-melty, to ensuring the wrap has an ideal amount of flakiness and chew...
Chef Christina, thank you for your kitchen creations!
Did Somebody Say "Pizza Picnic"?
Before we wrap, we can't talk about Ruthy's without mentioning the best way to enjoy their super cheesy pizzas...
The Best Way to Enjoy a Ruthy's Yum Yum Pizza

Just 3 minutes down the road from Ruthy's, there's no beating a pizza picnic on Shoal Bay East!
No matter what you choose or where you choose to enjoy it, Ruthy's always hits the spot.
Ruthy's is an Anguilla Card Partner. Save 10% at Ruthy's when you use your Anguilla Card.
Map, Hours & Contact
Directions: Along the road up through Little Dix that heads to Shoal Bay East, can't be missed.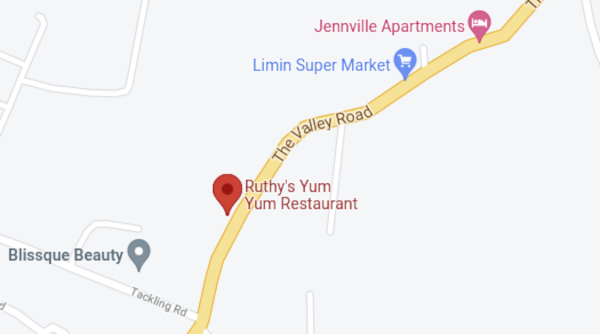 Hours 12pm to 9pm Monday-Friday. 5pm to 9pm on Saturdays. Closed on Sundays and public holidays.
Tel: 772-0506 / 729-5530
Menu: Click here