Ruthy's Yum Yum
By: Kirmani Honoré
A fun, bite-sized restaurant has opened up in the tiny village of Little Dix. A perfect stop on your way to or from Shoal Bay East, we popped in for lunch to check out the buzz around this little spot.
The Restaurant
While driving through the Little Dix area (on the road to Shoal Bay East), it's hard to miss this charming restaurant. First, its candy-yellows, bright pinks and bold lilacs ensure you do not drive past without at least slowing down to fully take in the colorful explosion.
Where The Magic Happens!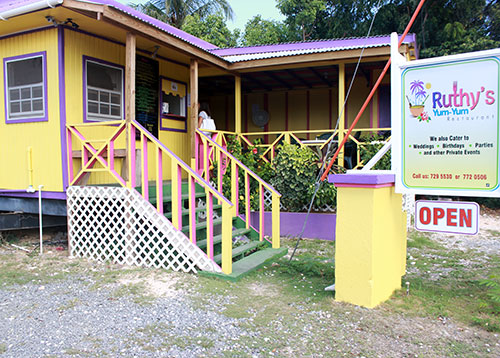 Second, its size. Tiny, Ruthy's is in no way cramped. They make great use of their open, patio-style dining area with a few casual tables, a mounted fan and a television.
Breezy patio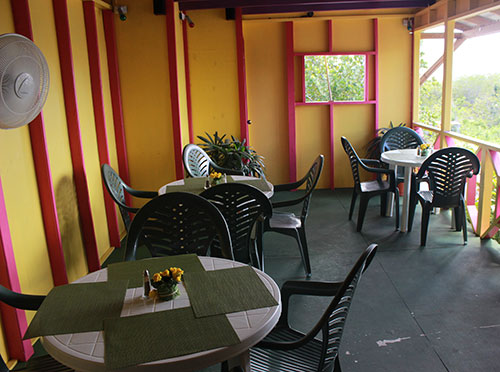 Small and sweet, its hedge of light pink and white hibiscus only add to Ruthy's lovable personality.
Vibrant!

The Food
If you are a fan of soft, floury tortilla wraps, or would like to peruse a wide selection of juicy, flavor-filled burgers and sandwiches, then you will love Ruthy's Yum Yum.
Their towering menu, has a lot to choose from.
From lemon-pepper crusted fish sandwiches, to veggie burgers with butter seared garden veggies and caramelized onions (all topped with that special, tasty Yum Yum sauce!).
From the jerk chicken salad wrap, to the seafood wrap, or perhaps a choice of lobster, shrimp or fish sautéed in tomato cream sauce?
There's even a Ruthy's pizza-dilla wrap, and if you're just looking for a regular pizza, they have that too.
Double yum indeed!
What did we decide on?
Nori went with the steak wrap. Pan seared steak wrapped with lettuce and tomatoes, it comes with a side of your choice of plain, garlic or cracked black pepper fries.
Oozing with the delicious secret sauce, Nori still dreams about this hearty steak wrap.
Floury Perfection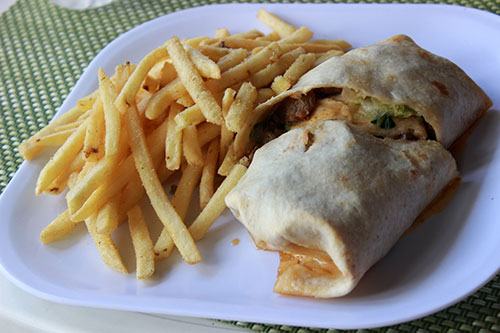 Spicy!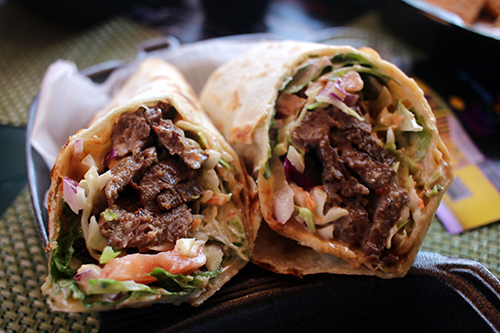 Nori's Mom chose the "lemon pepper crushed fish sandwich," with tartar sauce, and caramelized onions. She also chose a side of fries, sprinkled with cracked black pepper.
The bread was toasted, the fish fried to golden perfection. The tartar sauce added an extra savory flavor to every bite.
Delicious!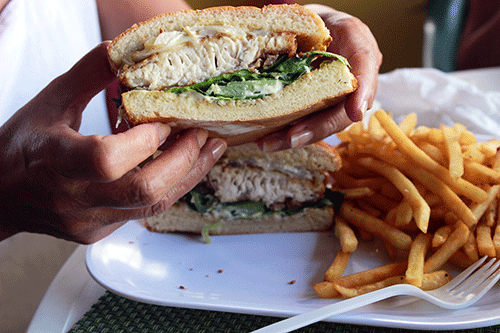 The Lemon-Pepper Fish Sandwich on toasty bread

I settled for the tamarind BBQ chicken sandwich. And I use the word "settle," very loosely! ;-)
The chicken breast was lathered with a sweet and tangy tamarind BBQ sauce. It was unlike anything I've ever tasted.
It's "up-there" on my list of favorite sandwiches in Anguilla. And, for the price, it just can't be beat. The photo does not do it justice!
Yum Yum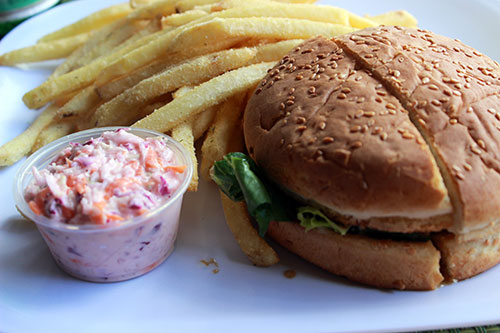 And it just wouldn't be a visit to Ruthy's Yum Yum without a bite of the Ruthy's Yum Yum Wings.
Sticky, juicy and flavored with a deep, rich, house-made BBQ sauce, the BBQ wings really tickle your tastebuds.
Best BBQ Wings This Side of the Island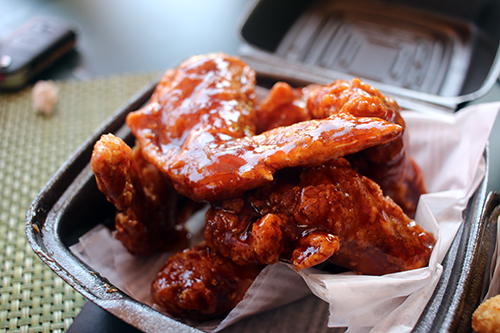 You can order them plain, too. Golden-crisp and served with Yum Yum sauce on the side, this is quality, classic fried chicken.
Crispy!

Crisp, moist and juicy - it hits all the criteria for "Best of the Best" fried chicken. When paired with the Yum Yum sauce? An A+ combination.
For maximum flavor, order the BBQ wings and dip them in the Yum Yum sauce (served on the side). It's life changing!
TIP: Folks also go crazy for Ruthy's gourmet specials available at a very affordable price ($7-10)! There's no set schedule for specials, so call ahead to see what they have available that day. Specials include...
Seafood paella

Fresh mussels

Stuffed potatoes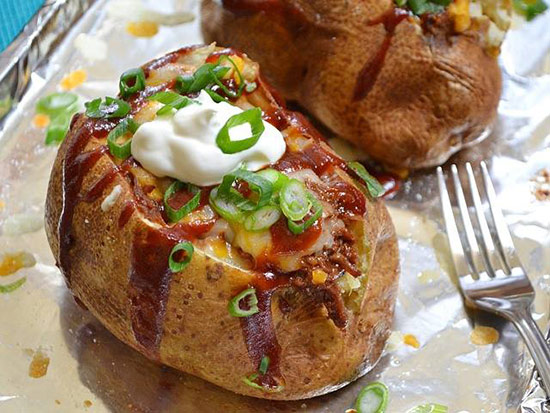 Our Host
Plates finished, while we were leaving we got to meet the owner, Elaine, affectionately known as Ruthy. The restaurant mirrors her warm, friendly spirit.
With "Ruthy" Herself!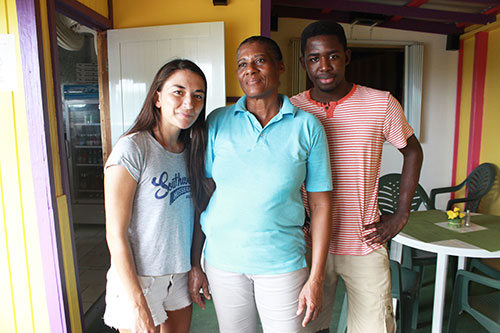 Ruthy's Yum Yum, as little as it may be, is bursting with personality and flavor! It's no surprise to see Ruthy's reaching "institution" status here in Anguilla!
We Love You, Ruthy's Yum Yum

Map, Hours & Contact
Directions: Along the road up through Little Dix that heads to Shoal Bay East, can't be missed.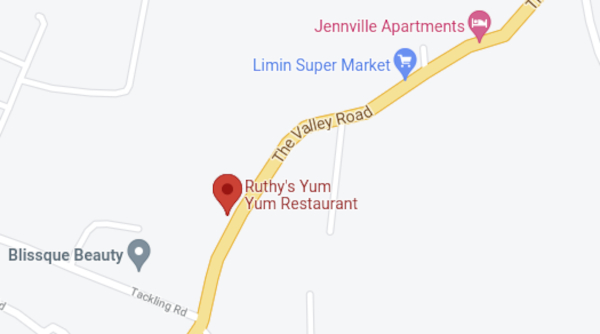 Hours 12pm to 9pm Monday-Friday. 4:30pm to 9pm On Saturdays. Closed on Sundays and public holidays.
Tel: 772-0506 / 729-5530
Menu: Click here