Sandcastle Villa: The Beach House...
Modern & Chic Beachfront Anguilla Villa Living
Welcome to what just may be the coolest villa in Anguilla!
Sandcastle Villa: The Beach House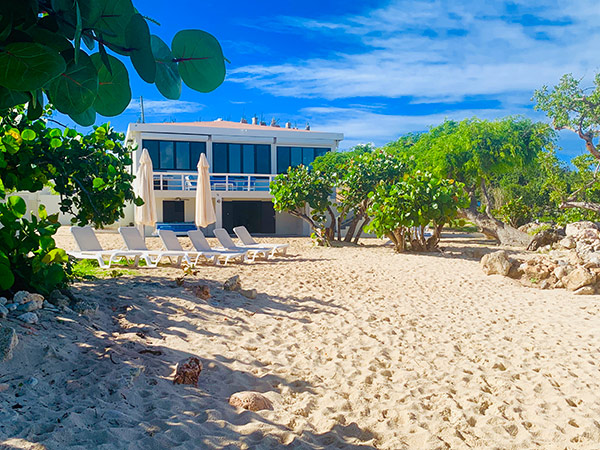 Modern and sleek, with activities of all kind included, this villa's history is as cool as its look and feel.
Do you remember the old Limstone Bay Cafe? A concrete building in the middle of Limestone Bay's sands, it was built around 2005. It had gone unused for many years until its rebirth began in the summer of 2018. Five months later? She is an Anguilla beachfront villa beauty!
For a video overview of Sandcastle Villa: The Beach House's awe-inspiring transformation, see below...
The Great Room
Sandcastle Villa: The Beach House opens into a jaw-dropping 2,400 square foot great room with vaulted-ceiling.
Living Room

Wrap around, sliding windows provide panoramic views of Limestone Bay ahead. Those windows transport you to the sea. It feels like you are sitting on the ocean. Simply, a breathtaking effect.
Windows To The Sea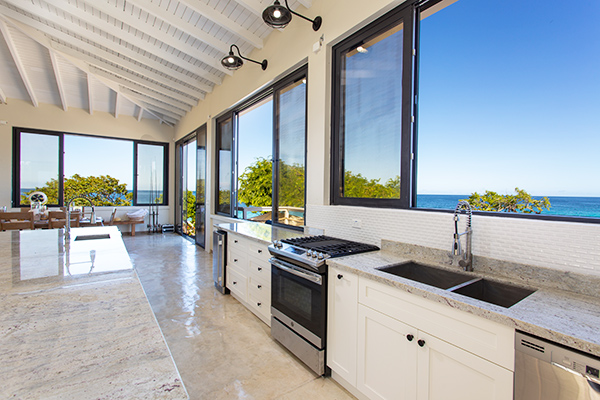 The great room features a fully equipped kitchen, eat-in bar and enormous kitchen island.
Oversized Kitchen

The kitchen spills over into a sizable dining area. The stylish wooden table is set for 10. It has one of the best locations in the great room, right next to the sliding doors that open onto the villa's terrace.
Dining Table for 10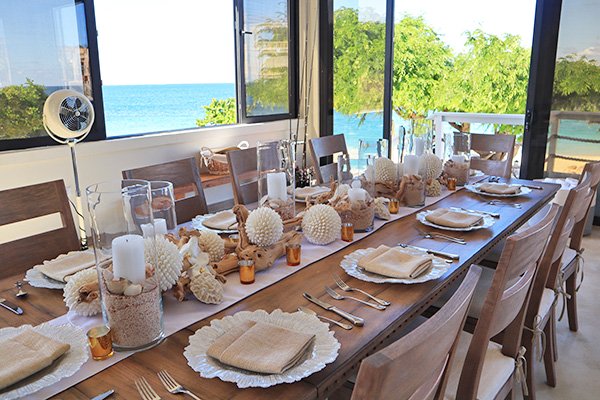 The dining area backs onto the living area. This space is complete with "everything entertainment." It features a 65" TV with high speed WiFi (50 MB up/down), shuffleboard table and surround SONOS sound speakers throughout the room.
Media Room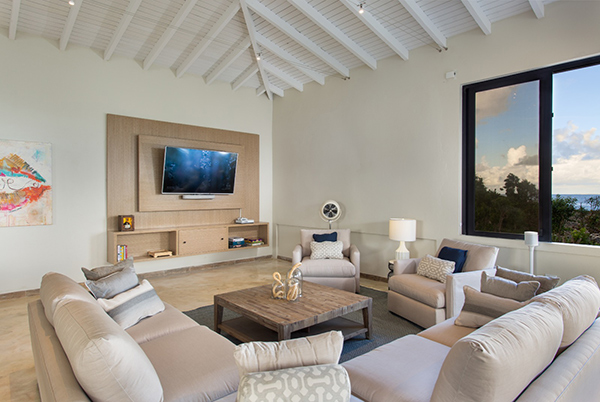 The villa's three plush bedroom suites are set behind the great room. Airy and bright, they are the perfect retreat after a day of play on The Beach House's beach, Limestone Bay.
Master Bedroom Suite

The bedrooms have a retro-chic feel with many modern touches. Each bedroom has a king bed, Amazon Echo, Siri, air conditioning and 42" flatscreen TV.
Bedroom with Ocean View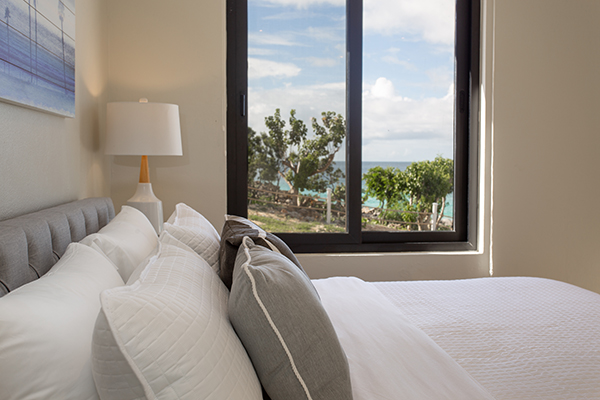 Each bedroom also has its own ensuite. Bathrooms feature beautiful walk-in rain showers with textured tiled finishings.
Master Bathroom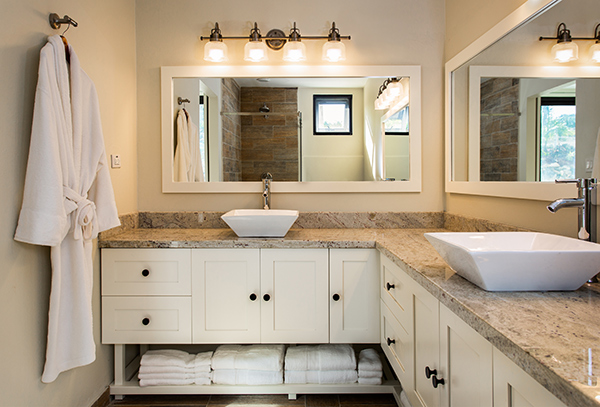 Beach Living, Amenities & Events
Outside, Sandcastle Villa: The Beach House impresses all over again.
A two floor villa, the main part of the villa lays out over the second floor. Its second floor terrace provides sweet views of Limestone Bay's rich blues. With a BBQ and beautiful blue pool, there is no better place to dine and lounge the day away.
Pool with a View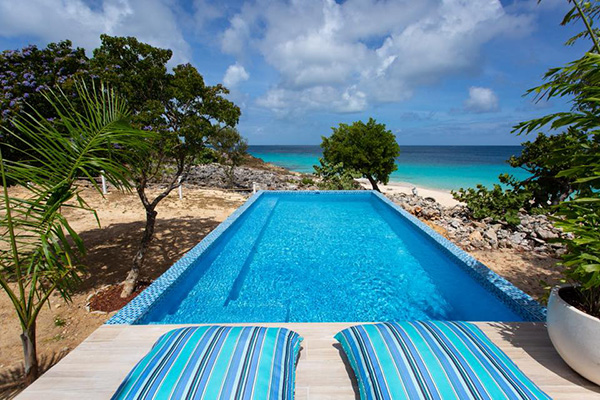 Photo: Leviticus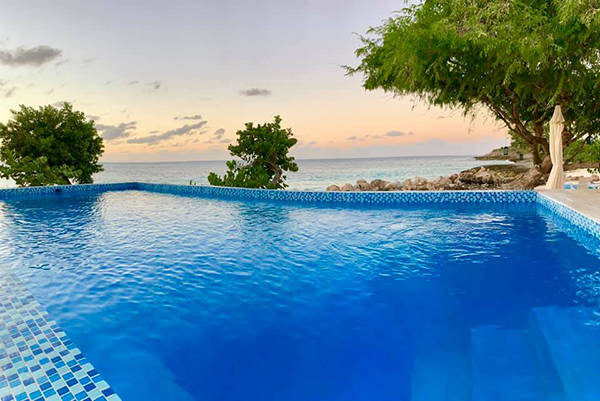 Photo: Leviticus
If you prefer the beach to the pool? Beach chairs and dining areas dot the sand. Solar lights twinkle in the trees come night fall.
From days spent pool-side, to sipping sunset cocktails, to beach dining under the stars, Sandcastle Villa: The Beach House sure is made for those of us who love the outdoors.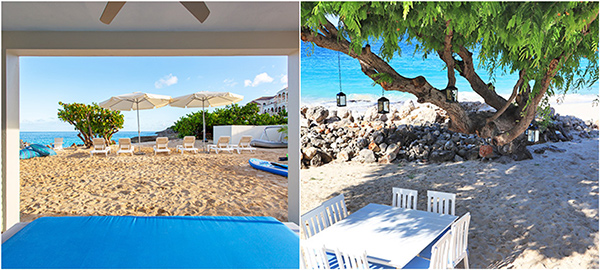 Its prime and private location, right on the sands of tucked away Limestone Bay, make it a top choice venue for toes-in-the-sand weddings.
Sandcastle Villa: The Beach House can be rented together with its sister property, Sandcastle Villa to accommodate larger parties and events.
Swinging Day Bed With A View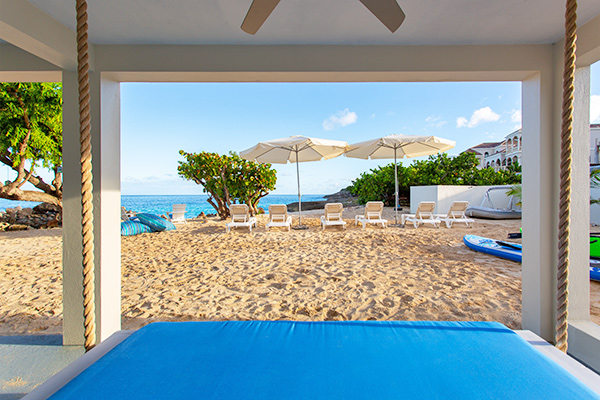 There is no short supply of ways to enjoy the beach, too.
Swinging day beds, kayaks, paddleboards, electric bikes, fishing rods, a 14' dingy, 6 sets of snorkeling gear, yoga mats, fishing rods, and kids beach toys are all included in Sandcastle Villa: The Beach House. That's not all! A 4 door Jeep Wrangler Convertible is included in your stay.
It is the getaway for getting outside and enjoying Anguilla's natural beauty.
Truly one of the coolest villas to grace Anguilla's shores, it's a "must-do" for those who want to venture out into Anguilla blue!
Sandcastle Villa: The Beach House is available at competitive rates. Save 10% more on your booking when you use your Anguilla Card to book!
Location & How to Book
Location: Limestone Bay
Website: Click here.
Tel.: 264-476-2981 OR 702-353-0278